سرفصل های مهم
بازی های واژگان
توضیح مختصر
زمان مطالعه

8 دقیقه

سطح

متوسط
دانلود اپلیکیشن «زوم»
این درس را می‌توانید به بهترین شکل و با امکانات عالی در اپلیکیشن «زوم» بخوانید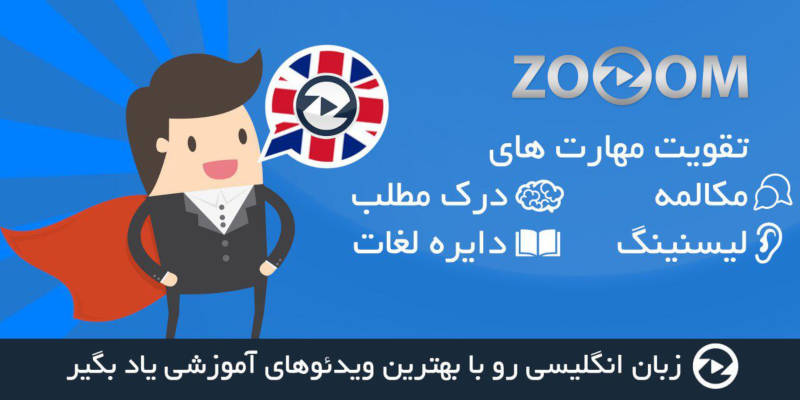 فایل ویدیویی
متن انگلیسی درس
Vocabulary Games
This is a fun video because we are going to be talking about games, and everybody likes games, even vocabulary games. So what we have here what we're starting with are online games.
These are games that I've come across, that I think people will have fun with, and then of course strengthen your GRE vocabuluary first one is dictionary.com. Don't just go to dictionary.com, but once you're there, go to the task bar and you'll see something called word dynamo.
The word dynamo is an excellent way to strengthen your GRE vocabulary through flash card games, through crossword puzzles, etc.. And essentially, you make a username, and the username is this ongoing score you have.
So every time you come back, your score will always be at at a certain level and you can increase that so you are getting more and more points and they have you, or they measure you're progress along a certain level.
So it's really fun. You can say, hey look, I'm getting up to the college level or the graduate school level, so built in gameification like that makes things go by faster. Now, dictionary.com is just one online source.
Another one I like is Merriam-Webster's, this again is merriam-webster.com, this is the dictionary. And what they have is they have a quiz feature that tests your vocab knowledge.
And it also tests your speed. So I just did the test run. I saw words like vitiate. That's a great GRE word, which means to corrupt. I saw wont, W-O-N-T, which means to be accustomed to or to do something habitually and essentially what you're doing with these words that are flashed in front of you and as quickly as you can, you have to choose from one to four possibilities.
And there's even a leader board so you can compare yourself against other people. and it's great. You don't have to know these words, you don't have to be at the top of the leader board, but the point is that if you've come across some words here in this quiz that you can add them to your active GRE vocabulary.
Now next, we have offline games. And this is just what I've come up with, which is called synonym clusters. This works as follows. So, let's say you've learned a lot of words that mean to criticize harshly, such as rail, to rail against, to berate, speak out against and criticize, to harrange.
And so the goal is, how many can you come up with? And so you can even give yourself a target number such as ten. and this, of course, is a game. I probably should have prefaced this, but this is a game that makes a lot more sense once you've been doing vocabulary for a while cause if you've only started GRE vocabulary, then it's going to be very difficult to get ten.
But the idea of these games is to take all those words that are floating around in your head; pin-balling and cartwheeling and to kind of give them some shape, to mold them so that you can focus them on a piece of paper or in the game.
Meaning that you're not just forgetting these words. You don't have a vague sense of them, but your actually recalling them in novel context, such as, the synonym cluster game. And it doesn't even have to be synonyms. You could say, okay, well, what about antonyms?
If I've come up with 10 synonyms can I think of ten antonyms. So to praise well, to extol, to laud, etc. may be a little bit more difficult to come up with. Praising words for some reason the English language has a lot of words we need to criticize.
It's also good, you can check using thesaurus.com. Again, don't build your vocabulary by going thesaurus.com because often times words are kind of lumped together. But we are kind of lumping words together, trying to be as specific as possible, though there are sometimes subtle differences between these words, but the point, of course, is that you can check how well you've done.
Now, the next game I have I call the superbox. It sort of looks like a Boggle board, if you've ever played Boggle. But if you haven't, don't worry, because the rules are very different. What you have to do is choose a phrase. I like to do it by choosing a phrase.
Some people like to write down random numbers, but what you're going to do is that you're going to make a grid. 5 x 5 usually works best - 5 x 5 grid of letters. And so let's start with GRE vocabulary.
Notice it's 5 x 5, so I'm going to stop after I get to the 5th letter. Vo-cab-u-lar-y is important. Now you notice I didn't quite get to the final letter down here. I only got to twenty-four out of twenty-five, but that's fine.
The idea though, or the point of the game is you want to see how many GRE words you can make up using the letters in the grid. Now, you can use letters more than once in the sense that, let's say, I see the word here venal.
V-E-N-A-L. Now, you can use letters more than once maybe you can go back and come up with another word, such as grievous, G R I E V OUS. That is, the letters don't expire once you use them.
However, you can't come up with a word like egregious Because there's only one e in our grid. the point is not to play this game forever, but to give yourself a timer. I like five minutes, just when you're starting off you may want to try ten minutes.
and the goal, of course, is to come up with as many GRE words as possible and award yourself more points for the more letters there are in a word. And the way the point system works The fewest number of letters you can have is four.
Then there's five, six, seven, eight, nine, ten. Up to eleven if you can think of that big of words that are found in the grid. And so here with the fourth one, we give you one point.
If you have a four letter word, one point. If you have a five letter word, two points. six letter word, three points and this is essentially how the scoring works. This is a Fibonacci (sequence by the way, for those who are mathy folks so let's just match these up.
This makes it a fun game because I have a point system. And the goal of the game is to get a hundred points. So now I have venal, which means corrupt - in terms of you accept bribes, etc. And that's two points.
Grievous - something is really bad. and that's going to be, one, two, three, four, five, six, seven, eight. So I get eight points. Egregious didn't work, so we'd only have one e up here and egregious has two e's. And so we have ten points.
And so your job is to see how many you can come up with and can you break a hundred in less than five minutes or less than ten minutes. Or you could even say give yourself two hundred points.
It's up to you what you want to do, but I like to set a limit on a hundred points and go for speed. So words I'm just looking at here - I see cabal, which is a secret group and it only got me two point.
But then I see "importune" which means to make persistent requests or the adjective describing someone who importunes, which is "importunate", which is six, eight, eleven.
That would give me thirty-four points, which is quite a lot. One final rule to this game. Notice this "s" hanging out here. You can't just add that to the end of the letter and get–rather, the end of the word–and get more points that way.
You want to make sure that you are only adding something if it changes part of speech, not simply making it plural or changing the verb form. So again, try this game.
It's one of those things that if you see me doing, well, it's not that fun, because, hey, how did he get "importunate" really so quickly? I'll let you in on a little secret. Before I filmed this video, I made this exact grid and looked for these words.
So don't worry–I didn't get it that quickly, but it becomes really fun. That's the point. When you try it on your own and suddenly you see these big words come out of the grid that you didn't even expect before. And again the point of this is not just to have fun, is not just to get a hundred points and become better at spotting words in a grid.
The idea is that you have all these words in your head. These GRE Some of them are solidly formed, some of them you even knew before, but others are just kinda moving around in your head, there not there, they're that tenuous connections, and by playing these games we strengthen because you may even say, "Oh, 'venal' I see 'venal' in there". But wait a second, what did 'venal' mean?
And by trying to recall what it means, even if you have to go scrambling through the dictionary, is just one way to strengthen your long-term memory of that word. And, again, you won't even notice it because Games are fun.
مشارکت کنندگان در این صفحه
تا کنون فردی در بازسازی این صفحه مشارکت نداشته است.
🖊 شما نیز می‌توانید برای مشارکت در ترجمه‌ی این صفحه یا اصلاح متن انگلیسی، به این لینک مراجعه بفرمایید.