سرفصل های مهم
ملاقات با دکتر
توضیح مختصر
زمان مطالعه

11 دقیقه

سطح

متوسط
دانلود اپلیکیشن «زوم»
این درس را می‌توانید به بهترین شکل و با امکانات عالی در اپلیکیشن «زوم» بخوانید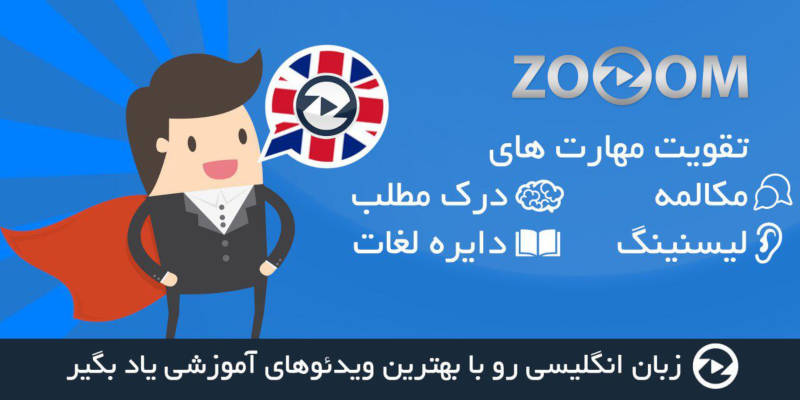 فایل ویدیویی
متن انگلیسی درس
Having an appointment with the doctor
Dusty Mayron, you crazy hijo de puta!
(LAUGHS) Hey, what's up, Doc?
(EXCLAIMING)
You look great, man. You still rocking those Ironmans, huh?
Yeah, bro.
I just finished Brazil in 11:40.
That's unbelievable.
Yeah. Well, come on.
Ain't nothing on you, man.
Hey, my first race,
I'm limping across the finish line when this bastard laps me.
I mean, come on, who wins an Ironman, then decides to go around again?
Who does that?
It sounds exhausting.
Hey, I'm Dr. Francisco. You must be Sara.
Hi. (LAUGHS)
Dusty, you were not lying about this one. Very nice.
And you weren't lying
about this one either.
You must be Chief Glowing Sack.
What? (LAUGHS)
Hey, come on,
I'm just lighting you up, man.
Come on, little hug.
Okay, come on back, y'all.
Let's take a look.
All right. So let's run it down.
I think we can safely say that your issue has nothing to do with X-rays.
You know what, sweetheart, come here.
Let's see that pretty little hand.
Okay. Now put it right in here.
Oh!
Okay, you feel that?
Yeah.
Okay, that is not how you want testicles to be shaped.
Really? It feels like all the other…
Hi.
Well, it cuts off blood flow, okay?
Limits potency.
You want them to…
You know what? Actually…
Hey, Dusty!
Hey.
Why is he coming in here?
Little help in here, please.
Oh, come on. You gotta put me through this every time?
Come on. Be a sport.
All right.
Oh, my God! What are you doing?
Is this even ethical?
(GASPS) James and the Giant Peach.
(GULPS)
Did you just gulp?
No.
It's okay, I gulp every time.
You see, this… This is what you want.
Plump and bulbous.
Glassy smooth, like
two Patrick Stewarts,
you know what I mean?
Don't embarrass me in front of Sara like this anymore, okay?
DR. FRANCISCO: Hey, sorry, bro.
So, ready to milk the cow, see if we even got a sliver of hope here?
Hey, Dusty, come on, buddy. Want to try to break your own record?
Oh, no, I'm good.
DR. FRANCISCO: Hey, come on, man.
I'm doing you a favor here.
Give me something to brag about at the next symposium.
All right, fine. You want to break the record, I gotta break the record.
(LAUGHS) Yeah. Kid came to play.
Should I grab a big cup, too?
What? Stop screwing around.
Come on. We're burning daylight here.
(DOOR OPENS)
(WOMEN TALKING INDISTINCTLY) (SIGHS)
(ALL GASPING)
(ALL LAUGHING)
Hello. Quick question.
How difficult would it be for someone to whip up a batch of your Cinnabons?
Would you need restaurant-grade ovens?
Bradsky. Could you
pass this along to Dusty?
It's his first resids check.
Disclaimer. It's more than you make.
Don't get worried about it.
How much more than…
Oh, and tell him, 8:30 sharp at my house.
He doesn't need to bring anything.
All right, buddy?
I've never been to your house.
No, you haven't.
SARA: Oh, my God, my hair, it looks awful.
Doesn't Mommy's hair look pretty?
No. Next slide, please.
DUSTY: Oh, okay.
Slides. Fun.
DUSTY: Aw…
Cool. You guys climbed that?
Yuck. Why are you guys kissing in every single picture?
Oh, Mommy used to kiss Daddy a lot.
SARA: Married people kiss a lot.
DUSTY: Ready?
Wow, China.
I loved it there.
Dylan, you were created right there on that wall, buddy.
Really?
Dusty, that's enough.
DUSTY: Okay, next slide.
(SARA LAUGHS)
That's where your mom and I met, doing The King and I in summer stock.
SARA: God, that costume was so tight.
(LAUGHS)
Next slide, please.
Oh, my God.
MEGAN: Is that baby me?
SARA: Mmm-hmm.
All right, you guys, let's, um, get ready for bed.
Okay?
DUSTY: It's story time, Mayron family!
(CHILDREN CHEERING)
MEGAN: We don't have to wait for Mr. Whitaker, do we?
I really don't like you, but that sh@t is heartbreaking.
(DOOR CLOSING)
MEGAN: Yay! Griff's home!
So the King raised his mighty sword and rained steel down upon the Step King.
But the Step King
blocked it with his shield.
And swung his cat o'nine tails into the King's smug face.
Which the King easily brushed aside like the feather of a gull.
And then the King did counter with a barrage of slashes and thrusts so fast and precise that the Step King had no way to parry.
BOTH: Yay!
But he did. He did.
He parried all of them.
Easily. It was no big deal.
BOTH: Aw.
Then he grabbed the King's sword right out of his hand and smashed it over his knee.
BOTH: Boo!
That's when the King pulled out a pump-action Mossberg shotgun!
Which is completely anachronistic.
So if we're doing any time period, then the Step King just happened to be wearing Kevlar body armor.
Concussion grenade!
Hand grenade.
Rocket launcher.
Missile launcher.
Air strike.
Nuclear strike.
Black hole.
God.
We know what this comes down to.
The Step King was very upset because when the real King pulled out his sword,
it was long and shiny, and the Step King
did shudder at the size of it.
And while the Step King acknowledged that the King carried a mighty, beautifully engraved broadsword, all the maidens in the land preferred the more average-sized Step King's sword because it knew how to listen.
(SCOFFS)
And the King needs to realize he's a guest in his castle and he better mind his P's and Q's because the Step King
has had it up to here
with the King's bullsh@t!
Brad said a naughty word.
Kids, I'm so sorry you had to hear that inappropriate language.
Make sure you tell your mother.
Brad, can I talk to you in the hall, please?
(SIGHS)
Brad, what just happened in there, man?
(WHISPERING) Look, the Step King should not have
used inappropriate language in front of the Prince and Princess, he admits that.
Why are you still saying it like that, Brad?
We're out in the hall.
I don't know. I'm upset.
(CELL PHONE VIBRATING) Hold on.
Oh-ho-ho! Hello?
Yeah, Brad's here, he's doing good.
Hey, it's Dr. Francisco.
He wants us all to come in tomorrow.
9:30 work for you?
Yeah, I guess so.
Yeah,
we'll see you then.
All right, bud. Come on, man.
The doctor will be with you in a moment.
ALL: Thank you.
(SARA GRUNTING)
Hey, Brad, whatever happens here, I just want you to know that I'm proud of you for doing your best.
Okay?
Thank you.
Hello, hello. Okay.
I'm going to cut right to the chase.
Sara, I'm afraid I've got some bad news.
Oh, God. That is a tough break. I'm sorry.
Damn, that is a real shame.
My heart is melting.
Yeah, it's a real shame, Sara.
A real shame that
you're gonna have to put up with Brad here pounding away on you over and over,
now that he's got a fighting chance of getting you pregnant.
(GASPING)
What? Oh, my God!
Holy moly!
Oh, my God.
Hey, Doc, Doc, don't give them a false sense of hope.
Remember what you said about the blood flow and the screwy 'nads?
Yeah, well, Brad has you to thank for that, Dusty.
Okay, in lab rats,
whenever another alpha male comes around, it can spike testosterone, driving up sperm counts.
Now, no guarantees, okay?
But with my help, Brad, I think you got enough left in the tank to make it all the way to baby town.
That's so wonderful. Thank you.
BOTH: Thank you so much.
Of course.
Can we give you a hug?
Oh, yeah. Come on in.
BRAD: Oh, my gosh.
Did not expect this.
Mmm…
(HIP-HOP MUSIC PLAYING) You virile sea snake, you.
I underestimated you, Brad.
Yes, you did.
I can finally give Sara everything, and it feels good.
Now, listen, this is what you need to do.
You need to go and pee outside the room that Dusty sleeps in.
He's gonna smell your urine and know that your virility is not to be taken lightly.
It's good advice.
I did it last year in the lobby.
Oh, I remember. It was a health hazard.
It scared the FedEx guy.
No, I'm going to take
the high road on this one.
Okay, fine, take the high road.
But jam a baby up in there as quickly as you can, Brad.
Because, in the end, if Sara does choose Dusty over you, he has to be stepdad to your baby.
How beautiful is that?
(LAUGHS)
Come on, five it.
No. You know, it feels strange to high-five over the custody of my unborn child.
I've been on Dusty's team.
I'm trying to jump over to the winning team Brad.
Get on this.
I'd really rather not.
I'm trying to share a moment with you here. Please five me.
It feels… No, thanks.
Got it!
Wait. No.
Sweet.
It didn't count.
I love you, Brad.
It's not a binding high-five.
Fat beans in there.
Dusty?
Brad.
What can I do for you?
Oh, wow, that's some impressive up-downs.
Look, uh,
what you did for Sara and me, that's a life-changer, and I just wanted to say thank you.
And I'm sorry.
Sorry for what?
Well, here's the thing.
I mean, you show up,
here's this guy who's cool and exciting.
I guess I felt a little competitive, and slightly insecure, and I start thinking, well, maybe you want to challenge me.
But today you proved that all you really care about is our family's happiness.
Oh, man.
I'm humbled.
I mean it. And you know what?
You're right. I was challenging you, Brad.
Yeah?
The truth?
I see this new man in my kids' life.
He's kind and caring and successful, and I don't even want to like you.
But I can't help it. I like you, Brad.
Really?
I was determined to push you out and get my family back.
I was underhanded
and disingenuous about it.
I feel like a monster.
No. No, no, no.
(SIGHS)
At the risk of being disrespectful, I want you to shut your mouth.
You are allowed
to have those feelings. Okay?
Heck, we're talking about your own children here, for cripes' sake.
Clean slate?
Absolutely.
Come here.
(SIGHS)
You know what's funny?
You're not even sweating, after doing all those push-ups.
That's exemplary.
(SIGHS)
Thank you, Dusty.
Thank you, Brad.
Oh, uh…
You know, all that stuff about pushing me out and taking over my family, I mean, we're through all that, right?
Oh, no, no, no. I'm here to defeat you and take back my family.
That can't change.
But now I'll follow your noble example and do it above board.
Honestly. Like a man. Like you.
But we just hugged. You said you like me.
Oh, I do like you, Brad, very much.
It doesn't make this any easier.
You know I'm gonna have to tell Sara what you said in here today.
Of course.
It would be irresponsible not to.
She's not gonna like it.
She's gonna want you out.
You're right about that, Brad.
What the hell are you up to?
I just told you what I'm up to.
My head is spinning right now.
Hey, you got any sweet potatoes? Or yams?
Sweet potatoes or yams?
Griff, you know we have yams, all right?
You made me buy them for you.
I wanted to respect
your house by asking you before I got them.
I didn't want to just go grab yams.
Okay, I appreciate that.
I'm dealing with something.
Just go get the yams.
All right.
Here's the thing. You're right, Dusty.
Yeah. I'm not going to tell Sara.
But I'm gonna prove to you that I'm the best.
You can eat my dust, Dusty.
مشارکت کنندگان در این صفحه
تا کنون فردی در بازسازی این صفحه مشارکت نداشته است.
🖊 شما نیز می‌توانید برای مشارکت در ترجمه‌ی این صفحه یا اصلاح متن انگلیسی، به این لینک مراجعه بفرمایید.