سرفصل های مهم
Superhero training- what you can do right now
توضیح مختصر
16-year-old Darlene Gitta Hamida is a huge superhero fan. She loves Batman and Superman, and her room even has pictures of them taped on the walls. But when a suicide bomber attacked her hometown of Jakarta, Indonesia, Darlene began to reconsider what it takes to be a hero. In this inspiring Talk, Darlene explores how small acts of kindness are what real heroes are made of, and she proposes ways that we might begin our very own hero-training. This Talk was given at TED-Ed Weekend in New York City. The TED-Ed Clubs program supports students in discovering, exploring and presenting their big ideas in the form of short, TED-style talks. In TED-Ed Clubs, students work together to discuss and celebrate creative ideas. Club Leaders receive TED-Ed's flexible curriculum to guide their Members in developing presentation literacy skills to help inspire tomorrow's TED speakers and future leaders. To learn more about TED-Ed Clubs or to start your own club, go to http-//ed.ted.com/clubs.
زمان مطالعه

10 دقیقه

سطح

متوسط
دانلود اپلیکیشن «زوم»
این درس را می‌توانید به بهترین شکل و با امکانات عالی در اپلیکیشن «زوم» بخوانید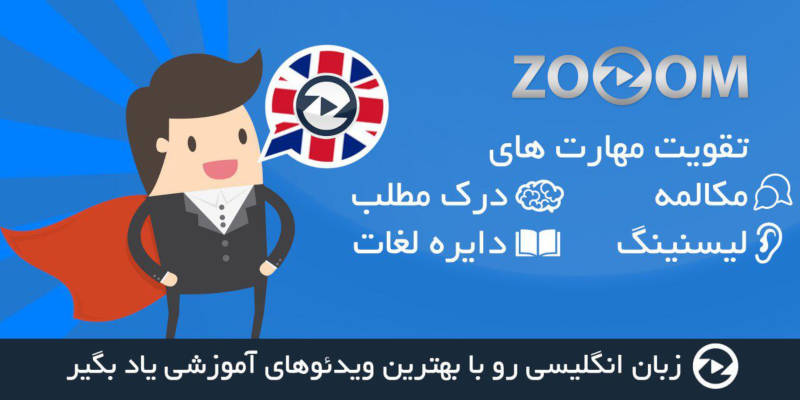 فایل ویدیویی
متن انگلیسی درس
Last year, a certain place in my city, Jakarta, was attacked by a suicide bomber. Let's imagine this event happened inside a superhero comic book. The villain, in this case, a suicide bomber, arrives at the scene. He walks around, surveying the people and the place. Once he is settled, all he needs to do is press this little the red button and "boom," everything blows up, people are running away, kids are screaming, police and ambulance sirens can be heard from every direction. Suddenly, the superhero with his cape or her shining armor comes and saves the day. They help civilians to safety, puts out the fire, takes the injured to a hospital, and most importantly, defeats the villain. We all love these stories, don't we? We all grew up hearing stories of heroism, especially superheroes - how Captain America with all his loyalty and super strength, he can save the world and win hearts of everyone, and how Batman using all his money creates super gadgets to save his city, Gotham. Tell me, who doesn't love them? Who doesn't dream to be saved by them even though you know they're fictional? Admit it, all of you must have dreamt about it. But those heroes, the Avengers, Batman, Superman, they have their own place to be a hero. They have their own stories where they put up their shining armor or capes or tights and you know, save the world. But in the end, they are only stories. They don't exist in the real world we live in. So who then, are the everyday heroes among us? They don't wear capes or tights or have any superpowers so what do they look like? The dictionary says a hero is someone who is admired for their courage, noble qualities and outstanding achievements. But to me, I think that heroes are people who have the courage to help other people. As simple as that. It can be if the person just smiles at a stranger, to me that is an act of heroism. Why? Because we never know what the person might be going through and smiling at a stranger takes strength and effort. It takes effort to put aside our doubts of smiling at a stranger. It takes strength to share the same feelings with others, to have empathy. There are a lot of heroes in real life, Like Malala, Abraham Lincoln, Martin Luther King, Soekarno, Indonesia's first president, and a whole bunch of others. And if I ask you what made them a hero, most of us will say, let's take an example, Malala, most of us will say, "She's a hero because she fights for girls education," "She's a hero because she sacrificed herself," or maybe another example, Martin Luther King. "He's a hero because he fought for freedom for people of color." She fought for this, he fought for that and the whole list goes on. But really though, let's take a moment and think about it. All the heroes I just mentioned and the heroes we all know, have helped other people. Malala helped girls to have education. Martin Luther King helped people of color to gain greater freedom and equality in the United States. They all believe in equality and that everyone should get the same chances. They have the vision to make this world a better place. You see, as we grow up, we realize that life is much harder and tougher than it looks. And we humans are social creatures. We need each other in order to survive, we need each other in order to live. We need each other to be our heroes. Heroes come in different shapes and sizes. We don't need to have superpowers to be heroes. We don't need to have a lot of money to be heroes. We don't need to stand in front of a gun to be a hero. We don't need to sacrifice ourselves to death to be a hero. But we do have to be kind to be a hero. We have to be helpful to be a hero. We have to be empathetic to be a hero. We have to do all these things and other good things to be a hero. These traits seem simple but it actually takes time to practice. So what if we start practicing for the day when we can be heroes? What if we had a hero-training? Going back to what happened in Jakarta last year, I think that no matter how long we waited for that superhero with his cape or her shining armor to come, they wouldn't because the real hero in this event wasn't them, it was the people who decided fear wouldn't bring them down and helped other people, instead. I used to think my hero is Superman and Batman. Trust me, no joke. I have this huge photo frame filled with my photos and theirs. And then as I got older, I stare at it and think. I think that there are more people who have been there for me through it all. And the thing about life, it has its own ups and downs in which there are some moments where we feel like stopping, maybe like throwing up. But there is someone who shared the same ride with me through my ups and down and that is my mother. She has no cape, no superpowers, no exploding bank account. She is just another human being. But she is there for me. She guided me and she helped me. She is the reason I am standing here today, so can I say that she is my hero? Yes, I can. I looked around at how I might become a hero, and the best example I could find wasn't wearing a cape - it was my mother. She is a hero because she's there for me to rely on. She is a hero because she's there for me to wipe away my tears. She is my hero because she is there for me to make me smile. This is just one story we can take into our hero-training, and I wanted to figure out this hero formula so that I can share with you all. So I did an experiment. I spent three days looking for hero-makers. Here's what I saw. One day, my friend was crying in class. People around her were telling her "to get over it, don't think about it, it doesn't matter, you're overreacting." But then this other friend came to her and gave her a hug. Just support, no advice, no talking, just support. That's hero lesson number one. Heroes are always looking out for others. My friend didn't tell her what she should feel because to be honest the only one who know how it truly feels is my friend who was crying. So instead, she thought about what she might need at that moment. That's empathy. The second example is my school nurse w as walking down the street with her baby and a toddler beside her. She struggled to put everything onto her motorbike, but then when she finally managed to put her children in, she almost dropped her bag until a man came to her and decided to help her. That's hero lesson number two. Sometimes it doesn't require a great action to be a hero. A small gesture like this deserves to be called a hero action. There are a lot more stories we can learn from and we can add into our hero training, But there is one lesson that I learned from these events and that is sometimes the small gestures are the ones that matter the most. It is the way we smile at others that can make us a hero. Because you would never know, maybe our smile is the only good thing they had that day. It was the way we hug our family and friends that makes us a hero. It is the way we give a hand to others when they needed help with their groceries. It is the way we make somebody else smile that makes us a hero. So I think that being a hero isn't all about having a lot of money or wearing capes or wearing shining armor and doing great things and changing the world. I think that being a hero is about being kind, helpful, generous, and empathetic. These are the things we should do in our hero training. These are the things we should do in our daily life as a good human being and as a hero. Now, we can all start training today. Do you want to be your version of Captain Kindness? Or maybe you want to have your own empathetic-mobile like Batman? Or maybe you can be everything by yourself and be an Avenger. It is all up to you. If the answer to these questions is yes then you know what you have to do. Go out there, pick a color of your cape, and be a hero. Thank you.
مشارکت کنندگان در این صفحه
تا کنون فردی در بازسازی این صفحه مشارکت نداشته است.
🖊 شما نیز می‌توانید برای مشارکت در ترجمه‌ی این صفحه یا اصلاح متن انگلیسی، به این لینک مراجعه بفرمایید.