سرفصل های مهم
Why I hold on to my grandmother's tales
توضیح مختصر
Sometimes growing up can feel like an obstacle course- full of academic and social hurdles, all designed to test your strength and sense of self-worth. But Aishwarya Chodankar believes we can find all the tools we need to overcome hardship by looking no further than our earliest childhood rituals- bedtime stories. In this whimsical Talk, Aishwarya describes how she uses her grandmother's tall tales as a guide to growing up. Aishwarya Chodankar gave this speech in New York, NY at TED-Ed Weekend. To find out more about TED-Ed Weekend, go here- bit.ly/2mCCQDn. To start a TED-Ed Club at your school, visit ed.ted.com/clubs.
زمان مطالعه

7 دقیقه

سطح

خیلی سخت
دانلود اپلیکیشن «زوم»
این درس را می‌توانید به بهترین شکل و با امکانات عالی در اپلیکیشن «زوم» بخوانید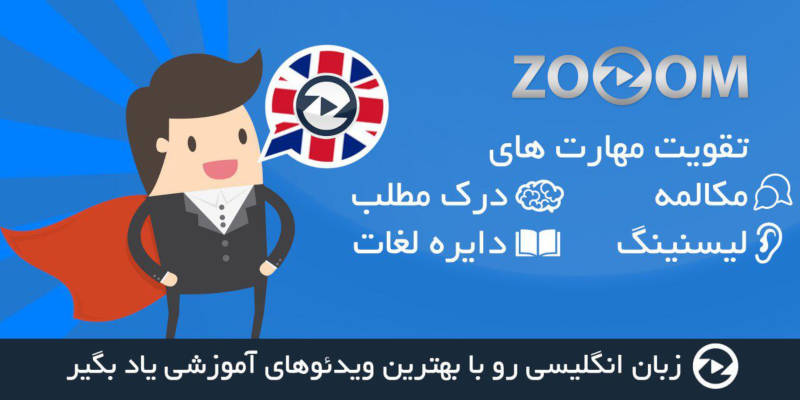 فایل ویدیویی
متن انگلیسی درس
[Music] [Applause] all the world's a stage and all the men and women merely players rings a bell - with William Shakespeare about 400 years back yeah that's him just so if you haven't gone across the speech let me give you a little synopsis it talks about the various stages that we go through in our lives if we develop starting from an infant to a toddler school boy a lover a soldier and so on till the end stage of senility now if you're wondering as to why am I talking about Shakespeare instead of beginning to narrate one of my grandmother's tales and my experiences yours right this very first line your got me thinking why Shakespeare didn't tell us what kind of players we are supposed to be see as children we've constantly heard these moral stories from our grandparents and parents is through the certain ways in which we should behave how we should act towards others how good conquers evil and many more lessons right then when we go to school our ideologies about the world and these moral stories slowly starts changing let me show you how I'm pretty sure a fair amount of us have tried our hands at the methods of sleep but haven't we always been told honesty is the best policy no you don't have to admit it here but just think for yourself how far is it really advantageous to you today you cheat tomorrow you pass the day after tomorrow you're acknowledged but days after tomorrow you're not able to apply and then you fail which gives disheartening and start complaining but you know all this wouldn't have happened if only we had been honest with ourselves this is exactly where we start letting go of those little lessons we were told in childhood and then finally when we enter the face of the soldier somehow whatever we learned in our childhood is forgotten in our endeavor to conquer the world isn't it today we live in a world that's a home to all kinds of people while some are honest and play they are gamers lives with integrity honesty love and affection towards God's lovely creations there are others who dealt our lives and hatred anger jealousy revenge and calculated assumptions well now you would say that emotions are subjective which is true because all of us go through these various emotions in these different stages in our lives and all our lives end up being caught out in different ways but what about the choices we make as a person what about the way we choose to respond to unforeseen circumstances that's up to us do we still Gary those childhood fables in the back of our mind while making these decisions or are they lost in our transition from the infancy to adolescence to the Justice when I was a kid I used to believe in the tooth fairy I used to feel that if I loved everyone and helped everyone she would come and grant me my wishes of course back then my wishes were only chocolate ice cream and rainbow cake but now that I've grown up I've started realizing that people don't actually believe in the ideas they were once brought up with so what happened to all those little life lessons that we were once told does it matter if we behave in a certain way does it make a difference if we do the right thing or not we all start out with these ideas and dreams but then as we go through life we lose some of those values can't we try harder or do more to hold on to the ideas we've once had as children now you might be thinking what is the need to hold onto these bedtime stories after all they were just meant to put us to sleep help us get through school with good grades and discipline us as children but what we often overlook is to impact these long learnt life's lessons on our everyday lives and on those around us and you'll be surprised to know how closely our actions and their consequences are related okay let me ask you something have you heard about the notion of karma and the karmic cycle remember Shakespeare's Macbeth Macbeth was easily tempted into murder to fulfill his ambitions to the throne but he was never comfortable in his role as a criminal and ultimately he was unable to bear the psychological consequences of his actions whereas on the other hand let's have a look at me so my friends keep telling me you don't have to be this curry to shoes nice person all the time and then one amazing day when I received the invitation to speak at Q I was pretty much in a state of shock and my best friend said just wanting to me that made me believe this is actually happening see all the good things that you do to everyone are coming back to you and Here I am standing right before you feeling so special there you go this is exactly what the philosophy of karma states what goes around comes around somewhat like a domino effect so see do good things then good things will come back to us and the same goes for the bad I mean come on people when stuff doesn't work out for us the way we wanted to we start complaining but with I suggest is that why don't we realize that we are the cause and the target of our own circumstances and actions how can we blame others for our situation consider the scenario you are dining in a restaurant you ordered four dishes and the waiter brought all four but by mistake billed you only for three what would you do there you see here is my little secret every time you find yourself in such a dilemma try going back to those childhood favors we were once told and ask ourselves what would you have done then you've heard of the saying as you sow so shall you reap so if you sow the seeds with love that's the kind of fruit we land joy whereas if intentionally or unintentionally be done to act selfishly that's what we will get back thank you and remember the eyes of truth are always watching you [Applause]
مشارکت کنندگان در این صفحه
تا کنون فردی در بازسازی این صفحه مشارکت نداشته است.
🖊 شما نیز می‌توانید برای مشارکت در ترجمه‌ی این صفحه یا اصلاح متن انگلیسی، به این لینک مراجعه بفرمایید.