سرفصل های مهم
بخش 03
توضیح مختصر
زمان مطالعه

10 دقیقه

سطح

سخت
دانلود اپلیکیشن «زوم»
این فصل را می‌توانید به بهترین شکل و با امکانات عالی در اپلیکیشن «زوم» بخوانید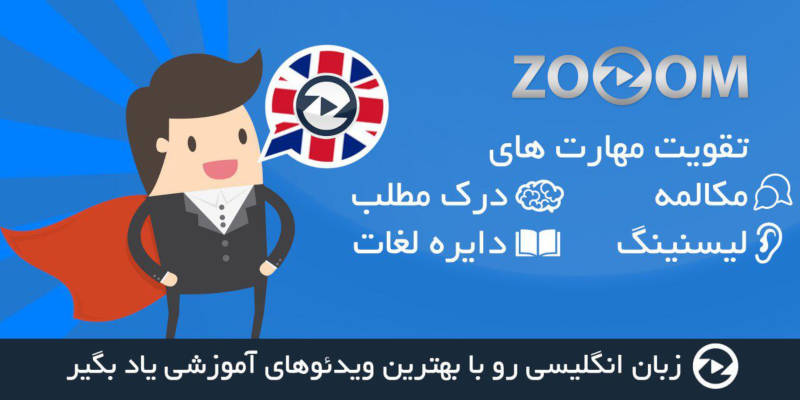 فایل ویدیویی
متن انگلیسی فصل
Victoria, come away from the window.
Oh, l'm sure he'll be back shortly.
He's terrified of the dark. ln fact, when he was a boy…
…he used to wet his combinations regularly, didn't he, William?
Enter.
Lord Barkis. l trust the room is to your liking.
Thank you, you are a most gracious hostess.
Which is why it pains me to be the bearer of such bad news.
Would you care to repeat tonight's headline for us?
Hear ye, hear ye!
Victor Van Dort seen this night on the bridge in the arms of a mystery woman!
The darkhaired temptress and Master Van Dort slipped away into the night!
And now, the weather. Scattered showers
Enough! That will be all.
Mystery woman? He doesn't even know any women!
Or so you thought.
Do call for me if you need my assistance…
…in any way.
Good heavens, Finis, what should we do?
Fetch me musket.
William, do something.
The town crier probably just had a slow news day.
You know how it is, you need a little something to cry about.
Regardless, we are one groom short for the wedding tomorrow.
Not to mention the financial implications.
A most scandalous embarrassment for us all.
Oh, give us a chance to find him, we beg of you.
Just give us until dawn. Very well. Till dawn.
Victor, darling, where are you?
If you ask me, your boyfriend is kind of jumpy.
He's not my boyfriend, he's my husband.
Victor, where have you gone?
l'll keep an eye out for him.
Victor?
There he goes, there he goes! He's He's getting away!
Quick, quick, after him!
Victor.
Thank you.
Victor!
Where are you?
Victor?
Where have you gone?
Married, huh? l'm a widow.
Oh, how rude. He went that way!
Victor.
Victor, darling.
Please. There's been a mistake. l'm not dead.
Excuse me. Excuse me.
Excuse me. Excuse me.
Thank you. Thank you.
Victor.
Dead end. Victor!
Hello!
Could have used the stairs, silly.
lsn't the view beautiful? lt takes my breath away.
Well, it would if l had any.
lsn't it romantic?
Look, l am terribly sorry about what's happened to you…
…and l'd like to help, but l really need to get home.
This is your home now. But l don't even know your name.
Well, that's a great way to start a marriage.
Shut up!
lt's Emily. Emily.
Oh, l almost forgot. l have something for you.
lt's a wedding present.
Thank you.
Scraps?
Scraps!
My dog, Scraps!
Oh, Scraps, what a good boy.
l knew you'd be happy to see him.
Who's my good boy? Sit. Sit, Scraps, sit.
Good boy, Scraps. Roll over. Roll over.
Good boy, Scraps. Play dead.
Sorry.
Oh, what a cutie.
You should have seen him with fur.
Mother never approved of Scraps jumping up like this.
But then again, she never approved of anything.
Do you think she would have approved of me?
You're lucky you'll never have to meet her.
Well, actually…
…now that you mention it, l think you should.
ln fact, since we're, you know…
…married, you should definitely meet her.
And my father too. We should go and see them right now.
What a fantastic idea! Where are they buried?
What? What is it? They're not from around here.
Where are they?
Oh, they're still alive.
l'm afraid so. Well, that is a problem.
What's that, Scraps?
Oh, no, we couldn't possibly.
Oh, well, if you put it like that. What?
Elder Gutknecht.
Scraps.
Elder Gutknecht…
…are you there?
Hello? ls anyone home?
Hello?
There you are!
Oh, my dear. There you are.
l've brought my husband, Victor.
What's that? Husband?
Pleasure to meet you, sir.
We need to go up. Upstairs? To visit the land of the living.
Land of the living?
Oh, my dear.
Please, Elder Gutknecht.
Now, why go up there, when people are dying to get down here?
Sir, l beg you to help. lt means so much to me
Us. l don't know, it's just not natural.
Please, Elder Gutknecht.
Surely there must be something you can do.
Let me see what l can do.
Where did l put that book?
l left it here somewhere.
There's the one.
l have it.
A Ukrainian haunting spell. Just the thing for these quick trips.
So glad you thought of this. Me too.
Now, then…
…where were we?
The Ukrainian haunting spell?
Here we have it. Ready?
Just remember, when you want to come back, say ''Hopscotch. ''
Hopscotch? That's it.
l spent so long in the darkness…
…l'd almost forgotten how beautiful the moonlight is.
Hey, l think you dropped something.
Hold on, hold on.
l think l should prepare Mother and Father for the big news.
l'll go ahead and you…
…wait here.
Perfect. l won't be long.
Stay right here. l'll be right back.
Okay.
No peeking.
مشارکت کنندگان در این صفحه
تا کنون فردی در بازسازی این صفحه مشارکت نداشته است.
🖊 شما نیز می‌توانید برای مشارکت در ترجمه‌ی این صفحه یا اصلاح متن انگلیسی، به این لینک مراجعه بفرمایید.