سرفصل های مهم
رقابت میان پدرها 1
توضیح مختصر
زمان مطالعه

12 دقیقه

سطح

متوسط
دانلود اپلیکیشن «زوم»
این درس را می‌توانید به بهترین شکل و با امکانات عالی در اپلیکیشن «زوم» بخوانید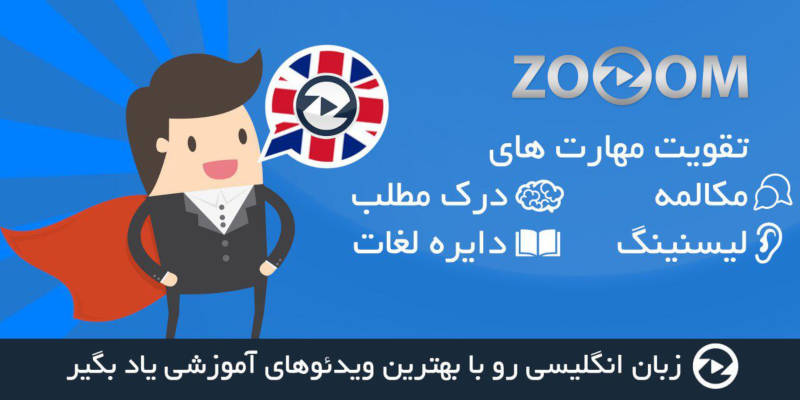 فایل ویدیویی
متن انگلیسی درس
The Co-dads Battle I
Oh, good morning, Dusty.
Hey.
You're up and at 'em.
(OVEN TIMER DINGS)
Yeah, I got up early and did a quick 20.
Really?
Twenty minutes of what?
Oh, twenty miles.
Did a little light sparring, then I whipped up
a pan of piping-hot
cinnamon rolls for my family.
And I made one for you, too.
Wow. That's very impressive, thank you.
DUSTY: Good morning, gang!
Ooh, it smells yummy!
Our real dad's a super, super-duper good cook!
Mmm-hmm.
Here you go, guys.
Yeah, it looks an awful lot like Cinnabon.
Well, thank you, Brad.
What a nice thing to say.
Mmm, it tastes exactly like Cinnabon!
In fact, same shape,
same swirl, same frosting.
Now you're starting to embarrass me, but I do appreciate the compliment.
Good morning, Sar-bear!
Morning.
Hey, listen, guys,
Brad and I had a talk last night about the importance of family.
And now that everyone's here, I wanted to say a few words, okay?
I think that would be great.
Hey, kids, you know, families can be ever-growing and changing things.
And sometimes someone new knocks on the door of your heart and you're not sure if you have room in there for one more.
But there's someone here now that I hope you guys can learn to love.
Okay?
(WHISTLING)
Come here, boy!
(GROWLING)
BOTH: A doggy! Yay!
You brought a dog home?
Yeah. Is that a problem?
I mean, you seemed
really into it while I was teeing it up.
No, I thought you were talking about me.
Oh, but you're not a dog, Brad.
No… (SCOFFS)
Look, last night, when we talked…
Oh, yeah. Well, listen, that's got to happen organically.
Why can't it happen now?
It just can't.
You're dirty.
SARA: Dusty, how old is that thing?
I'd guess him to be around 15.
I mean, I found him this morning, living in a storm drain.
I named him Tumor,
because of how much he grows on you.
BOTH: Mommy, can we keep Tumor, please?
Oh, I'm gonna leave this one up to Brad.
BOTH: Please, Brad! Please!
Why is he looking at me like that?
(GROWLING)
He's only looking at me.
Maybe we just get a puppy instead?
A puppy, Brad? What are they going to learn from a puppy?
An old dog like Tumor here's been out in the world, man. Living free.
Fighting for survival and seeing things we can only dream of.
Just look at the wisdom in those cloudy eyes.
Besides, you know what happens to old dogs at shelters.
He's gonna have to walk the green mile as soon as he gets there.
No, Brad, no! Don't kill our dog!
I hate you!
Okay. Okay. Fine.
He can live out his few remaining weeks with us.
Yay! Thanks, Brad.
I don't hate you anymore.
He's going potty!
SARA: Oh, my God.
We'll clean it up. We don't mind.
Look at that.
The dog's already
teaching them responsibility.
Hey, guys, when you got to pick up the potty, use gloves.
He's definitely got worms in his poo.
(BOTH GROANING IN DISGUST) (SIGHS)
SARA: Dusty!
Can you please move this thing?
I can't get my car out of the garage.
Hey, Brad, do you mind?
I want to grab a quick shower.
Yeah, sure, no problem.
Hey, honey.
Hi, sweetie.
It's blocking everything.
No, I know. I know, don't worry.
We're on top of it.
What are you doing? Brad, I don't…
Hey! Stay away from that, please.
(GRUNTS)
Honey, what are you doing?
(ENGINE REVVING)
(LAUGHING NERVOUSLY) I don't know if that's a good idea, Brad.
Dusty!
It's vibrating up into my shoulders.
Hey, it's okay, Brad.
Look, she's a lot of bike, man.
No, I'm good. Why don't you go back in and take that shower, so you can get a shirt on?
Oh, you got it.
Hey, you look good on that, man.
Remember, one down, four up.
Dusty, everyone knows it's one down…
(SCREAMING)
(TIRES SQUEALING)
Watch out! Watch out! Watch out!
(ALL SCREAMING)
(CRASHING)
Did Brad just die?
I think we all need to prepare ourselves for that possibility, pumpkin. Okay?
Brad!
Brad!
(BRAD GROANING)
(GASPING)
Oh, my God.
(COUGHING)
Brad, are you all right?
No, I'm not all right.
I'm in the wall. I'm scared.
Oh, honey.
Jeez, Brad, I thought you said you could ride.
I can ride, okay.
Would you get a shirt on?
I think if you could ride, you wouldn't be stuck in a wall right now, Brad.
SARA:
Yeah. I'm sorry to say it, but he's right.
You almost killed the kids!
DUSTY: Let's not beat up on Brad here. Okay?
He was showboating for the kids a little bit, and things got out of hand.
Let's all just be grateful nobody got hurt. Okay?
I got hurt!
Okay, kids, listen up.
This is a good lesson
on why you never wanna lie about your ability to do things you clearly can't do, okay, huh?
I think my arm is stuck in the wall.
DUSTY: Brad, just stay still.
I'll get you out.
No, no, no, no, no. No, don't do anything.
And would you please
just go and get a shirt on?
Just calm down, all right?
(SARA SCREAMING)
(GROANING)
Hey, I'm really sorry about what happened to your car.
Yeah, and I'm sorry about what happened to your bike.
Oh, no damage. Not a scratch.
Oh, not even one scratch?
Unbelievable.
(LAUGHS) That's so good.
(ROOF THUDS)
Let's keep it going! Inside the cones!
Just like ice cream!
Morning, Jerry.
Got to keep it inside the cones!
No, Daddy! You're supposed to stay in the cones!
Whoa, whoa! Inside the cones!
Inside. Bring her in. That's better.
(SIGHS)
Let's keep those kids safe today, okay?
Thank you, Brad.
Sorry, Doris.
It's okay. This whole drop-off line thing can be a bit overwhelming if you're not used to it.
Yeah, well, I've landed a chopper in the middle of a Cuban prison riot, Brad, I think I'm good.
(BEEPING)
Bye, guys! I love you guys so much.
Have a great day, okay?
Bye, Daddy!
Make sure you do all your work.
Bye, guys. Have the best day.
I love you so…
BRAD: Here's the exciting thing.
We just opened up in our 68th market, making The Panda America's number three smooth jazz station.
Wow.
And here it is. My, uh… My little nook.
Wow. Oh, man, I gotta admit, this is more than I expected.
Wow.
I kind of envy you, Brad.
Oh, stop it.
Ah, it's true. I mean, you're a nice guy, making a comfortable living, and the most fantastic woman in the world loves you dearly.
Really? Thanks for saying that.
I mean it. And that sacrifice she's making for you… That's true love.
Sacrifice?
Well, sure, Brad.
You know how bad
that girl wants another baby.
She wants another baby?
For her to let that slip away and marry a man she knew to be barren, that's true love.
How do you know that I can't…
Bradley.
Yes.
Caroline says we're gonna hear some new voice talent this a.m.?
Yes, sir, in about 15 minutes.
Okay. How'd it go
with the sh@tbag ex-husband?
Uh-uh.
You whip his ass with
that Loving Fence of yours?
(LAUGHS)
Well, actually it's interesting, Mr. Holt, because I want you to meet Dusty Mayron.
Jesus in the morning.
She was married to him first?
Okay. Let's establish some ground rules, pretty boy.
Airborne?
Huh?
Well, your lapel pin.
101st, that's one hell of a division, sir.
Oh, well, thank you, Dusty.
Are you Airborne?
Oh, no, sir, I'm afraid I don't share that honor, but I'm humbled to be in the presence of anyone who does.
Airborne Division? Those guys love to fly.
Very nice to meet you, sir.
Thank you, thank you.
It's good to meet you.
My pleasure. It's an honor.
Fast friends over there. (CHUCKLES) That's wonderful.
Come on! No way!
The whole time you're running guns for the freedom fighters right under the cartel's noses, and they never suspected it was you once?
Well, I'm sure they started to suspect once they were in a ball of fire the size of four city blocks.
(LAUGHING)
That's great. I love that!
Holy buckets, Brad!
If this guy was my wife's ex, I'd put a bullet in my skull.
(BOTH LAUGH)
DUSTY: Come on, Leo, cut it out.
Oh, uh… Sir, I think Barry's ready.
You're really going to like this guy.
Okay. Ready to listen.
(BEEPING)
(SINGING) One-oh-three-point-six The Panda!
All right. Mmm-hmm.
You like him, Brad?
I do.
I do. I mean, I think his voice has a warm dependability that all Panda listeners could trust.
What do you think, Duster?
(BRAD LAUGHS)
Does Dusty now work for The Panda?
Yeah, Brad's right.
I'm not really into smooth jazz.
I shouldn't comment.
(SCOFFS) Nobody's into smooth jazz.
I'm into smooth jazz.
Of course you are, Brad.
So what do you think, Dusty?
I mean, it just seems a little flaccid.
I think you need a voice with some virility and hope, that tells listeners, "Hey! Maybe the next song won't suck as bad as the last one".
Also, I think a strong ability to be something like…
(SINGING) One-oh-three-point-six The Panda!
What…
What just happened?
He sang the tagline.
Good boy, Tumor!
(CAR HONKING)
BOTH: Daddy!
DUSTY: Hey!
Oh, perfect timing. Listen to this.
DUSTY ON RADIO: One-oh-three-point-six The Panda!
Is that you?
Yeah!
SARA: That's you?
Why is that him?
I took him to work, and 15 minutes later he's the new voice of The Panda.
Hey, you believe that? I record one take at 9:30 this morning, it's already run 11 times.
Do I really get 182 bucks every time they play that?
Yes. Every time, yes.
Ooh! Money.
You see why I love America even more than most people do?
Hey. What's this?
Just the handyman
I hired off Angie's List.
He's upstairs fixing the damage.
Your wife had to hire a man? For what?
Some framing, a little sheetrock repair, some masonry and basic window glazing?
Come on, Brad.
We can bang that out tonight.
Yeah.
It's just basic sheetrock glazing and, you know, little whatamajigs.
Get up there and
get in there and crank it out.
Dusty is pretty good with his hands.
Pretty good with my hands, Brad, she knows.
Okay. Yeah, I'll just go up there and I'll…
Want me to do it? I'll tell him to screw.
No, no, no, no.
No, no, no. That's okay.
I'll tell him,
"Guess what, bub?"
Tell him the men are here.
I'll say that.
I'll say, "The men are here".
Let's do it.
I don't want to imply to him that he's not a man. But I'll just say, "Hey, the boys are back in town". Right?
(HAMMERING)
Oh, hi.
I'm Brad. Uh… My wife hired you.
Nice to meet you, Brad.
I just came up here to say that you…
That, um, you should have good luck.
Thank you for your wishes of luck.
I'll be downstairs.
Well? What happened?
Oh, you know, I think it's…
He already started,
and I just think it feels wrong.
Why? Because he's black?
No. No, no.
Megan! Dylan!
What are you doing? Huh?
Teaching moment.
Guys, what would we call Brad if he treated someone differently just because of the color of their skin?
(BOTH GASP)
Brad's being racism?
Racist, honey. Brad is a racist.
Honey.
No, I mean… But not on purpose.
Is Brad a Klan person?
No. (LAUGHS)
So I'm a racist if I don't fire someone?
Well, yeah, you are.
Yeah, you are.
Sir, you're taking this all wrong.
Right. So you get one look at the color of my skin, and all of a sudden you're Mr. Do It Yourself, huh?
No, not at all. Please, allow me to pay you for your time and travel.
Don't do me any favors, Paula Deen.
(SIGHS)
I'm not a woman.
You did the right thing.
Boy, it doesn't feel that way.
Let's get cracking.
Where do you keep your tools?
I know where Brad keeps his tools.
In the credenza.
Yeah.
You keep your tools
in the credenza, Brad?
In the credenza. Mmm-hmm.
Just easier to get to.
It's convenient.
Yeah.
(CLATTERING)
This is a tackle box, Brad.
Are we going fishing?
No. Unless you want to go fishing.
What have you got in here?
A hammer, masking tape, three C batteries and a tampon.
Yeah, well, a tampon's handy for…
Yeah, I know what they're handy for.
So are we not going to fix it?
Well, what do you want from me, Brad?
To buy all the gear we need would cost more
than just hiring someone off of Angie's List.
(GROWLING)
(GASPS)
مشارکت کنندگان در این صفحه
تا کنون فردی در بازسازی این صفحه مشارکت نداشته است.
🖊 شما نیز می‌توانید برای مشارکت در ترجمه‌ی این صفحه یا اصلاح متن انگلیسی، به این لینک مراجعه بفرمایید.