سرفصل های مهم
اولین تقابل
توضیح مختصر
زمان مطالعه

8 دقیقه

سطح

متوسط
دانلود اپلیکیشن «زوم»
این درس را می‌توانید به بهترین شکل و با امکانات عالی در اپلیکیشن «زوم» بخوانید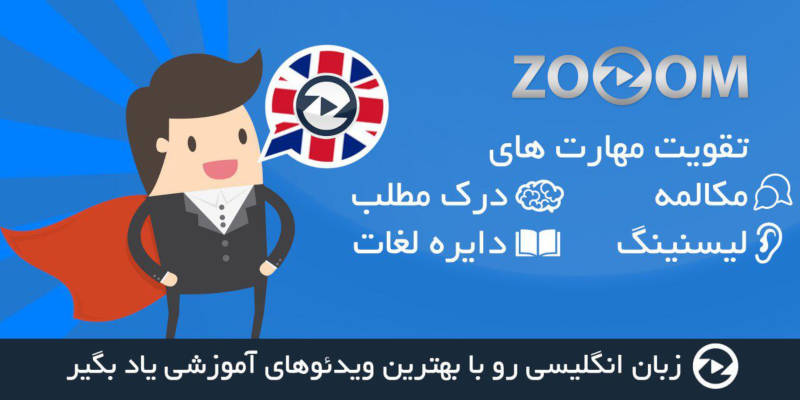 فایل ویدیویی
متن انگلیسی درس
The First Confrontation
BRAD: So today is the day I'm finally meeting the father of my children.
Am I nervous? You're darn right I am.
But who wouldn't be? (SIGHS DEEPLY) And here's the thing.
I mean, Pepe, you know, kids…
…they see through things and, at the end of the day,
they know who's been around…
Holy balls!
(ROCK MUSIC PLAYING)
I hope that's not him.
(GULPING)
(SPEAKING SPANISH)
There is no doubt this man is your better in every way.
Well, you're kind to say that. Thank you.
Yeah, I feel pretty good.
Hey, you Dusty?
Nope.
What?
Are you sure?
Are you Dusty… No, you're not Dusty.
(JAZZ MUSIC PLAYING ON RADIO) (ON RADIO) You've got
Jason Sinclair on The Panda, the station everybody
in the office can agree on.
What is this?
Now if you're up in Wolf Trap this weekend, do yourself a favor and check out…
(DOOR OPENING)
Hey! Where have you been?
I called you like 100 times.
(SIGHS) I know, my phone died. Look…
This motorcycle, is this…
Yes. He's here.
He's here?
Yes.
What's he doing inside there?
He's giving the kids
all kinds of Starbursts.
Starbursts? God damn it!
Sorry. Sorry. (EXHALES) I'm a hot habanero pepper right now.
I got a few bullet points I want to bring up with our friend Dusty, starting with airport etiquette, courtesy and expectation.
MEGAN: Oh, good story, Daddy!
You like that story? It's all true. Hey!
Who wants some more Starbursts and a couple of uncirculated silver dollars?
So you are Dusty.
(ROCK MUSIC PLAYING)
I sure am. You must be
the new and improved husband.
Bring it in, big guns.
I already met you at the airport.
No, I don't recall that, friend.
Yeah, I walked right up to you and asked if you were Dusty.
I'm pretty sure I'd remember a heavy hitter like yourself.
(SCOFFS)
Well, must have been my mistake.
All right, that was me at the airport.
Yeah, I know that.
The truth is,
I saw you before you saw me, and I'm thinking,
"This is the guy who's raising my kids?"
"And damn it if he doesn't look like the real deal".
I mean, look at you.
You figured it out, didn't you?
You cracked the code.
(CHUCKLES) I don't know about that.
Don't play that humble game with me.
He is so humble. He's just too humble.
Honey, you got it goin' on.
Everybody says so.
Yeah, I got it goin' way on.
So you can understand
why I panicked at the airport.
I froze, Brad. I'm sorry.
It's fine.
Look, these are tricky waters to navigate.
They sure are, man. I mean, that is insightful.
You know, I thought it was weird Sara didn't tell me about you before.
I thought, what's she hiding?
And now I know.
A champion.
Hey, Brad! Did you see Dad's motorcycle?
Isn't it cool?
BRAD: It sure is.
What is that, an Indian?
Yep.
I believe they're manufactured in Minneapolis.
I've never been, but that's the setting for The Mary Tyler Moore Show.
And… What's the other… Rhoda.
Which I want to say was a spin-off.
Damn! You really know
your bikes, Brad. You ride?
Uh-huh. Yeah!
Really?
BRAD: Yeah.
I mean, not anymore. I did, you know, back in college. I had a, um…
I had a Kawa-saki? Kawasaki Nine.
Yeah.
With the fenders and the…
The broil joint. So…
Well, you should get on her, man. Come on!
Take her out, see what she can do.
She's got a lot of power.
Oh, no, no, no.
Yeah, Brad! Brad… Please!
No. Hey, come on, kids. It's time for bed.
It's way past your bedtime.
Let's brush your teeth.
All right, come on, guys, listen to your mom. Hey, look…
(STUTTERS) I don't want to overstep, but it would mean the world to me if I could tuck in our two little blessings.
Yeah. Yeah, sure, of course.
They're your kids. Tuck away.
Oh, thank you for that, Brad.
The King messed up. He messed up bad.
He thought he could just ride off to slay dragons, and his Queen would always be waiting for him.
And then one day the King received word that his dominion was being ruled over by some curly-headed Step King with good credit?
Oh, no!
Well, the King rode hard up on his lands, and when he arrived,
he did gaze fondly upon the Queen, remembering their good times together, for he had known her in her prime, when she was down for anything, and I do mean anything.
Psst…
Sounds like your dad's spinning quite a yarn. Mind if I listen in?
Oh, actually, it's getting late.
You two need to get some sack time.
BOTH: No, we want more story, please!
Hey, I'd love to be in here all night, but let's be respectful of Brad's rules, no matter how arbitrary they seem.
All right?
Good night, my little golden treasures.
Good night, my little magical cherubs.
Here comes some butterfly kisses.
(GIGGLING)
And some Eskimo kisses.
Good night, buddy.
Sleep tight. Sleep tight.
Hey, who wants good-night tickles?
BOTH: Me!
(DUSTY CHUCKLES)
Good night, my little breath of God.
Good night, my little Jesus teardrop.
I almost forgot, my famous good-night back scratches.
Oh, so relaxing, so relaxing.
(SIGHING)
Good night, sweetie bear.
Hey, who wants twenty bucks?
BOTH: I do! Me!
Twenty dollars?
What?
Oh, yeah.
One for you, and one for you.
I don't know if that's appropriate.
Ah, don't worry about it.
BRAD: Okay. Good night.
So, uh, if you want to, why don't you come by tomorrow after school?
Might be a good time to…
What about the cold one?
The cold one?
You promised me
a cold one and a handshake.
Cold one. One cold one, coming up.
Great. I'll grab my jacket, we'll go outside.
Perfect. All right.
Hey! Psst…
What are you doing?
What are you guys buddies now?
No. I mean, I offered him a cold one.
I really should honor
the cold one promise.
(SIGHS) Fine. You give him a cold one, and then you get rid of him, okay?
You put up your Loving Fence, remember?
Mmm-hmm.
Then you come to bed.
Okay.
Will do.
Okay.
DUSTY: What you got going on over here?
Oh, uh, that's a treehouse. A little, uh, bonding project for Dylan and I.
Yeah, we've been at it
for about two months.
DUSTY: It's looking good.
BRAD: Thank you.
So, Dusty, how long do you think you're going to be in town for?
Well, Brad, the truth is, I'm wheels-up a week from tomorrow.
Time to get out there and kick some ass for America.
Oh, I see. So you're a soldier?
Nope.
Oh, so you're a, uh…
Yep.
Yep, what?
(CHUCKLES) You don't want to know any more than that, Brad.
Okay.
Um, listen, Dusty, I think that we should set up a visitation schedule.
Right? That way, you feel like you have ample time with the children…
Why don't we cut the sh@t, Brad?
No, we don't have to cut the sh@t.
You want to know what I'm doing here, why don't you quit looking at whatever you wrote on your hand?
Be a man and ask me, Brad.
Okay. What are you doing here?
Now, we both know kids need a single primary male role model.
Sara's made her choice.
I'm man enough to
let that role model be you.
I will vouch for you with my children.
I will give them my sacred permission to trust you.
To love you and to
call you Dad.
You'd do that for me?
No.
But I will do it for them.
That is what you want, isn't it, Brad?
More than anything in the world.
He played you.
You just got so played out there.
I know it looks that way, 'cause I promised I would ask him to leave, and then I invited him to stay for a week, but he didn't play me.
You know what he did? He cut the sh@t.
Oh, he did?
And I gotta say, it was refreshing.
I think more of us could stand to just cut the sh@t, you know.
Right.
In one conversation,
he just blew by
eight chapters in my stepdad book.
I mean, this is gonna be so good for me and the kids.
Oh, baby, you have no idea who you're dancing with.
Dusty gets into your head, that's what he does.
(WHIRRING)
(MUFFLED) He has a very impressive, rugged bravado,
there's no question. But I gotta say, I think in here, there's a soft, soft creamy center.
You know? I think he feels a lot.
He just… He needs
someone with this, a big ear.
And I got them. Mmm.
مشارکت کنندگان در این صفحه
تا کنون فردی در بازسازی این صفحه مشارکت نداشته است.
🖊 شما نیز می‌توانید برای مشارکت در ترجمه‌ی این صفحه یا اصلاح متن انگلیسی، به این لینک مراجعه بفرمایید.