سرفصل های مهم
مشکلات
توضیح مختصر
زمان مطالعه

11 دقیقه

سطح

متوسط
دانلود اپلیکیشن «زوم»
این درس را می‌توانید به بهترین شکل و با امکانات عالی در اپلیکیشن «زوم» بخوانید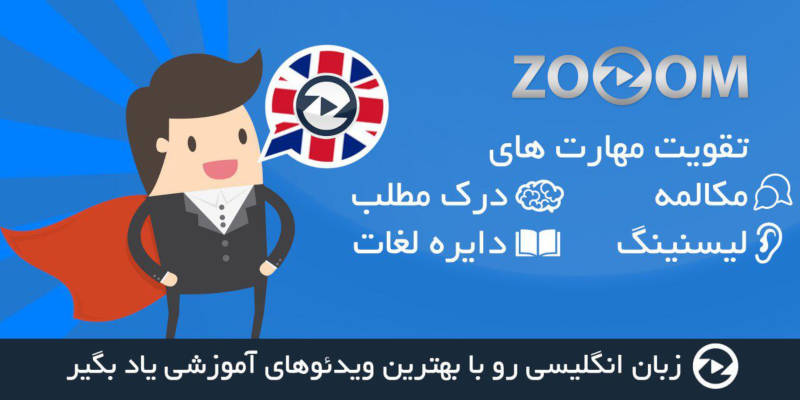 فایل ویدیویی
متن انگلیسی درس
The Problems
Look, I'm okay, really.
I just got a little jolt.
You got a little killed is what you got, Brad.
We thought we lost you.
Okay, I'm sorry.
I just got tired of being the lame stepdad.
All the kids think he's Superman.
Well, now you know how I felt.
I always had to be the bad guy mom, giving out the carrots
and the punishments,
and he would breeze in
from God only knows where and get to be the cool, fun dad.
Honey. Look. (SIGHS)
I'll talk to him, okay?
I'll tell him to get his stuff and get over to the Red Roof Inn. Pronto.
Great.
(TV PLAYING)
Wait. Prince Hans is actually the bad guy?
Man, I didn't see that coming at all.
He seemed like he really loved Anna.
MEGAN: I hate Prince Hans.
Dusty.
Hey, how you feeling, Sparky?
(CHUCKLES)
Sparky. That's hilarious.
DUSTY: Brad, have you seen this movie?
It's unbelievable, man.
There's these two sisters, one of them has ice powers.
Yeah, I'm familiar with Frozen.
Listen, Dusty, I need to talk to you now.
I can't talk now, Brad.
Just pause the movie!
Can you guys talk out there, please?
Griff, man. You gotta pause it, man.
No! I don't want to ruin the momentum.
He won't… Dude, if another song comes on, you got to pause it. Okay?
Am I supposed to pause my emotions?
Just pause the song, man.
What's up? What's up?
What's going on, Brad?
This shouldn't take long.
Okay, good.
Listen, um, I just think that you're being here…
Yeah. No problem.
…and now there's Griff here, it's presenting some obstacles…
(SOBBING)
Stupid helmet!
Honey, what happened?
They pushed me off my bike again!
I'm so sick of it!
(CLATTERING)
I want them dead, Brad. All right?
I want their parents dead.
And if they don't have parents, I want their primary caregivers dead.
Do you understand me?
Okay, okay.
He's okay.
Megan's upstairs playing with him.
I am so pissed about this.
Was it the fourth graders again?
Fourth graders?
What, you knew about this, Brad?
Yeah. Dylan asked to speak specifically to me about it.
Really?
So, we role-played
some conflict resolution dialogue.
Are you being serious right now, Brad?
What you need to be teaching him is some ass-beating resolution.
Damn straight. You got to make a statement. Set a tone.
It's kind of a family matter over here.
No, Dusty and Griff are right.
Those little punks need their butts whooped.
Hey, you got any Miracle Whip?
Yeah, it's behind the… (SIGHS) Here. Hold on. Let me just get it for you.
Guys, I know we're upset right now, but here's the thing.
Violence never solved anything.
Hey, check your history books, buddy.
Almost everything is solved by violence.
There are better ways.
Okay. Name one. Besides dialoguing.
Name one?
Name one!
What do you mean, name one?
You said you could
solve problems with
things other than fighting.
What are you gonna do?
I don't know.
Well, you said you knew!
You act like you knew!
Fine, yes!
What?
Dancing! Dancing.
Did you… Did you just say dancing, Brad?
It's very popular in youth culture to resolve conflict through dancing.
They step up to each other and get served by crunking, or popping and locking.
They call each other out, they take turns, and it is no less intense than a classic street brawl.
But, at the end of the day, no one's hurt.
And it's a great aerobic workout.
He's flailing a bit,
but he has a good point.
There's a rich history
of dance battles in film.
You got Breakin' 1…
I didn't even think of this.
…Breakin' 2: Electric Boogaloo.
One of the rare cases
where the sequel was better than the original.
Much better.
You got Step Up, Stomp the Yard.
He makes a solid point.
Honey, are you telling us that we should teach Dylan to dance?
(SIGHS) No, I'm just saying that teaching him to fight isn't the answer.
Okay, but maybe teaching him to fight back isn't so bad?
BRAD: Okay.
There we go. Perfect.
That's good, right there.
Yeah. A lot of protection.
All right, Dylan. You ready, buddy?
I guess.
Oh, you're ready.
Brad, Griff. You guys be the fourth graders.
I'll be Dylan.
Okay.
All right. Hey, buddy, the first thing you want to do is call out the biggest one.
Hey! What's the matter?
You too much of a pussy to take me on without your little bit@hes to back you up?
Wow. Okay, yes.
That cut right through me, there.
I'm filled with inner shame right now.
Saying to myself,
"Gosh, maybe I'm not behaving "100% the way I want to".
Right? Is that same page?
No. What the kid's gonna think is, "Now I can beat your ass "all on my own". But now you only got one bully to contend with.
Now bullies always open up with some shoving first.
Watch. Brad, give me a little shove.
All right.
(YELPS)
Whoa, I didn't connect there, did I?
No. It was really close, though.
See what I did, buddy?
I turned my body just enough to let his weight bring him in, then I came right down Broadway.
I'm not gonna hit you.
Oh.
Okay, relax. Okay?
Mmm-hmm.
Bam!
(ALL GASP)
It's called the element of surprise.
Then you start punking his ass!
You want some more of that, bit@h, huh?
You like that, bit@h?
All right. Do we really need to use that word?
No.
Honey, yes.
Unfortunately, we do. I'm sorry.
You have to make him a bit@h.
It's a fundamental step in destroying a bully's psyche.
Now stay down, bit@h!
Then you kick that kid right in the nuts!
Kick him in the nuts, Dylan!
Wait! I thought you were in my gang.
Yeah, but once Dylan tuned you up, I switched sides.
What do you think happens out there on the playground, Brad?
All right, now come on, buddy.
It's your turn. All right?
I'll be the fourth grader.
Can I just go inside already, please?
Hey, buddy come on, this is easy.
You can do this.
I said, no! I don't like this stuff.
I'll just stay away from them from now on. Mom?
Okay, come here, buddy.
Come on. It's all right.
Brad.
Help me out here. Come on.
Hey, wait.
Pal, listen…
I know what it's like
to be afraid to go to school.
Okay? When I was your age, this group of older kids started picking on me.
I ran and I cried
underneath the bleachers.
They bothered me every day, because they knew
I was too afraid to face them.
Until one day, I'd had enough.
And I socked Jesse Hubbard right in the nose.
Really? And they left you alone?
Damn right they did.
Brad. (SOFTLY) That was good.
Come here, buddy.
Hey, I'm proud of you. All right?
Now, look at me. I want you to punch them right in the Adam's apple. Okay?
I want you to shatter their throat.
Hold on, hold on.
I'm sorry. Look, I'm having a pang of guilt right now.
Full disclosure. Some of the elements of my story weren't exactly true.
Um, the incessant crying, 100% true.
The constant bullying, absolutely, it all happened, but I, uh…
I've never punched anyone in my life.
I could have told you that.
Then what did you do?
Yeah, what did you do?
Well, nothing at all.
In fact, sixth grade was so rough, I changed my name to Devin Lacecock.
Why the hell would you tell him that?
I pretended to be blind for an entire school year, just to elicit empathy.
Which was great until
they found me intently watching an episode of MASH.
In fact, it got so bad, my parents had to refinance our house to put me in private school.
Let's just do that.
Can I go to private school, please?
No, Dylan, we can't do that.
Want to know why?
Because ever since that day, I've always run away from conflict.
In fact, if I had a dad like Dusty when I was your age, maybe he could have taught me how to stand up for myself.
So, wait. You're saying, if I don't stick up for myself now, I'll grow up to be a huge wussy like you?
Um, yes. That is the basic gist of what I'm saying. Yes.
Okay. Then let's do this.
DUSTY: Come on, buddy, you got this.
Give me something. Come on.
Faster, harder, meaner, stronger.
You're fast, you're good.
You're a winner. You're a champion.
They got to let you off the leash, baby.
We got a little pit bull here.
That was really nice, you guys. Good job.
It was really fun to watch the two of you working together like a couple of great co-dads.
Yeah.
Co-dads. That's…
That's good stuff.
You know what?
In that same spirit of unity, I want to show my gratitude for your inviting me
to stay here and share moments like these.
Oh, about that, Dusty.
When I pulled you over there, actually…
No, what you've done here does not go unnoticed.
And I repay my debts.
Look, Sara, I know how much you want another child.
I think I can help
put a baby in there for you.
Oh, my God!
What are you saying?
I mean I got a guy.
Dusty, please! You got a guy?
Yes, I got a guy. A fertility doctor.
He's a buddy of mine.
I trained him for his first Ironman.
All right? Dr. Francisco is the real deal.
Dr. Emilio Francisco?
You've heard of him?
Oh, my God, yeah.
He's been on Dr. Oz like 10 times.
Yeah, he's one of the top five reproductive endocrinologists in the country.
See? People wait years
to get an appointment with this guy.
Do you really think he would see us?
Whoa, whoa, hold on.
I know he would.
If anybody can help you have a baby, he can.
Mommy's going to have a baby?
Cool! Can we name it Griff?
Oh, thanks, D-man.
Look, you guys,
I don't know if this is a good idea.
What, you don't wanna name your baby after a black person?
Is that it?
No!
You probably want to name it something really white, like Connor or Gordon.
Harland, or Scot with one T. Or Brad.
No, no, Griff is a lovely name.
I'm just saying,
I don't think it's a good idea to get our hopes up, because, in the end,
odds are, I'm going to let you down.
Okay, honey, but what if I promise, promise, promise not to get my hopes up?
We could just try, right? It can't hurt.
Okay, sure.
But you can't get your hopes up.
No. I won't, I won't! Thank you!
I feel like you've already gotten your hopes up.
Where are you going?
Nowhere!
You calling your mother?
No!
Okay, yes, but it's about something else.
It's not about something else.
Damn it, Brad, he set you up.
He used this fancy doctor to get your wife back on the baby train.
When those test results come back and prove that you can't give her a baby, guess who's gonna be waiting there cocked and loaded?
Well, I trust my wife, so we really don't need to keep talking about it, okay?
Let me tell you a little story, Brad.
When Jeneane, my fourth, and I were returning from our honeymoon, she told me that
she had a 23-year-old kid.
Brazilian boy.
Said she had him real young.
So he moves in with us.
Doesn't speak a lick of English.
There are the usual tensions.
I try to assert my authority.
"Andreas, get your feet off the furniture".
"Andreas, you're too old to sleep in bed with Mommy".
"Andreas, you got to stay off the 'roids".
And he'd get mad,
and hit me with a car antenna.
Eh… Maybe that's the way kids are.
No. Not really.
So I adopt him,
help him get his citizenship.
The second the papers come through, guess what happens?
I already know.
Bam! They shack up together in Barstow.
It turns out Andreas
is her boyfriend, Brad.
Mmm-hmm.
I did not see it coming.
I actually did, about one, two words into your story.
The moral of this fable is, it's good to know when you're beaten.
You know I think the world of you, Brad.
Thank you.
But if I'm being completely honest, even I'm rooting for Dusty.
He's just so damn likeable.
You know, it's getting kind of late.
Shouldn't we just get back to work?
Okay, you win.
So where are we on The Panda Jam numbers for next summer?
London, you still on the conference call?
مشارکت کنندگان در این صفحه
تا کنون فردی در بازسازی این صفحه مشارکت نداشته است.
🖊 شما نیز می‌توانید برای مشارکت در ترجمه‌ی این صفحه یا اصلاح متن انگلیسی، به این لینک مراجعه بفرمایید.