سرفصل های مهم
آخرین نبرد
توضیح مختصر
زمان مطالعه

12 دقیقه

سطح

متوسط
دانلود اپلیکیشن «زوم»
این درس را می‌توانید به بهترین شکل و با امکانات عالی در اپلیکیشن «زوم» بخوانید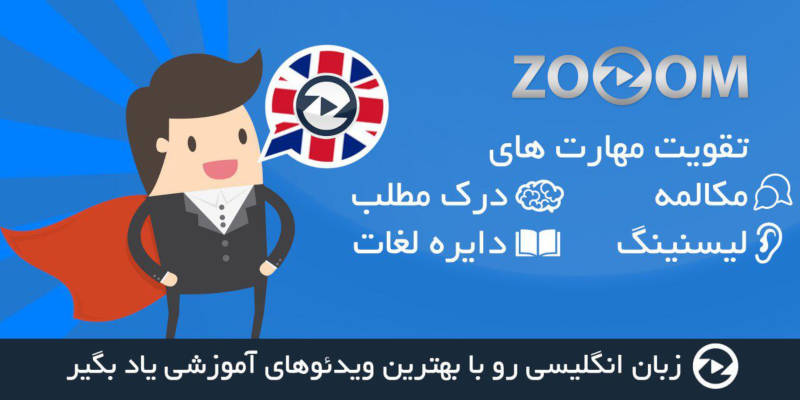 فایل ویدیویی
متن انگلیسی درس
The Last Battle
Christmas already?
Why didn't anybody tell me?
It's not. It's the middle of April.
Daddy must have done this!
BRAD: Ho, ho, ho, ho!
No, he didn't. (LAUGHS) Brad.
Ho, ho!
Claus is the name.
Santa Claus, if you please.
But this Brad you speak of called me all the way up at the North Pole.
He said his children were so sad because their biological father had missed so many Christmases and birthdays and special family holidays, so he asked me
to come here today so that Dusty could experience one Christmas with his kids before he leaves again.
Probably for a long, long time.
Ho, ho, ho!
Can we open presents?
You sure can, little girl.
I think they're from Brad.
In fact, all the presents are from Brad.
Let's see if any of the presents are from Dusty.
Nope. Not one present from Dusty.
All from Brad.
Hey, kids, let's not forget who got you a dog. Remember?
Hey, Tumor, quit humping Mrs. Claus!
(GROWLING)
Okay, I am officially worried about you.
Don't worry, Claus hasn't forgotten you.
Huh?
For me?
Yeah.
(GASPS)
Oh, my God, honey, it's beautiful.
I love it.
Wait, no! No! No, no. It's too much.
(TUMOR BARKS)
Oh, no, it looks like Tumor's given away Megan's big gift.
(SCREAMING JOYFULLY)
A pony! A pony! A pony!
I know, it's a pony!
Ho, ho, ho!
(CONTINUES SCREAMING) It's a pony, Dusty! A pony!
Can we name her Princess Elsa?
You can name him whatever you want, because it's yours!
Brad, how can we afford a pony?
Where are we even going to put that thing?
I can clear out some stable space in the garage.
Look, it's only half a horse.
Okay? Think of it like a big dog, only a lot better.
Oh, what's this? What the heck?
It's tickets to tonight's NBA playoff game…
What?
…against Dylan's favorite team, the Los Angeles Lakers?
Oh, thanks, Brad! You're the coolest!
I love you, Brad!
Not bad.
Not bad at all.
Merry Christmas, Whitaker family!
GRIFF: Christmas?
How long was I asleep for?
(HIP-HOP MUSIC PLAYING) You guys got enough candy?
Yeah!
Remember, you can have anything you want, 'cause it's Christmas!
No, it isn't. It's not Christmas, kids.
BRAD: All right. Here we are.
Oh, sick! We're this close?
Yeah. Pretty good, right?
Megan, you sit down right there.
Perfect. Dylan, you sit next to me.
And, Dusty, I'm so sorry. Yeah.
I could only get four in a row.
I couldn't get five.
So you're across the aisle, next to that gentleman.
All right, guys, I'll be right here.
We can still chat.
Bye, Daddy.
Look, there's Kobe! It's him!
He's right there.
Thank you, Brad, this is the best present I've ever gotten.
You are so welcome.
In my whole life.
I'm glad to hear it's the best present you've ever got!
How much did these seats cost?
Not too much.
ANNOUNCER: Ladies and gentlemen, let's give a big welcome to all the kids from Hearts of Courage.
Whoo! Hearts of Courage kids!
Proud of you, you're all miracles!
Whoo! I love kids!
All right, honey. That's plenty.
I just get excited
when I'm with my family!
Dusty! Dusty Mayron!
Marco? Hey!
(MARCO LAUGHS)
What's up, man? Are you coaching now?
Yeah, I'm the new strength and conditioning coach.
Oh, man.
Check you out.
Hey, I played ball with him in Italy.
This is my family. My little guy, Dylan.
He's the biggest Kobe fan in the world.
Really? Well, come on down.
I'll introduce you.
What?
What? You hear that?
You want to meet Kobe?
MARCO: Bring the whole family down.
You guys can sit with the team.
Hey, this is my little girl, Megan.
She just invited me to her first Daddy-Daughter Dance.
So sweet.
What did he just say?
What the hell did he just say?
Oh, sorry. He's okay.
No, I'm not okay. He's not okay.
Honey, you need to calm down.
No! I'm not gonna calm down.
She asked me first!
And now she's asking him?
No. It's not fair.
You know what, actually, it's very fair.
Okay? She has two dads.
She wants you both there.
You just have to accept that.
No, I'm not going to accept it. All right?
I do pick-up! I do drop-off!
Okay, I volunteer at school!
I listen to the tantrums and the crying and the soundtrack of Frozen that's on a goddamn loop all the time!
And he just waltzes in for a few days, and now he gets to go as well? No!
No, she's got to choose.
It's either me or him!
Megan, you got to choose!
(SARA SHUSHING)
You got to choose!
SARA: Hey!
It's the biggest decision of your life!
Hey!
You know what? I'm going to pretend you're not acting like a crazy person, because I know you're very upset.
But you need to get over yourself. Okay?
Now go down there and
be happy with your kids.
No! A scalper gouged me 18 grand for these seats. I'm not leaving them!
What?
(STAMMERING)
What did you just say?
Yeah. Nothing. Let's just… You're right.
(SIGHS) I'm so much more relaxed now.
Thank you.
Yeah. Let's just go down… Let's just…
No!
I think you should sit in your $18,000 seats, and think of all the better ways your family could have used that money.
Sara.
The guy from the nuclear sub thing?
Mayron! That's him.
That's the guy?
Can I get some beers down here?
Can I get five beers?
Excuse me, some beers!
(ROCK MUSIC PLAYING)
(ALL CHEERING)
THE WHIP: What's up, everybody?
Let's make some noise!
Whoo-hoo!
Tonight, one lucky fan is going to get a chance to shoot from half court to win a family vacation to Disney World!
(ALL CHEERING)
And our lucky fan is sitting in section 113,
row 6,
C-1. Where is he?
Let's see it. Where is he?
It's me. It's me, I win!
There he is.
I win.
I'm-a make it to Disneyland.
I'm-a make it all right.
All right, Brad!
Yay, Brad!
Yay, Brad!
All right, sir, how you doing?
What's your name?
First off, I love my kids.
He loves his kids! Let's give it up!
And if anyone was ever to do anything to them, I would hurt them.
Okay.
I would freakin' hurt them!
THE WHIP: Okay.
This guy over here is trying to take them!
Trying to steal my family.
He doesn't sweat!
Okay, you know what?
Why don't we just shoot…
But I got news for you, buddy!
Last night, while you were sleeping, I made love to our wife!
Okay.
My wife!
BRAD: Sara, right over there!
Took my wiener out of my pants!
This is a family event, okay?
Boo! Boo!
All right.
So,
even if Sara does pick you, you're going to have to be the stepdad to my kid!
You see how you like it! Okay?
THE WHIP: Let's get somebody else down here, all right? Somebody else…
Somebody else is going to win a family trip!
Give me that ball, you.
This one's for Dylan and Megan and Sara and Dylan.
Nothing but net.
THE WHIP: All right, he's going for it!
Nothing but net!
(GRUNTS)
(GROANING)
(ALL GASPING)
Do-over!
That's a do-over!
No do-over. No.
It's a do-over!
(GROANS)
(ALL GASPING)
(BRAD THUDDING)
(ALL APPLAUDING)
THE WHIP: I'm so sorry you had to see that. I'm so sorry.
(CAR ENGINE STARTING)
SARA: Hey, kids, why don't you go inside and put on your pajamas?
What are you doing?
I'm comforting you.
Sara, look… Sorry, too soon. I know.
But I just want you to know that I'm here for you and the kids.
Oh, really? You want to be a real parent now? Is that what this is?
Absolutely. I'm here now.
Dusty, I'm working crazy hours this week.
With Brad gone, the kids are gonna have to be dropped off, picked up, taken to swimming lessons.
Dylan has a play date with Eli on Tuesday, and Megan has a dentist appointment on Friday.
Sara, I know in the past I've been unreliable,
but this is a new me. All right?
This is the new Dusty.
Well, you can't take them to school on a motorcycle.
You need a car.
Done.
Okay.
Hey! You're not staying here!
Are you sure you don't need company right now?
I mean, you're going through a tough transition here.
Be here at 6:30 tomorrow morning.
Well, can I at least
come in and get my stuff?
No!
DUSTY: I'm gonna wait for a while, in case you change your mind.
(SIGHS)
Hey.
Oh…
What did you throw Griff out for?
This place is chaotic.
(SCOFFS)
There's always some bullsh@t going on in that house.
God, man. Want to go to the Red Roof Inn?
Let's do it.
Is that Cinnamon Toast Crunch?
(MUFFLED) Yes, sir.
DORIS: Okay. No running!
All right. Lindsey! Sloane!
Car's open right down there!
Okay, sir, inside the cones!
Just like ice cream!
Keep it inside…
That's right! Thank you.
(CAR ENGINE REVVING)
Hi. I see you've been picking up Megan and Dylan these past few days.
Should I expect you from now on?
Um, yeah, I'm their real dad, so yeah, from now on.
Terrific. I see that you also haven't signed up to volunteer in the lane.
Brad was so good about helping us out in the lane, in the classroom, PTA, and so forth.
We could always count on him for bake sales, Spring Sing, costumes for Winter Pageant.
You know the drill.
I hope I can count on you to be the new Brad.
Ah, sure, yeah. You can count on me.
I mean, I'm their real dad, so, yeah, I'll be here every day.
Great. So, if your kids aren't out here, I'm gonna need you to circle around to the back of the line. Okay?
No, I can't go around.
Thanks.
I came ten minutes early so I don't have to…
If your kids aren't here, you have to go around!
I know. There's somebody in front of me. Okay?
Just go around!
I can't just go over the cones! I'm boxed in here!
Go around!
No, you can't! Okay?
She said stay in the cone, like ice cream!
(HONKING)
Go around!
DORIS: Inside the cones!
Amanda has got a recital!
I have to get there! You need to go!
(HORN HONKING CONTINUES) (REVVING ENGINE)
(TIRES SQUEALING)
DORIS: Hey!
We always stay inside the cones!
Cones! (GRUNTING)
Cones! Come on!
(MR. HOLT SIGHING)
Have you been living here for the last few days, Brad?
No.
Then what's with the blankets and the hot plate
and the B.O.?
I crapped in the wastebasket.
You know, Brad, two years into my thing with Charlene, her first husband showed up.
Oriental fellow.
You can't say that.
You cannot say "Oriental".
His name was Yu or Wu.
It could have been Javier.
Anyway, I get off early one day, get home, and
there he is, stark naked in our bed.
I didn't know what to think.
Really? You didn't know what to think?
Six months later,
I wake up in a Chinese prison with a tattoo on my lower back of a golf ball rolling towards my butthole.
I can't hear these stories anymore.
I'm sorry. I know they're supposed to help…
Griff! What are you doing here?
Thought you should know Dusty came by the bar earlier.
He was talking about how he can't do the daddy thing.
I tried to talk some sense into him, but he seemed determined to get out of town.
What, he's leaving?
I don't think I have to tell you, but little Megan's dance is tonight, and she's not going to have a daddy.
That's fantastic. Brad, you win.
And Dusty, because of
an act of cowardice, loses.
I mean, you're the daddy again.
Come on, hit that.
(SIGHS)
No, I'm not her daddy.
I wish more than anything I was, but I'm not.
Yeah, you're right, Brad. A real dad wouldn't give up on his kids so easy.
(DOOR CLOSING)
Griff!
Wait!
He's still in the room, Brad.
Oh, hey.
Sorry. I thought you stormed out.
What you said sounded like a storm-out, and then I heard the door close.
I just thought that sh@t was getting kind of personal, so it'd be good to close the door.
So extremely thoughtful. Thank you. Yeah.
And just so you know where my head was at, I was going to chase you down the hallway. Right?
You'd hear my footsteps and you're like, "Is someone after… What's going on?"
Boom! It's me, and I'm like, "Griff, hey!
"You were right".
Holy sh@t! That would be so uplifting.
Can we do that?
Griff, can you storm out, and Brad, you go after him?
I don't really want any part of that.
That sounds like pure nonsense to me.
I don't want… I'd rather not.
We could just try it, you know?
No, that sounds forced and weird to try to recreate something. Not even recreate.
It would be creating. It didn't happen.
It's over-discussed at this point.
Shouldn't you go see your kid?
Yeah. Yeah.
All right.
You guys go. Brad, can I come?
No.
مشارکت کنندگان در این صفحه
تا کنون فردی در بازسازی این صفحه مشارکت نداشته است.
🖊 شما نیز می‌توانید برای مشارکت در ترجمه‌ی این صفحه یا اصلاح متن انگلیسی، به این لینک مراجعه بفرمایید.