سرفصل های مهم
رقابت میان پدرها 2
توضیح مختصر
زمان مطالعه

7 دقیقه

سطح

متوسط
دانلود اپلیکیشن «زوم»
این درس را می‌توانید به بهترین شکل و با امکانات عالی در اپلیکیشن «زوم» بخوانید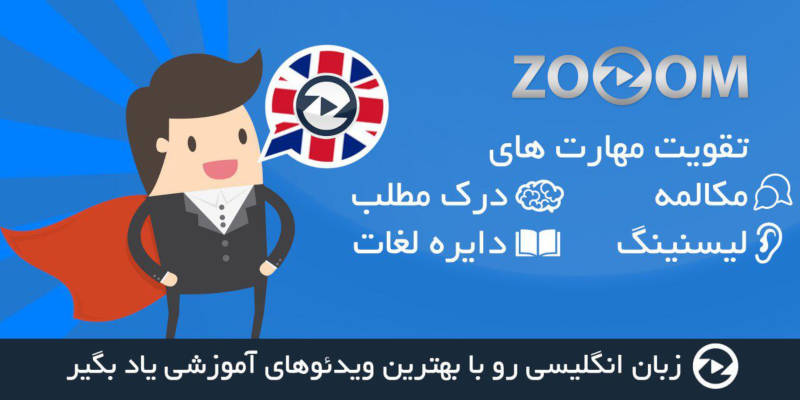 فایل ویدیویی
متن انگلیسی درس
The Co-dads Battle II
And the King, he thought the Step King seemed okay at first, a little soft, maybe, but, heck, the Queen needed a meal ticket.
But the more the King learned about him, the more he doubted the Step King's ability to lead.
So the King decided
there was only one way to…
Psst… Hey. Good story?
Yeah. The King finally came back to his castle.
But the evil Step King wouldn't give him his crown back.
Oh, okay, yeah.
I think I've heard this story before.
Ah, it's a story as old as time, Brad.
Well, you know what? It turns out the Step King wasn't evil at all.
He was a really good guy.
Fun at parties, great conversationalist, affable. And he saw
that the beautiful Queen and perfect Prince and Princess were all alone, and he came valiantly to their rescue.
Yeah, but wasn't the Queen sad because the Step King couldn't give her an heir to the throne?
Okay, you know what?
Now this is getting personal.
Hey, Brad, come on.
We're just doing fairy tales here.
All right. Well, the Queen wasn't sad, just for the record. (STUTTERING) The Step King was pretty sure she was totally cool with it.
Yeah, Brad's right.
I'm sure the Queen was thrilled. Right?
Right?
Yeah.
Honey,
what's the matter?
Are you still sad about Dusty finding your tampon?
No. No, I mean,
this is a little embarrassing, but it's just, I was…
Is there any chance
you still want another baby?
Oh, my God. What, did Dusty say something?
He's just trying to get in your head.
So it's not true then?
Okay. Maybe I did want another baby.
But it's not possible, given what happened to your…
And I'm not blaming them. I love them.
They are my fuzzy little pals.
You don't have to say that.
They are.
I am 100% happy
with the family that I have.
The only reason I'm putting up with him is because my kids are so happy to see him.
And I want them to have a relationship with their father.
You know what?
I can't wait to see his face when he figures out
how much you really do for his kids.
Yeah. I mean, I'm
involved. I'm emotionally available.
Yeah, you are.
You are darn right.
It's high time Dusty sees how a real dad does it.
I am fired up!
(SIGHS)
Let's get some shut-eye.
(FUNK MUSIC PLAYING)
(CHILDREN CHEERING)
(ALL CHEERING)
Hallelujah!
(INDISTINCT CHATTER)
Hey, dudes! Hey, T.J.!
Brad! Look what Dad did!
He finished the treehouse for you!
Hey, hey! B-man!
No, watch out, B!
(BRAD GROANING)
Hey, Brad. Sorry about that.
You all right?
(CONTINUES GROANING) Brad, what do you think, man?
Wow. Pretty cool zipline.
You like that, huh? It's military grade.
You built all this today? With my tools?
Oh, no, you can't build a treehouse with a tampon, Brad.
No, I had a little bit of help.
Yo, Dylan, PS4 is all hooked up.
Thanks, Uncle Griff.
No problem, buddy.
Uncle Griff?
Dude, I went out for a beer last night, and who's tending bar but our man Griffy?
We get to talking and we just click.
You know what I mean?
He's a great dude, man. He really is.
I know how you feel about him, but just give him a chance.
All right? He's having a tough time at home, and your firing him sure didn't help.
Well, I fired him because you made me!
I made you?
Yeah.
Am I in charge around here now?
Is my name on the mortgage?
Last time I checked,
you were the man of the house, and me and Griffy were just staying here.
He's not staying here.
Because he's black?
No, not because of that.
Look, Griffy helped me knock this out, all right?
So despite any prejudices that you may or may not have…
I don't have any prejudices.
I said "may or may not".
Well, it's may not.
Well, that's good.
Because that's one of the ones I said.
Hey, kids, come on.
Helmets on the half-pipe.
We got to be safe around here.
Wait, half-pipe?
Look, I know it's taking up a lot of the yard, but it's gonna make your house the coolest place in the neighborhood.
I got a sound system, we got a couple Go-Pros. That's Corey from Red Bull over there.
Hey, Corey!
You got a sponsor for my backyard?
Hey, Mr. Mayron! You want next?
Nicholas, please, it's Dusty!
And, yes, I do. Brad, watch this run.
I'm gonna dedicate this run to my future X-Games champs, Dylan and Megan. This is for you!
(ROCK MUSIC PLAYING)
(BLOWS)
Looks like you picked the wrong leisure activity, buddy.
(ALL CHEERING)
Thank you.
Oh, hey, Sara.
Hi.
Okay. Who's got next?
BRAD: I do!
Look!
(ALL GASPING)
Some cute little tricks there, Dusty.
(LAUGHS)
Really adorable.
Brad?
Hey, who'd like to see how we used to do it
back in the empty pools of Encino, Castaic, Irvine, Long Beach?
Santa Clarita?
Santa Cruz?
Fremont?
Honey, no, please come down.
Oh, I intend to, sister.
Come on, Brad, it hasn't been that long.
Godspeed.
(ROCK MUSIC PLAYING)
(GRUNTS)
ALL: Whoa!
(ELECTRICITY CRACKLING) (SCREAMING)
Oh, my God! Brad!
Oh, no, it's best not to touch him.
Wait a second.
What do you mean, don't touch him?
He's in trouble.
Look, I know he's in trouble, okay?
But if there's a problem, who do you want to be in charge?
You?
Okay. All right, guys, we have an emergency situation.
And what's the first thing we do? Anybody?
You! Redhead.
Call 911.
Close. But wrong.
First thing we do is remain calm.
Yeah, that's good advice.
The 911 operator can't understand you if you're hysterical, okay?
So let's all take a deep breath.
In for ten…
Are you kidding me right now? Help him!
Hey, that doesn't sound calm, Sara.
Now, please, call 911 and relate to the dispatcher what happened calmly, okay?
Okay, yes.
Anybody know what we do next?
Check for pulse!
Nice! My star pupil! Come on up here.
All right! Okay, two fingers on the neck, right below the ear.
Good. You feel a heartbeat?
Uh-uh.
Okay, now that means that Brad here is now clinically… Anybody?
You, Jean Jacket!
Dead?
Attaboy, Jean Jacket. You're a smart kid.
He is dead.
All right, so what do we do?
Come on, we're losing him here.
Give him C.P.R.?
Yes! That's my girl.
Come on up here, sweetie.
All right! All right, lock your fingers like this and press down hard right here.
(GRUNTING)
Oh, great job, sweetheart.
Dusty, hurry!
Okay, I'm going to go ahead and take this one.
Okay? Watch closely now.
If you do your
chest compressions properly, it shouldn't take long. Clear out, guys.
(WHIRRING)
(GASPING)
I got him! I got him!
(COUGHING)
(ALL CHEERING)
My dad can bring people back from the dead!
(GROANING)
Mr. Whitaker's a zombie!
(MUTTERING)
مشارکت کنندگان در این صفحه
تا کنون فردی در بازسازی این صفحه مشارکت نداشته است.
🖊 شما نیز می‌توانید برای مشارکت در ترجمه‌ی این صفحه یا اصلاح متن انگلیسی، به این لینک مراجعه بفرمایید.