سرفصل های مهم
بخش 04
توضیح مختصر
زمان مطالعه

0 دقیقه

سطح

ساده
دانلود اپلیکیشن «زوم»
این فصل را می‌توانید به بهترین شکل و با امکانات عالی در اپلیکیشن «زوم» بخوانید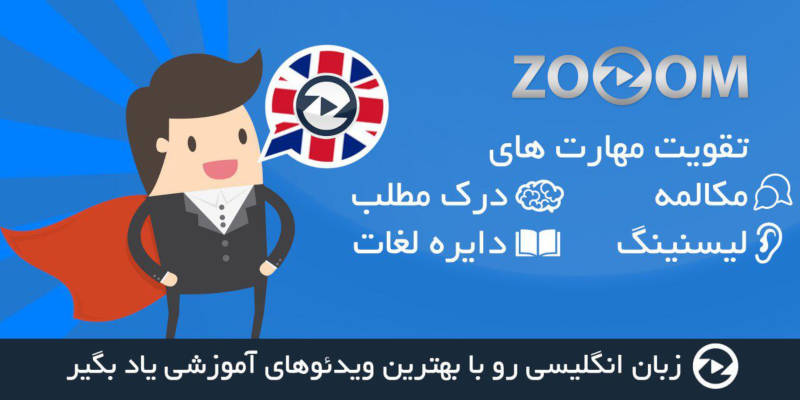 فایل ویدیویی
متن انگلیسی فصل
Excuse me.
I was looking for… Diversion!
What? So long, sucker!
I hurt all over.
Wait. I know you.
No, you don't. I get that a lot. I look like a lot of people.
No, no, no. I do.
Bing Bong! Riley's imaginary friend!
You really do know me? Well, of course!
Riley loved playing with you! You two are best friends!
You would know. We're trying to get back to Headquarters.
Headquarters? You guys are from Headquarters?
Well, yeah. I'm Joy. This is Sadness.
You're Joy? The Joy?
What the heck are you doing out here?
That's a good question. You want to answer that, Sadness?
Without you, Riley won't ever be happy.
We can't have that. We got to get you back.
I'll tell you what. Follow me!
Thank you!
It is so great to see you again.
I gotta tell you, I am such a huge fan of your work.
Do you remember when you and Riley were in a band?
I went to all of your concerts.
Yeah, I blow a mean nose.
Watching you play tag was such a treat.
Twotime world champ.
And remember your rockets?
Of course! It runs on song power!
That's right! Your theme song!
Who's your friend who likes to play?
Bing Bong Bing Bong
His rocket makes you yell "Hooray!"
Bing Bong, Bing Bong Bing Bong, Bing Bong
What exactly are you supposed to be?
You know, it's unclear. I'm mostly cotton candy.
But shapewise I'm part cat, part elephant, part dolphin.
Dolphin?
You got to remember, when Riley was three, animals were all the rage.
The cow goes moo. The horse goes neigh.
That's all people talked about back then.
Yeah. Yeah. I guess that's true. What are you doing out here?
Well, there's not much call for imaginary friends lately.
So I, you know…
Hey, hey. Don't be sad.
Tell you what. When I get back up to Headquarters,
I'll make sure Riley remembers you.
You will? Of course! She'd love that.
This is the greatest day of my life!
Are you okay?
Hey, what's going on? I cry candy.
Try the caramel. It's delicious.
Here, use this. Thanks!
Hold on, wait a second.
It always gets stuck at the bottom.
Here. What? It's imaginary.
Thanks. This will make it a lot easier to walk back to Headquarters.
Walk? We're not walking.
We're taking the Train of Thought!
The train, of course!
That is so much faster! But how do we catch it?
Well, it kind of goes all over the place,
but there is a station in Imagination Land.
I know a shortcut. Come on, this way!
I am so glad we ran into you!
The station is right through here. After you.
Joy. What?
I read about this place in the manual. We shouldn't go in there.
Bing Bong says it's the quickest way to Headquarters.
No, but, Joy, this is abstract thought.
What are you talking about? I go in here all the time. It's a shortcut, you see?
DANGER. Shortcut. I'll prove it to you.
Look at me. I'm closer to the station because I'm taking the shortcut.
Let's go around. This way.
Almost there!
If you want to walk the long way, go for it.
But Riley needs to be happy.
I'm not missing that train. Bing Bong knows what he's doing.
He's part dolphin. They're very smart.
Well, I guess.
What did you get? I don't know.
Okay, what abstract concept are we trying to comprehend today?
Loneliness.
Looks like there's something in there.
I'm going to turn it on for a minute and burn out the gunk.
What did I tell you? You'll be at Headquarters in no time.
Say, would you look at that?
What's happening? Oh, no, they turned it on.
Never seen this before.
My face! My beautiful face!
What is going on? We're abstracting!
There are four stages. This is the first: Nonobjective Fragmentation!
All right. Do not panic.
What is important is that we all stay together.
We're in the second stage. We're deconstructing!
Run!
I can't feel my legs!
There they are.
Come here, me!
We've got to get out of here before we're nothing but shape and color!
We'll get stuck here forever!
Stuck? Why did we come in here?
I told you, it's a shortcut!
The train!
Oh, no. We're twodimensional! That's stage three!
We're getting nowhere!
Depth! I'm lacking depth! Come on.
We can't fit.
Oh, no, we're Nonfigurative. This is the last stage!
We're not going to make it!
Wait! We're twodimensional. Fall on your face!
Stop! Stop!
No! I thought you said that was a shortcut.
I did, but wow, we should not have gone in there.
That was dangerous! They really should put up a sign.
How long until the next train?
Who knows. But don't worry. There's another station. That way.
The train always stops there. Right before it goes to Headquarters.
If we hurry, we can catch it.
This isn't another one of your shortcuts, is it?
Yeah!
Is there really another station?
Through there.
Welcome to Imagination Land!
Imagination Land? Sure!
I come here all the time. I'm practically the mayor.
Hey, you guys hungry? There's French Fry Forest!
Delicious. No way!
Check it out! Trophy Town!
Medals! Ribbons! Everyone's a winner!
I won first place!
Me too! Participation award.
Wait, is that… Sadness, look, it's Cloud Town!
That is my favorite!
It's so soft!
Let me try.
Hey! What's the big idea?
You better fix that wall, or else you're in big troub…
Oh, no! Lava!
Imagination Land is the best!
Is it all going to be so interactive?
Hey, look! The House of Cards!
Wait. Hang on just a minute.
Your rocket! Yeah.
I stashed it in there for safekeeping,
and now I'm all set to take Riley to the moon!
I'm sorry. Great.
I love Imagination Land.
Isn't it great? And there's always something new, like…
Who the heck is that?
Imaginary boyfriend.
I would die for Riley.
I've never seen him before. I live in Canada.
Anyway, this way. Through Preschool World!
We're nearly to the train! Riley, here we come!
This should be fun! New team, new friends.
These kids look pretty good,
considering they're from San Francisco.
Okay, Andersen, you're up!
Got to go. Okay. Good luck, sweetie!
Luck isn't going to help us now.
If she tries to use Hockey Island, it's going down.
Which is why I've recalled every hockey memory I can think of.
One of these has got to work in place of the Core Memory.
She's about to play! Hurry!
We did it, gang! It's working!
Line change! Line change! Change it up!
No! No!
It's like we don't learn anything.
Come on! Let's pick it up out there!
Pass! Shoot it! Shoot it!
That's it! No, no, no! Breathe.
Find your happy place.
What's her problem?
Riley. What's wrong? Let's go.
You're not going to finish tryouts? What's the point?
Hey. It'll be all right. Let's just go back…
Stop saying everything will be all right!
Nice hustle, ladies!
Hockey?
No, no, she loves hockey. She can't give up hockey.
Hey! Look at that! Very nice shot! Hey!
Bing Bong, we have to get to that station.
Sure thing. This way, just past Graham Cracker Castle.
Hey. That's weird. Graham Cracker Castle used to be right here.
I wonder why they moved it? That's not…
I would have sworn Sparkle Pony Mountain was right here.
Hey, what's going on? Yeah, yeah… I don't know…
We'll have to come back. Princess Dream World!
Oh, no! The stuffed Animal Hall of Fame!
My rocket!
Wait! Riley and I, we're still using that rocket!
It still has some song power left!
Who's your friend who likes to play?
No! No, no, no. No, you can't take my rocket to the dump!
Riley and I are going to the moon!
Riley can't be done with me.
Hey, it's going to be okay! We can fix this!
We just need to get back to Headquarters.
Which way to the train station?
I had a whole trip planned for us.
Hey, who's ticklish, huh? Here comes the tickle monster!
Hey, Bing Bong! Look at this!
Here's a fun game!
You point to the train station and we all go there!
Won't that be fun? Come on, let's go to the train station!
I'm sorry they took your rocket.
They took something that you loved. It's gone. Forever.
Sadness. Don't make him feel worse.
Sorry. It's all I had left of Riley.
I bet you and Riley had great adventures.
They were wonderful.
Once we flew back in time. We had breakfast twice that day.
Sadness…
It sounds amazing. I bet Riley liked it.
She did. We were best friends.
Yeah. It's sad.
I'm okay now.
Come on. The train station is this way.
How did you do that?
I don't know. He was sad.
So I listened to what…
Hey! There's the train!
مشارکت کنندگان در این صفحه
تا کنون فردی در بازسازی این صفحه مشارکت نداشته است.
🖊 شما نیز می‌توانید برای مشارکت در ترجمه‌ی این صفحه یا اصلاح متن انگلیسی، به این لینک مراجعه بفرمایید.