سرفصل های مهم
بخش 01
توضیح مختصر
زمان مطالعه

8 دقیقه

سطح

سخت
دانلود اپلیکیشن «زوم»
این فصل را می‌توانید به بهترین شکل و با امکانات عالی در اپلیکیشن «زوم» بخوانید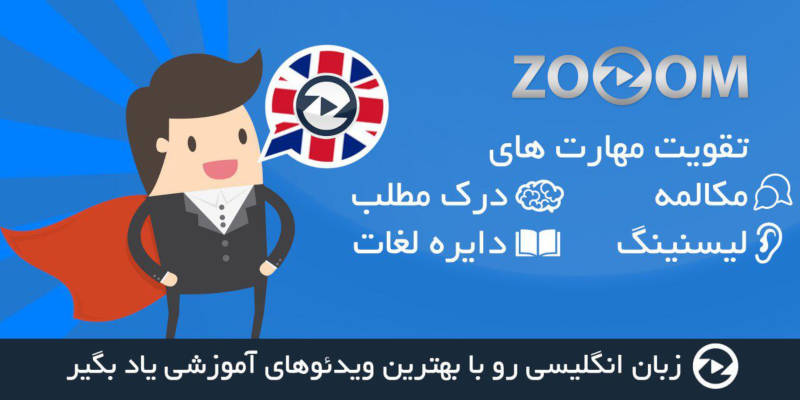 فایل ویدیویی
متن انگلیسی فصل
All my life, I've lived and worked in the big city,
which, now that I think of it, is kind of a problem,
since I always feel uncomfortable around crowds.
I mean it. I have this fear of enclosed spaces.
III… Everything makes me feel trapped all the time.
I always tell myself there's gotta be something better out there.
But maybe I… Maybe I think too much.
I think everything must go back to the fact that I had a very anxious childhood.
You know, my mother never had time for me.
When you're the middle child in a family of five million,
you don't get any attention.
I mean, how is it possible?
I've always had these abandonment issues which plague me.
My father was basically a drone, like I've said.
And, you know, the guy flew away when I was just a larva.
And my job, don't get me started on, because it really annoys me.
II was not cut out to be a worker, I'll tell you right now.
III feel physically inadequate.
My whole life, I've never been able to lift
more than 10 times my own body weight.
And, when you get down to it, handling dirt is, you know… [shudders]
is not my idea of a rewarding career.
It's this whole gung ho, superorganism thing
that… that, you know, I can't get.
I try, but I don't get it.
I mean, you know, I'm… What is it?
I'm supposed to do everything for the colony.
AndAnd what about my needs? What about me?
I've gotta believe there's someplace out there that's better than this.
Otherwise, I would just curl up in a larval position and weep.
The whole system makes me feel…
insignificant.
Excellent.
You've made a real breakthrough. I have?
Yes, Z. You are insignificant.
II am?
Ground floor!
Uh, worker.
Soldier.
Ooh.
Uhoh. Worker.
Let's try it again.
Firm grip. Swing hard. Back straight. Concentrate.
Follow through.
Okay. I gotta keep a positive attitude.
A good attitude, even though I'm utterly insignificant.
I'mI'm insignificant, um, but with attitude.
Ooh, sorry, Z. I didn't see ya.
Great, Azteca.
It's working already. I'm so meaningless, I'm invisible.
Now, you're getting it.
After all, it's not about you.
It's about us! The team!
It's about… this.
Uh, a giant hole in the ground?
Okay, people. Are we feeling good? Yeah!
Yeah. Great!
Now, R1734 through Z7829, you guys are on wrecking ball.
You got it! Swell.
You got it! All right. Swing time.
Let's get physical! I love this job! Let's go!
Now, remember, Azteca, Be the ball.
That's the main thing. Now, remember that.
You know, gotta be one with the ball.
Would you cut it out already?
Jeez. I love my work. And you, well…
You think too much.
Come on, Z. Help us build a bigger, better colony.
And, for cryin' out loud, try to be happy about it.
Sure, you know. I mean, whywhy…
How could I possibly be unhappy being a piece of construction equipment?
Okay, workers, remember… Here it comes.
…be the ball!
Let the energy flow through you!
Grin and bear it. This is… This is for the colony.
Ow. This is…
This is just a lawsuit waiting to happen.
Hang on. Here we go. Higher! Faster!
Did I happen to mention that heights make me nauseous?
No.
This is a ball!
Hey!
Oh, Z. Yes. Yes. I understand.
I dropped the ball.
Workers. They're weak.
They lack discipline. They lack commitment.
General, I know there's been a glitch or two.
But everybody is working full tilt as it is, and…
You can't help it, it's your nature.
But in spite of your limitations,
you are going to finish this tunnel on schedule.
Come hell or high water.
From now on, anyone who falls behind
is going to have to explain themselves to Colonel Cutter.
And let me assure you, the Colonel is not as understanding as I am.
Dismissed.
Four more days, Cutter. Four more days.
And we can bid final farewell to their kind of incompetence.
Yes, sir.
A fresh start.
Imagine it! A strong colony, sir.
A colony we can be proud of.
Yes, but we're not there yet.
Cutter, we just got word that a termite army has mobilized against us.
Against us?
We'll have to send troops deep into hostile territory to attack their colony.
Attack a termite colony, sir? That's suicide.
Exactly. Do you have the list I asked for?
Yes, General.
These are the units loyal to the queen.
Hm.
Then they're the ones we'll be sending.
It's a shame. There are some fine officers here.
Don't we need the queen's approval to declare war?
Our very next stop, Cutter.
General, we've been at peace with that colony for years.
Why would they attack us? They want our land.
They're desperate for more foraging territory.
Perhaps they think we've grown soft or weak.
Why don't we dispatch an ambassador, negotiate a new treaty?
Certainly, we don't need to send soldiers.
Believe me.
Every ant in this colony is so precious to me.
That's why we must strike now, while we have the element of surprise.
If the termite shock troops enter our colony, well…
Yes, General, I know what they can do to us.
Very well.
You've made a wise decision.
In fact, you've insured the future of this colony.
مشارکت کنندگان در این صفحه
تا کنون فردی در بازسازی این صفحه مشارکت نداشته است.
🖊 شما نیز می‌توانید برای مشارکت در ترجمه‌ی این صفحه یا اصلاح متن انگلیسی، به این لینک مراجعه بفرمایید.