سرفصل های مهم
بخش 05
توضیح مختصر
زمان مطالعه

9 دقیقه

سطح

ساده
دانلود اپلیکیشن «زوم»
این فصل را می‌توانید به بهترین شکل و با امکانات عالی در اپلیکیشن «زوم» بخوانید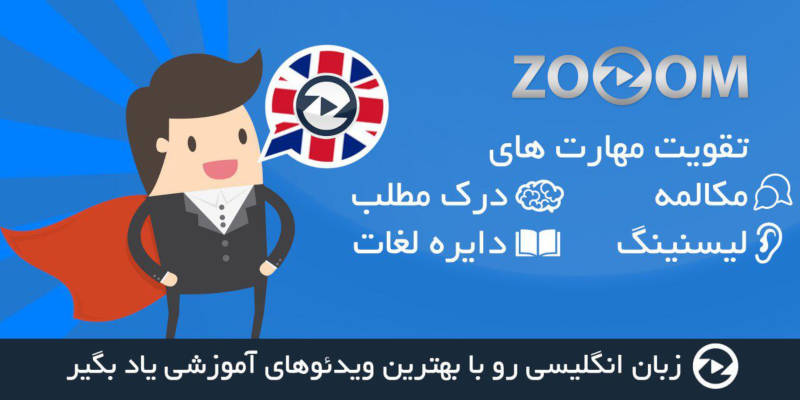 فایل ویدیویی
متن انگلیسی فصل
Ow!
I've been kidnapped by the village idiot.
Who's the bigger idiot,
the idiot or the idiot who gets kidnapped by the idiot?
What'd you do, talk those termites to death?
I can't believe you tried to pass yourself off as a soldier.
Why are you stalking me?
Don't you realize I'm out of your league?
You're the one who was cruising the worker bar
looking for a little action.
And you just happened to find it…
the swarthy, earthy, sensual worker.
Please. I was slumming it.
Don't you get it?
I chose you because you were the most pathetic little bug in the joint.
I was gonna let you become part of my most erotic fantasies,
but now you can just forget that.
Write it off, you know. I guess what you prefer is old Blood and Guts.
This guy's idea of a romantic night out is two seats at a public execution.
Boy. You really chose the right husband.
For your information,
the General and I are deeply,
deeply in… engaged.
You come right back down here this instant!
We are marching straight back to the colony so that I…
The monolith!
…stupid little bug you are!
Absolutely. Wonderful. That's an appealing offer.
But, considering the options, you go back. Okay? 'Cause I'm going on to Insectopia.
Oh. Come on. Insectopia?
You're crazier than I thought.
Yeah? Well, I happen to have it on a very reliable source.
Or… Or should I say, a drunk, raving source?
But the point is, I'm convinced the place definitely exists.
Stop! I order you to stop, worker!
Hey. I got a name. Okay? It's Z.
And out here, you can't order me around.
All right. Fine. No problem.
Worker! Worker! Where are you?
Z? Z? Wait for me.
No more excuses, General. I want my daughter back.
Frankly, I'm beginning to doubt your ability to handle this.
Believe me, Your Highness, we will spare no effort to bring her back.
Princess Bala is essential to all our plans for the future.
So he kills himself a hundred termites, gets a few medals,
then badabing, badabip, bags himself the princess.
He looks him dead in the eye and says, Bite me.
He said that to General Mandible?
Buddy. Hey, hey, buddy.
You heard about the war hero named Z?
Runs off with the princess, right?
When they sent the guards after him, he just looks at 'em and boom!
They burst into flames. Z? You talkin' about Z?
Hey, I know the guy. He's a friend of mine.
I think your information…
You know Z? Yeah. He's a worker. He used to dig here.
A worker? That's impossible. A worker can't do anything, except work.
Yeah. It's not like we got a choice.
We do have a choice. Uh, I mean, look at Z.
He decided he wanted something, and he went for it.
He's not alone.
I used to be a soldier, and I switched places with him.
Wait a second. You're tellin' me I don't have to be here?
We've got a choice?
The authorities don't want you to know about it,
but we don't have to work on the tunnel anymore.
It's the workers who control the means of production.
If Z don't dig, I don't dig.
People, what is this? An encounter group?
Let's get back to work. Why?
on the tunnel anymore! This guy, Z, he's leadin' the revolution!
I'll… get back to you.
Think about it, Z. Two ants.
Who ever heard of two ants? Two million ants, maybe. But two?
Look, I'm hungry, I'm thirsty,
and this whole desert thing?
It just doesn't work for me.
Yada, yada, yada, yada. I think it's about time you take me back.
Take yourself back. Sheesh.
Excuse me. You kidnapped me, remember?
That means you have certain responsibilities.
You can't just abandon me here in the wilderness.
Yeah, well, it's better than being back at the colony.
You're not serious, are you? Maybe you were living the high life,
but personally, this beats digging.
If you'd ever done a day's labor, you'd know what I was talking about.
Labor? What do you know about labor?
How would you feel if you were expected to give birth
every ten seconds for the rest of your life?
Gee.
Water!
Ahh. All you think about is yourself.
Yeah? Well, nobody else ever thought about me.
So as far as I'm concerned, I don't need anybody else. Help! Help me, Bala!
Help! BBBBBala!
Hold on. I'll get you out. Hold on.
Help, Ba…
Thanks. Don't mention it.
Now, maybe we can put this fantasy behind us
and head back to the colo…
Oh, Z! What are you doing?
We've gotta cross the lake. Am I missing something here?
Didn't we just get out of the water?
Bala, look, what have you got to lose?
I mean, think about it.
Do you really want to be Mrs. Raving Lunatic?
There's a better place.
Z, please.
Just… gimme one chance.
If we don't find Insectopia soon,
I promise I'll take you back to the colony.
I hope you know what you're doing.
Yeah, me, too.
We want Z! We want Z!
People, come on.
I know some ants who aren't gonna make their quota.
Buzz off, pawn of the oppressor.
We want Z! We want Z!
Sorry, sir. I came as soon as I heard. I was debriefing the trackers.
And? What's the report? Well, this Z, sir.
He's one slippery character.
They lost Bala's trail at the edge of the lake.
The lake? All we are saying
Is give Z a chance
What's that soldier doing there?
It appears he's holding hands, sir, with a worker.
I don't like the way things are going, Cutter.
I'm counting on you for results.
Now, can I depend on you or not? Yes, sir.
All right, then. Let's wrap this up.
We want Z! We want Z!
I've heard a lot about this Z.
I even had the pleasure of meeting him once.
But where is he now?
Can anyone point him out?
I mean, if this Z cares so much about us,
then why isn't he here?
I'll tell you why.
Because Z doesn't give a damn about us.
That's why he kidnapped our princess. That's why he ran away.
Z is no hero. We are the heroes.
We are the ones ensuring the future of our great colony.
And when we've completed this magnificent structure,
we will reap the benefits
more food and less work for everyone.
And as further reward for your heroic efforts,
and every one of you will get the day off!
So you can be the guests of honor at the MegaTunnel dedication ceremonies!
Mandible! Mandible!
Mandible! Mandible!
مشارکت کنندگان در این صفحه
تا کنون فردی در بازسازی این صفحه مشارکت نداشته است.
🖊 شما نیز می‌توانید برای مشارکت در ترجمه‌ی این صفحه یا اصلاح متن انگلیسی، به این لینک مراجعه بفرمایید.