سرفصل های مهم
بخش 03
توضیح مختصر
زمان مطالعه

9 دقیقه

سطح

ساده
دانلود اپلیکیشن «زوم»
این فصل را می‌توانید به بهترین شکل و با امکانات عالی در اپلیکیشن «زوم» بخوانید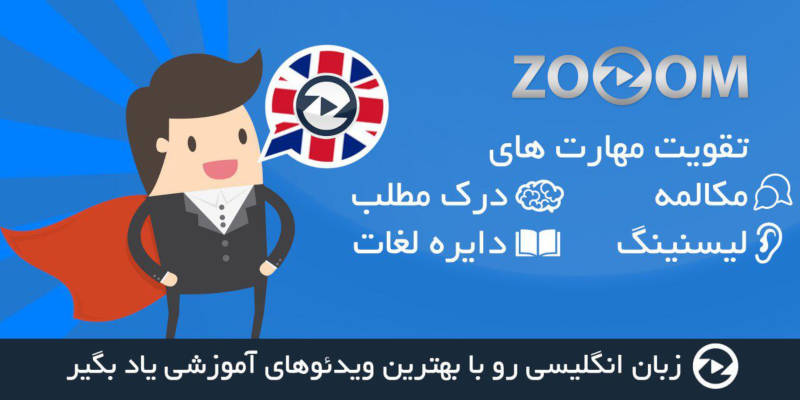 فایل ویدیویی
متن انگلیسی فصل
Yes, what do you want, a cookie?
You did all right, man.
Move on already.
Yeah.
Vampire! Vampire!
A human.
Who are you? And how did you find this place?
l'm Jonathan.
And l was just mountain climbing with some dudes…
…and heard this story about a spooky forest.
And who's not going to go into a spooky forest, right?
So, then I see these goofy-looking dudes on fire.
And l just kind of followed them to this, like, amazing castle.
But, of course, be smart.
No bonfires, no firework shows.
How many of you are there? Just me.
l like to hit it alone.
You meet so many awesome people in the youth hostels.
Hey, speaking of awesome, that cape thing is killing it.
ls there, like, a costume party here?
What have l done?
This is all my fault.
You have to leave.
Oh, no. Excuse me.
One of your piranhas in the lake is very rude.
He ate my sister-in-law.
Be right with you.
Mr. Dracula, we asked for a room with a view of the pool.
The room's fine. We want to book a massage.
Yes, Swedish. Shiatsu.
Aromatherapy. Lower back.
Do you have hot-stone? We want a massage.
l'll get back to you, Mr. Hydraberg. l hope so.
l doubt it. See that you do.
That's Ms. Hydraberg. Thanks.
Yes, nice to see you. Dude, seriously, what's up?
lt's kind of funky to breathe under here.
Drac. Hey, Drac. How'd it go with Mavey?
Hey. Where'd you go?
Wow!
This room's kind of small for a big castle.
No bed, but check out these awesome dustpans they give you.
Quiet, you fool.
What weapons are you keeping in this container?
Your pitchforks?
l can't breathe.
lt's killing me.
Yeah, definitely due for a fluff and fold.
What is this?
A torture device?
A secret mind controller?
You won't read my thoughts.
l won't let you.
Dude, it's just music.
Here, try it.
lt's taking my soul!
What? lt's a good jam. Don't be a grandpa.
You need to go.
No human has ever entered this castle. And if someone should see you,
the safety of the hotel, the sanctuary, no one would ever come again.
Yeah, go for it.
"Ever come again!"
l love your Dracula voice. lt's so over the top.
And Mavis, if she saw you, she would know that l lied. No!
Who's Mavis? ls this her room?
l'm good with a roommate.
l had six brothers growing up, so l could totally share.
l can't kill him.
lt would set monsters back hundreds of years.
One time, in Hamburg, l roomed with this dude
who l caught stealing my shampoo.
l said, "Whoa, man," and he threw a flower pot at me, but he was cool.
What are you babbling about?
What? Whoa.
Check out these awesome costumes.
Costumes.
What's this? Sorry, man. l just can't be without my backpack.
You know, everything l own's in there. lt'll be right here.
Okay, l just… l love my backpack.
Whoa. Hey, what are you doing?
What are you… What are you doing to my hair?
Stop. Oh, wait, that tickles.
Come on, man.
Check it out. l'm a Franken-homie.
Yes, hello. Look at me!
This is totally normal, not a problem here. This is just a monster with me.
Man, everybody stepped it up tonight.
Wait, why are we going to the front door? Are we leaving?
Bonjour, Dracula!
Hey, Sniffy. What's going on?
Not right now, Quasimodo.
What?
No. Don't be absurd.
lt's not a human, but Monsieur Dracula.
How ridiculous. lt's me.
The devilled lizard fingers. Devilled lizard fingers?
l asked for spleens-in-blankets.
You ugly fool! l told you, he doesn't like
the lizard fingers! But you said…
Whoa. Check that costume out.
Wow. Seriously, l just have to ask you: How are you pulling this off?
l mean, it looks so real.
Like, l could just put my hand right through…
What do you think you're doing?
She's real. You're real!
Yeah, and l'll give you a real beating. Keep your hands out of my wife!
Oh, no.
Honey, l just didn't know where you were.
We thought you were still out.
Oh, no. l don't know why l ever wanted to leave.
The humans are so boring.
Mavis, honey, are you all right?
Yeah, l think so. That was weird.
My head hurts.
Who is that? Who is what?
Oh, that.
That is nobody.
Seriously, Dad? "Dad"?
Yeah, l know, Dracula's daughter. Everyone freaks out at first.
Dracula?
Okay, we got to go.
Please don't kill me. l'm so young.
l have so many places l want to see.
l've got tickets to six Dave Matthews Band concerts.
l'm getting out of here.
Shut up already.
lt's impossible for me to think with all your noise.
Sorry, Glen. Go back to sleep.
Wait. Aren't you going to suck my blood? Classic human paranoia.
Human blood is so fatty, and you never know where it's been.
So, Dracula doesn't drink blood?
No, l use a blood substitute.
Either Near Blood or Blood Beaters. You can't tell the difference.
So, wow, you're, like, the real Count Dracula.
Like, "l'm Dracula. Bleh, bleh-bleh."
l've never said that in my life. "Bleh, bleh-bleh."
l don't know where that comes from.
Can l just ask, what exactly is this place?
What is this place?
lt's a place l built for all those monsters out there,
lurking in the shadows, hiding from the persecution of humankind.
A place for them and their families to come to and be themselves.
A place void of torches, pitchforks, angry mobs.
A place of peace, relaxation
and tranquility.
Cool. So, it's like a hotel for monsters?
Yes, exactly. "A hotel for monsters." Way to sum it up.
Okay, hop on my back. We're leaving.
Oh, man, you're a bat now.
l always wanted to fly. What's it like?
This is insane. Wait. Wait, l want to stay.
Can Frankenstein sign my costume? Can l meet the lnvisible Man?
Hey, if l stuck my hand in the lnvisible Man's mouth,
would it disappear? Hi.
Mavey! What are you doing, my sweet little blood orange?
Our friend was just leaving.
Yeah, he was flying me out the window.
This guy, he's so funny.
Look, you have something on your face.
Play along if you ever want to see your precious backpack.
Whoa. So, wait, you didn't have any clothes on when you were a bat?
Or were they bat-sized?
Who exactly is that?
Honeybat.
You see, it's your birthday.
And you know l want you to have the bestest, specialest party of your life.
So, well, l needed some help.
You needed help?
Well, look, l am very good, but l thought it would be
even more bestest, specialest if someone closer to your age helped plan the party.
You're my age? Sure.
Well, how old are you?
1 1 8.
One hundred and…
Yeah, l'm 1 21 .
Really?
You see? Everything is very, very normal.
l'm throwing a party, and he's helping.
Sir, there's an emergency. Not now.
Can't you see we're in the middle of something very normal here?
Wait, what's going on here?
There's an emergency in your precious hotel, and you're not running to fix it?
Why? ls it because of him?
Whoa, look at my face.
No, precious bones, it's not because of him.
Good. Then go check on the emergency, and l'll keep him company.
No! Anything but that! What?
l mean, because he needs time to plan.
And if you're keeping him company, then he's not planning.
He is company-keeping,
and then the plan, it's… lt doesn't get planned.
Good one. Shut up!
Okay. So, maybe if you're not planning later, we can hang out.
Sounds good. Yes. You hear that?
lt sounds good.
So you will hang out. See you later, my honey. Lovely.
Okay, you're not hanging out.
Because you are leaving.
But the opposite, you said.
But, sir, the emergency.
Follow me.
مشارکت کنندگان در این صفحه
تا کنون فردی در بازسازی این صفحه مشارکت نداشته است.
🖊 شما نیز می‌توانید برای مشارکت در ترجمه‌ی این صفحه یا اصلاح متن انگلیسی، به این لینک مراجعه بفرمایید.