سرفصل های مهم
بخش 05
توضیح مختصر
زمان مطالعه

10 دقیقه

سطح

ساده
دانلود اپلیکیشن «زوم»
این فصل را می‌توانید به بهترین شکل و با امکانات عالی در اپلیکیشن «زوم» بخوانید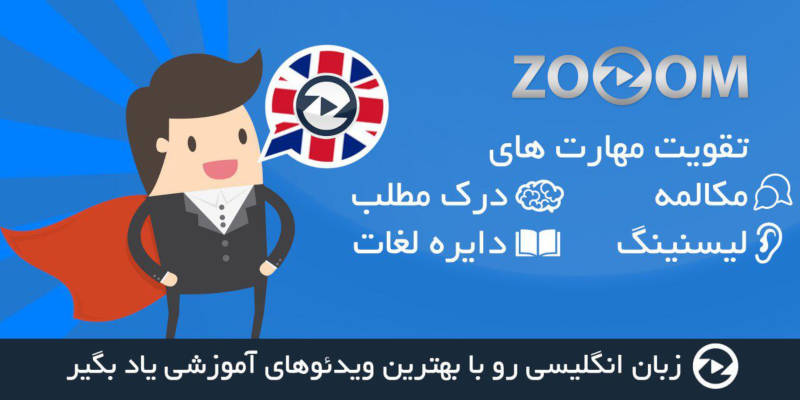 فایل ویدیویی
متن انگلیسی فصل
Just wrap it up. You will say you are going in the pool and act excited.
And then you will say you hurt your back and you have to leave.
Here come good times!
Oh, dudes. Oh, my back.
l'm on your back!
No, no. He said, "Oh, my back."
Get on my back! Let's do it.
Here we go. Chicken fight! Push them off!
Chicken fight!
We got you, Johnny.
You're going down. Whoa.
Oh, yeah, we'll see, "Mavey Wavey."
Okay, calm down with the fight chickens!
Everyone, stop the roughhousing!
Frank, if you hurt yourself…
l got it, honey.
The Stein boys are bred for this kind of thing.
Geronimo!
Kids, why'd you do that?
l was just in the pool.
The water's cold.
Don't judge me!
Johnny. Your makeup.
Your makeup!
Climb out. Now.
Oh, man.
l guess the Count wanted to go for a swim.
Cannonball!
You messed up, baby. You messed up big-time.
l told you to take it down.
You'll ruin my hotel if they find out.
Well, maybe you're just jealous
that people are finally having fun at this place.
Oh, that? That was not fun.
Everyone running, jumping, swimming with no order.
That was the opposite of fun.
Do you even know what fun is?
l invented fun!
Boy, the wrong people get to be immortal.
Look at me.
You remember nothing of this encounter.
You have no memory of this place or the monsters you met.
Now go and never return.
Wait, never return to the hotel?
What? You were supposed to forget the hotel.
l just used my powers to erase your memory.
l looked straight into your eyes.
Maybe it's the contact lenses.
The what? These little plasticky doodads
that help me see better.
Here, let me just try and get them out real quick.
Oh, that is the most disgusting thing l've ever seen!
Almost got it. Stop doing that. Please stop doing that!
Fingers away from the eyeballs! Enough!
Listen to me. You are never to return here.
You are to stay away and never tell humans about this place.
Or l will track you down and suck every ounce of blood
from your body until you look like a deflated whoopee cushion!
Be gone.
Can't believe l'm leaving, man. That could have been so great!
Dude ruined everything. Suck my blood.
l should have just said, "l'm staying, old man!"
Give him a Bruce Lee kick. Right in the…
Oh, my God. Count Dracula. Please don't kill me. l'm leaving, l'm leaving.
Follow me. No, no, Mavis, l can't. l have to leave.
You sure? lt'll be fun. Okay.
He's not gonna see me, is he?
Wow, would you look at the view from up here?
You could almost see Budapest. Who-da-pest?
ls that near Ha-wi-fi?
You mean Hawaii. Yeah, that place is a knockout.
l just went to a music festival there.
A human music festival?
l believe so.
So, did they all bite your toes and shove garlic bread in your face?
No. Well, one dude took a bigger bite out of my energy bar than l expected,
but l blame that on the heat.
lt's amazing. You've been everywhere.
Well, you know, what's the alternative?
Just staying at home, never exploring, never seeing what's out there?
l'm only gonna be 1 21 once, right? Got to live it.
Yeah.
Oh, man. The sunrise from here must be…
l'm sorry.
Man, you've probably never even seen a sunrise, have you?
No, not really. Why?
Come on. l have an idea.
Watch.
Didn't l tell you guys we'd have fun in here? ls this not the best?
Yeah, l'm working up a nice sweat.
When's that Johnny kid gonna be done party planning?
He's a great hang. Yeah, he's an animal.
And it was so nice seeing Mavis laughing and hitting it off with him.
Who's hitting what off? Please.
Mavis could never be with someone of his kind.
l'm sorry? "His kind"?
You're saying our kind's not good enough for you,
"Your Lordship"?
No, no, no! Frank, l didn't…
l meant that she wouldn't be into someone with such red, curly hair.
What's wrong with red, curly hair?
-Why are you getting upset? -l have red curly hair!
Well, how was l supposed to know that?
This is the most incredible thing l've ever seen.
Johnny?
Look, settle down, fellas.
This is all a moot point because Johnny, he left.
Wait a minute. He left?
Yes. He decided he didn't like Mavis, or any of us.
Hi.
l guess Johnny had second thoughts.
l can't believe you stuck around, man. You don't get it.
Bad things are coming your way.
l got to get my thoughts together.
Okay.
You see these tables?
You can spend the entire day pulling them out
and placing them, party planner.
Fantastic. l'm trapped here.
Now l know how your daughter feels.
Enough! Enough! Stop!
Go to a corner, you're in a timeout!
Timeout? l'm a grown man!
Okay. Table 57, please move to position 23.
-That is cool. -Face the wall.
1 7 to 48. 1 6 to 47. 1 9 to 50.
-Awesomeness. -Just let me do my work.
29 to 35.
42 to 1 8. 1 0 to 44.
1 7, 1 8, 1 9, 20, 21 , 22, 23.
39 to 24.
36 up!
29 to 35.
31 to 1 9.
24 up!
Seven to 25. 14 to 30.
Where'd you go, grandpa? Don't freak out, gravity face.
Eat my dust, gray fangs!
56 and 43, to my side.
Prepare to cry, Billy Backpack.
That's how we do it! Half-pipe, baby! Whatever.
Yes. Keep smelling.
You catch the human, and then l will make human potpie!
27, 45, 65, 76, 48, block his path.
Block his path!
Come on now, dude man!
Nice!
l got you, buddy.
Do not disturb!
People trying to sleep here!
Did you see that?
Who is that guy, Sir Breaks-a-lot?
Oh, boy, l have to say, that was fun. Okay?
The fun you were talking about earlier? Nailed it!
Johnny?
Quasimodo!
مشارکت کنندگان در این صفحه
تا کنون فردی در بازسازی این صفحه مشارکت نداشته است.
🖊 شما نیز می‌توانید برای مشارکت در ترجمه‌ی این صفحه یا اصلاح متن انگلیسی، به این لینک مراجعه بفرمایید.