سرفصل های مهم
نمونه صدا 1 - سخنرانی
توضیح مختصر
زمان مطالعه

7 دقیقه

سطح

خیلی سخت
دانلود اپلیکیشن «زوم»
این درس را می‌توانید به بهترین شکل و با امکانات عالی در اپلیکیشن «زوم» بخوانید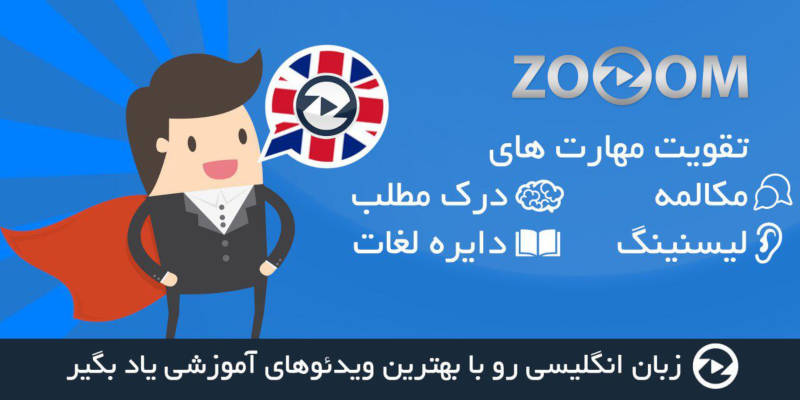 فایل ویدیویی
متن انگلیسی درس
Sample Recording 1: Lecture
Let's listen to a lecture like one you would hear on the TOEFL. This is the first of our three sample recordings, and the first type of recording that you might hear in the listening section of your test. The lecture is also the longer type of recording. It's about 4-6 minutes long. Usually there are very close to five minutes.
There will be just one person talking during the lecture. It's only a professor speaking, no students speak and it's very similar to what you read in the reading section of the test. That is its about academic topics, and its a single idea event or concept. Which is defined and explained in a very contained, organized, start to finish way.
It's usually an introduction to some topic. Something that you might read at the beginning of a chapter, or at the beginning of a book for a class. So while you listen, you're going to see some pictures. First, you'll always see a picture of the professor. Now, you always see a picture of the people talking in any TOEFL recording, so this is not surprising.
You may also see some key words, some important concept words. If the words are new for you, then it's important to notice them. These are usually words that are not from everyday English. They're specific to the academic topic that you're hearing about. What's more, you might actually see some diagrams or illustrations, that is, some pictures which show you what you are hearing about.
We will actually see one of those in the sample in this lesson. Let's hear that sample. But before we listen, we hear a short introduction to it. This one will be from a Chemistry class so the introduction would sound like this. Now, listen to part of a lecture from a Chemistry class. And here is the lecture.
Before we go any further talking about elemental properties, we should briefly introduce allotropes, in case anybody here isn't completely familiar with the topic. Now, this is some pretty fundamental stuff, but I recognize that not everybody here has studied chemistry seriously before. That's what these introductory classes are for. So just by a show of hands, how many of you here are familiar with the word allotrope?
Great, so that looks like about half of you. Well, we won't spend too much time on this, so just be patient with me if this is all old news with you. I'll try not to bore you too much. So what is an allotrope then? Well, these are all different forms of the same basic element.
Take carbon, for example. You're probably all aware of the idea that if you take a lump of coal, an ordinary black piece of coal, the same stuff that we burn for fuel, and squeeze it hard enough you'll create a diamond. Now, that's not actually possible. You couldn't create diamonds from coal, not by pressure alone, at least.
But the basic idea behind it does have a grain of truth. So what do coal and diamonds have in common? Where does that idea come from? Well, those are two allotropes of carbon. Coal, well, coal isn't exactly an allotrope, but it's made of one. It's made of amorphous carbon mostly.
That's carbon without a clear shape. There's assorted other matter mixed in there, but that carbon is the most important component. But, at the same time, diamonds are also made up of carbon, but they're clearly quite different from coal. How is that?
How can two things both made almost completely from one element, be so distinct, so noticeably different from each other? That's the magic of allotropes. Let's go back to coal for a moment. If you take out all of the other things that can be in coal, those impurities, then what's left is just the amorphous carbon.
And if you look at a picture of a diagram of the structure, you see that carbon atoms are all bonded in this scattered, disorganized way. This shapelessness, the lack of organization is also displayed in large pieces, not just when looking at something as small as molecules. Coal isn't very well formed, is it? Truly amorphous carbon is just powder.
You don't get the same kinds of flat surfaces with sharp corners that you get from diamonds. And that's because in part at a molecular level this material is just not very well structured. But that organization of atoms, or that lack of organization really also affects the chemical properties in other ways.
One of the most obvious differences here is color. Coal is black or dark grey, while diamonds are, of course, transparent. Totally clear. Well, those differences are because of the changes in molecular structure. Compared to that loose, random make up of coal, diamond is very, very well structured.
The atoms are arranged evenly and consistently, as you can see, and that different organization of atoms within the material makes for a completely different substance. Now, you might be thinking that's because coal is so impure, as I mentioned earlier, that is, the other components of coal might affect the color and consistency of the material.
And that's true to some extent, but if we take a look at graphite, we can see that it's not just the inclusion of other elements, non-carbon atoms. Graphite is also made of pure carbon. I mean, compared to coal, it's quite pure. Again, we're really just talking about one element here, but the molecular construction is, once again, a bit different.
Graphite is also very well organized, but it doesn't form crystals like diamonds do. Instead it forms in sheets, layers. By the way, these layers separate from each other very easily, which is why graphite is so soft and of course, why we use it in pencils. It rubs onto paper well because it is so soft, and that's what defines an allotrope, different structures of the same element.
Those three, coal, graphite, and diamonds, those three are all allotropes of carbon. Knowing the elements alone, doesn't tell us very much about the physical material. We also need to know its structure.
مشارکت کنندگان در این صفحه
تا کنون فردی در بازسازی این صفحه مشارکت نداشته است.
🖊 شما نیز می‌توانید برای مشارکت در ترجمه‌ی این صفحه یا اصلاح متن انگلیسی، به این لینک مراجعه بفرمایید.