سرفصل های مهم
قسمت 07
توضیح مختصر
زمان مطالعه

20 دقیقه

سطح

ساده
دانلود اپلیکیشن «زوم»
این درس را می‌توانید به بهترین شکل و با امکانات عالی در اپلیکیشن «زوم» بخوانید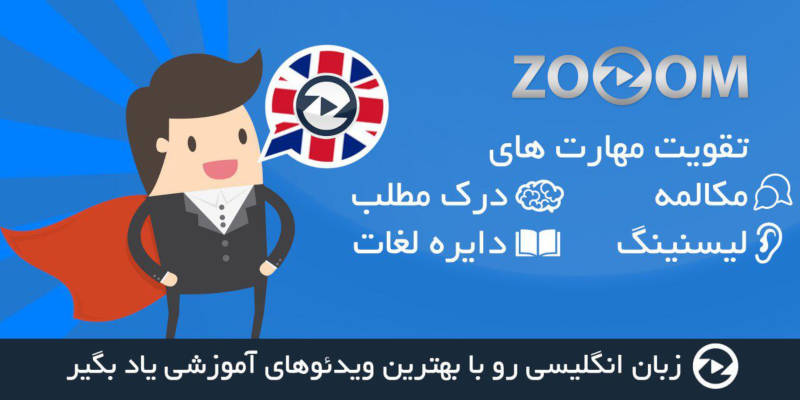 فایل ویدیویی
متن انگلیسی درس
Toy sotry 2 part 7
Halfway there.
My arms can't hold on much longer!
Too heavy.
What was I thinking?
My antigravity servos!
Hang tight, everyone. I'm going to let go of the wall.
What?

He wouldn't.

One…
He would.
Two…
Three!
To infinity and beyond!
Approaching destination. Reengaging gravity.
Area secure.
It's okay, troops.
The antigravity sickness will wear off momentarily. Now let's move!
Remind me to glue his helmet shut when we get back.
How 'bout givin' me a little intro there, Jessie?
Introducing the high-ridin'- est cowboy around…
You forgot "rootin'- tootin'- est"!
The high-ridin'- est, rootin'- tootin'- est cowboy hero of all time,
Sheriff Woody!
Say, little missy, you notice any trouble around these parts?
Nary a bit, not with Sheriff Woody around.
Wait, wait, wait! I got it! This is great! Okay!
The bandits got the critters tied up in the burning barn. Now the best part!
Help us! The barn's on fire!
I've got ya, critters. No need to worry.
Woody saves the day again!
Yee-haw!
Now, where's my trusty steed Bullseye?
I have to ride off into the sunset…
Ride like the wind, Bullseye!
Watch it. Wait. I'm ticklish, okay?
Oh, you are?
No, no, no. Cut it out. Stop it. Stop it.
No, please. No, no. Stop! Stop!
Mission log. Have reached Zurg's command deck,
but no sign of him or his wooden captive.
This way!
Please, please, no!
Buzz, can you see? What's going on?
No, your left.
Take it up higher.
What's happening?
Oh, it's horrible. They… They're torturing him.
What are we gonna do, Buzz?
Use your head!
But I don't wanna use my head!
What's going on here?
Buzz, guys! Hey, how did you find me?
Watch yourself!
We're here to spring ya, Woody!
You heard of kung fu?
Well, get ready for pork chop.
Prepare to meet Mr. Angry Eyes!
Hold it, now! Hey, you don't understand!
These are my friends!
Yeah, we're his friends!
No, Rex, I mean they're my friends!
Hey, stop it!
Leave him alone, springy dog! Hey!
Grab Woody, and let's go!

Fellas, hold it! Buzz, put me down!

Quick! To the vent!
They're stealing him.
No!
Hold it right there!
Buzz?

You again?

Thank goodness you're all right.
Buzz, what is going on?
Hold on. I am Buzz Lightyear, and I'm in charge of this detachment.
No, I'm Buzz Lightyear.
I'm Buzz Lightyear!
I'm Buzz Lightyear!
So, who's the real Buzz?
I am!
Don't let this impostor fool you!
He's been trained by Zurg himself to mimic my every move.
Buzz!
I had a feelin' it was you.
My front end just had to catch up with my back end.
Will somebody please explain what's going on?
It's all right, Space Ranger. It's a code 546.
You mean it's a…

Yes.

And he's a…
Oh, yeah.
Your Majesty.
Woody, you're in danger here. We need to leave now.
Al's selling you to a toy museum
It's okay, Buzz. I actually wanna go.
Look, the thing is, I'm a rare Sheriff Woody doll,
and these guys are my Roundup gang.
What are you talking about?
Woody's Roundup!
Oh, it's this great old TV show, and I was the star. See? Now look.
Look! Look at me! See? That's me!
This is weirdin' me out.
Buzz, it was a national phenomenon.
There was all this merchandise that got packed up.
You should have seen it.
There was a record player and a yo-yo. Buzz, I was a yo-yo!
"Was"?
Stop this nonsense and let's go.
Nah, Buzz.
I can't go. I can't abandon these guys.
They need me to get into this museum.
Without me, they'll go back into storage. Maybe forever!
Woody, you're not a collector's item. You're a child's plaything.
You are a toy!
For how much longer? One more rip, and Andy's done with me.
And what do I do then, Buzz? You tell me.
Somewhere in that pad of stuffing is a toy who taught me
that life's only worth living if you're bein' loved by a kid.
And I travelled all this way to rescue that toy
because I believed him.
Well, you wasted your time.
Let's go, everyone.
What about Woody?
He's not coming with us.
But… But Andy's coming home tonight.
Then we'd better make sure we're there waiting for him.
I don't have a choice, Buzz. This is my only chance.
To do what, Woody?
Watch kids from behind glass and never be loved again?
Some life.
Is everybody okay?

Sheriff Woody!

I knew you'd make it!
Now, remember, deputies,
the real treasures are your friends and family.
Before I go, kids, I want to share somethin' special with you,
for the times I'm not around.
Good going, Woody!
I thought they'd never leave.
You've got a friend in me
Woody?
You've got troubles
Well, I've got 'em too
There isn't anything I wouldn't do for you
We stick together and see it through
'Cause you've got a friend in me
Some other folks might be a little bit smarter than I am
Bigger and stronger too Maybe
But none of them will ever love you
The way I do It's me and you, boy
And as the years go by
Our friendship will never die
You're gonna see it's our destiny
What am I doing?
Buzz! Wait! Wait!
Woody, where are you going?
You're right, Prospector. I can't stop Andy from growing up.
But I wouldn't miss it for the world.
I'm coming with you!
Wait, wait, wait. I'll be back in just a second.
Way to go, cowboy!
Hey, you guys… Come with me.
What?
Andy will play with all of us. I know it!
Woody, I don't know. I…
Wouldn't you give anything just to have one more day with Emily?
Come on, Jessie. This is what it's all about, to make a child happy.
And you know it. Bullseye, are you with me?
Okay, good boy.
Prospector, how 'bout you?
Prospector?
You're outta your box!
I tried reasoning with you, Woody,
but you keep forcing me to take extreme measures.
Wait a minute. You turned on the TV last night, not Jessie.
Look, we have an eternity to spend together in the museum.
Let's not start off by pointing fingers, shall we?
You really are Stinky Pete, aren't you?
Prospector, this isn't fair.
"Fair"? I'll tell you what's not fair.
Spending a lifetime on a dime-store shelf watching every other toy be sold.
Well, finally my waiting has paid off,
and no hand-me-down cowboy doll is gonna mess it up for me now!
Buzz. Help, Buzz! Guys!
It's too late, Woody. That silly Buzz Lightweight can't help you.
His name is Buzz Lightyear.
Whatever. I've always hated those upstart space toys.
It's stuck! What do we do?
Should I use my head?
It's Al!
Look at the time. I'm gonna be late!
Figures. I can't miss this flight! I've gotta pack.
All right. Let's see. Wallet, keys, tickets,
passport, beefjerky, very expensive over there.
Shower! Oh, I can skip the shower.
I just gotta get outta here now!
Quick! To the elevator!
مشارکت کنندگان در این صفحه
تا کنون فردی در بازسازی این صفحه مشارکت نداشته است.
🖊 شما نیز می‌توانید برای مشارکت در ترجمه‌ی این صفحه یا اصلاح متن انگلیسی، به این لینک مراجعه بفرمایید.