سرفصل های مهم
قسمت 08
توضیح مختصر
زمان مطالعه

20 دقیقه

سطح

متوسط
دانلود اپلیکیشن «زوم»
این درس را می‌توانید به بهترین شکل و با امکانات عالی در اپلیکیشن «زوم» بخوانید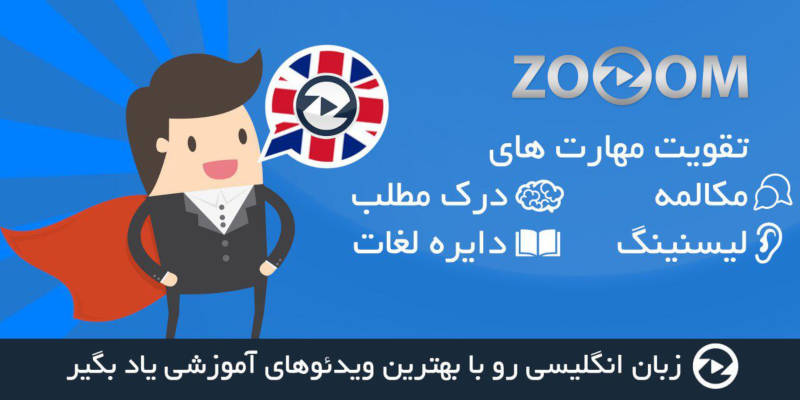 فایل ویدیویی
متن انگلیسی درس
Toy story 2 part 8
Hurry. I can hear it coming.
!So, we meet again, Buzz Lightyear,
for the last time.
It's Zurg! Watch out! He's got an ion blaster!
Quick! Get on!
The emergency hatch! Come on!
Come on! Hurry!
But Buzz is in peril!
Buzz Buzz Buzz…
Surrender, Buzz Lightyear. I have won.
I'll never give in. You killed my father!
No, Buzz. I AM your father.
No!
Come on! Come on! Come on!
Buzz, you could have defeated Zurg all along!
You just need to believe in yourself!
Prepare to die!
I can't look!
Whoa!
I did it. I finally defeated Zurg!
Father.
Finally!
How are we gonna get him now?
Pizza, anyone?
Buzz, are you coming?
No, I have a lot of catching up to do with my dad.
Good throw, son. That's my boy. Go long, Buzzy!
Oh, you're a great dad.
Farewell.
Does anyone know how to drive?
Slink, take the pedals. Rex, you navigate.
Hamm and Potato, operate the levers and knobs.
Whoa.
Strangers.

From the outside.

Oh, no.
He's at a red light! We can catch him!
Maximum power, Slink!
It turned green! Hurry!
Why won't it go?

Use the Wand of Power.

Rex, which way?
Left! No, no! I mean right!
That's right! No, I mean left! Left is right!
Buzz, he's turning left! He's turning left!
Oh, boy!
Whoa!
Oh, I seriously doubt he's gettin' this kind of mileage.
Go right! To the right! Right, right, right, right!
Whoa!
You have saved our lives. We are eternally grateful.
Yeah, yeah, yeah. Whatever.
The white zone is for immediate loading and unloading…
No parking.
Guys, we can't park here! It's a white zone!
You have saved our lives. We are eternally grateful.
Final boarding call…
There he is!
…for Far East Airlines flight 451 to Tokyo.
All confirmed passengers with boarding passes
must board at this time.
Passenger Twitch, passenger Leon Twitch, please pick up…
You have saved our lives. We are eternally grateful.
Will you leave me alone?

Someone's coming!

A puppy!
Bark, bark, bark, bark.
Bark, bark, bark, bark, bark.
Listen, flyboy.
The contents of that case are worth more than you make in a year!
You got that, sport? You be careful!
I understand, sir.
Do you have a "fragile" sticker or something?
I had a box of cookies once that came back as crumbs!
The Mystic Portal!
Once we go through, we just need to find that case.
There's the case!
No, there's the case!
You take that one! We'll take this one!
Whoa! Buzz!
Buzz, my back end's goin' to Baton Rouge!
Slinky!
Here we come, Woody! Woody, here we come! Woody!
Nice flash, though.
Okay, Woody, let's go!
Take that, space toy.
Hey! No one does that to my friend!
Your choice, Woody.
You can go to Japan together or in pieces.
If he fixed ya once, he can fix ya again. Now get in the box!
Idiots! Children destroy toys!
You'll all be ruined, forgotten!
Spending eternity rotting in some landfill!
Well, Stinky Pete, I think it's time you learned the true meaning of playtime.
Right over there, guys!
No. No! No!
Atlantic Air flight 810 from Point Richmond
is now arriving at Gate 3.
Look, Barbie. A big, ugly man doll.
He needs a makeover.
Hi! You'll like Amy.
She's an artist!
Come on, hon!
Happy trails, Prospector.
Buzz! Woody!
Help us out here!
Hurry!
Oh, no. Jessie! Come on!
Oh, Woody!
Jessie!
Come on, Buzz.
Ride like the wind, Bullseye!
Hey-howdy-hey! Giddyap!
Come on, Bullseye!
Buzz, give me a boost!
Woody!
Here's the rest!
Excuse me, ma'am, but I believe you're on the wrong flight.
Woody!

Come on, Jess.

It's time to take you home.

But

what ifAndy doesn't like me?
Nonsense!
Andy'll love you! Besides,
he's got a little sister.

He does?

Why didn't you say so? Let's go!
Whoa!
Hold it! There's a couple more bags coming from the terminal!
Okay. On three.
Put 'em on the next flight!
This is bad.
How are we gonna get outta here?
Over there! Come on!
مشارکت کنندگان در این صفحه
تا کنون فردی در بازسازی این صفحه مشارکت نداشته است.
🖊 شما نیز می‌توانید برای مشارکت در ترجمه‌ی این صفحه یا اصلاح متن انگلیسی، به این لینک مراجعه بفرمایید.