سرفصل های مهم
بخش 01
توضیح مختصر
زمان مطالعه

9 دقیقه

سطح

سخت
دانلود اپلیکیشن «زوم»
این فصل را می‌توانید به بهترین شکل و با امکانات عالی در اپلیکیشن «زوم» بخوانید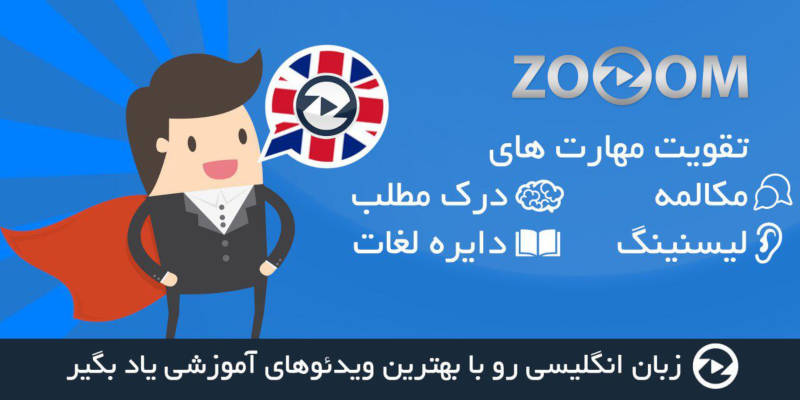 فایل ویدیویی
متن انگلیسی فصل
FLINT, My name is
Flint Lockwood. My whole life
I always wanted to be a great inventor.
Just like my hero.
MAN, ON TV The Scientifically Wonderful World of Science.
With your host, Chester V.
Welcome back, science friends.
You know, I have devoted my life to inventing the future.
But every dream has a beginning.
I still remember my first invention,
The humble Food Bar.
Whoa!
FLINT, It was like Chester V was speaking directly to me
using the language of science.
Now look at us.
Our new Food Bar XL with flavor crystals.
Still making people happy after all these years.
Now, kids, you'll almost certainly never be me.
But, remember, there's no such thing as small science.
Only small scientists!
KIDS, We love you, Chester V!
Speaking of small scientists, say goodbye, Barb.
Goodbye, Barb. Ha, ha, ha!
Can your ideas
change the world?
Yes.
FLINT, Just like Chester V,
my dream was to make the world
a better place.
SprayOn Shoes!
Voila!
BRENT, How you gonna
get them off, nerd?
CLASS LAUGHS
FLINT, Unfortunately, a lot of people
didn't believe in me.
But I never gave up.
And eventually,
I invented this,
A machine that could turn water
into food.
MACHINE, Cheeseburger.
It's called the Flint Lockwood Diatonic Super Mutating
Dynamic Food Replicator.
Or, for short,
The FLDSMDFR.
FLINT, Because of my invention's food weather,
I finally made the world
a better place.
Yeah!
I love it!
Or so I thought.
When the weather evolved into a disaster
of epic portions,
and the machine started creating
dangerous living food
I had to face the truth,
It was time to
put an end
to my FLDSMDFR.
MACHINE, Chee… Chee… Chee… Chee…
Cheese.
MACHINE POWERS DOWN
FLINT, By destroying my greatest invention,
I made something even better.
Friends!
Wow. Wow.
You made me very proud, son. Unh!
Thank you, Dad. Sorry.
Sam Sparks, in the eight minutes since we saved the world,
I've had time to reflect.
And I think you and I should have a place together.
A Place?
A place where we work.
You think we work together?
I do.
Awesome! Yes!
FLINT, We could build a lab. SAM, With cool weather
forecasting devices!
We can invent fantastic machines like the FLDSMDFR.
Yeah!
But not that one. No.
Not ever. Never, ever, ever!
What shall we call our lab?
Oh! How about Sparkswood?
Ooh! Sparkswood.
Sparkswood is gonna need some security.
And I can be your mascot!
And I can be your dad.
There are many ways in which I can help.
Ho, ho! Can't forget you, lab partner.
Steve!
Where'd he get the brown crayon?
This
could be our future.
Oh, yeah! Ha, ha!
AIRCRAFT WHIRRING
CROWD GASPS
Greetings, friends.
And namaste.
Whoa. Is that…?
Chester V?
Mustache.
Please have some humanitarian aid
as a gesture of our goodwill.
Chester V! Whoa!
Your lab vest looks even cooler in person!
Thank you. The lack of sleeves frees up my arms to do this.
Whoa!
Ah! Hand, what did you do?
There's nothing wrong with your hand, young Lockwood.
You see, I am merely a hologram of the real Chester V.
The United Nations has asked me and my Thinkquanauts
to assist in the cleanup and containment
of the leftovers all over the world.
Including your Swallow Falls.
We'll get started on the cleanup
right away.
As soon as you all leave.
What? You need us to leave?
Listen up, ghost man,
you expect us to skedaddle from our homes because of some nasty leftovers?
Yes. Yes, I do.
Son, you can't argue with yellow police tape.
Everybody back up! Listen to ghost man.
But do not fret.
All of you will be temporarily relocated
to sunny San Franjose,
California!
The home of Live Corp! The home of Live Corp!
On my word as a hologram,
you shall all return home before you know it.
Except for you, Flint Lockwood.
Me? Why?
Oh, heh, heh. You are going…
Wait, wait, wait. No, no, no. Where am I going?
Oh, please tell me!
Just give it a second. He's buffering.
You are going to join me at Live Corp
and help us make the world a better place.
Sir, that's all I've ever wanted.
But I can't.
On account of making a promise two minutes ago
to build a lab with my friends, sir.
I understand, Lockwood.
But if you become a Thinkquanaut like me,
then all your dreams will come true.
You have to do this!
What about our dream?
Flint, this is a onceinalifetime opportunity.
We're all behind you.
Are you guys sure?
Sure.
This is the best day ever!
Sir, I've taken care of everything. The locals have been evacuated.
Splendid. And the inventor?
Oh, he took the job. Outstanding!
Now we can keep an eye on him.
He has no idea of our real plan.
Contact me as soon as Operation Capture the Invention succeeds.
WOMAN, ON RECORDING Live Corp.
MACHINE, Cheeseburger.
ALARM BEEPING
Oh, big day, big day! Big day, big day,
big day! Yes!
Wake up, Steve!
Steve.
Do I look like a future Thinkquanaut?
Morning there, skipper. You want a sardine scramble?
No, thanks! Can't be late!
Flint! Ask that Chester V when he thinks we can go home again.
Morning, Sam!
Morning, Flint! Are you ready for your first day?
Yeah! Are you?
Whoa!
Sam?
Well, this is me. Good luck with your new jobs, guys.
Good luck, Flint! Break a leg, Flint!
Bye! Adios.
PAUL MCCARTNEY'S NEW PLAYING
Don't look at me It's way too soon to see
What's gonna be Don't look of me
All my life I never knew what I could be
What I could do
Then we were new
Then we were new
Wow!
Good morning, Flint Lockwood and lab partner.
I'm Barb. FLINT, Eeh!
I know, I'm a huge fan.
Monkey.
Excuse me,
I'm an ape. One of Chester V's most brilliant innovations.
An orangutan with a human brain
within my ape brain.
Like a turducken.
I'll be your welcome ambassador. Soy latte?
Okay.
Coffee and milk?
CHUCKLES
Are you ready to
live? Oh, am I!
STEVE, Monkey.
Ape. Follow me, boys.
BARB, Welcome to Live Corp.
مشارکت کنندگان در این صفحه
تا کنون فردی در بازسازی این صفحه مشارکت نداشته است.
🖊 شما نیز می‌توانید برای مشارکت در ترجمه‌ی این صفحه یا اصلاح متن انگلیسی، به این لینک مراجعه بفرمایید.