سرفصل های مهم
بخش 06
توضیح مختصر
زمان مطالعه

9 دقیقه

سطح

سخت
دانلود اپلیکیشن «زوم»
این فصل را می‌توانید به بهترین شکل و با امکانات عالی در اپلیکیشن «زوم» بخوانید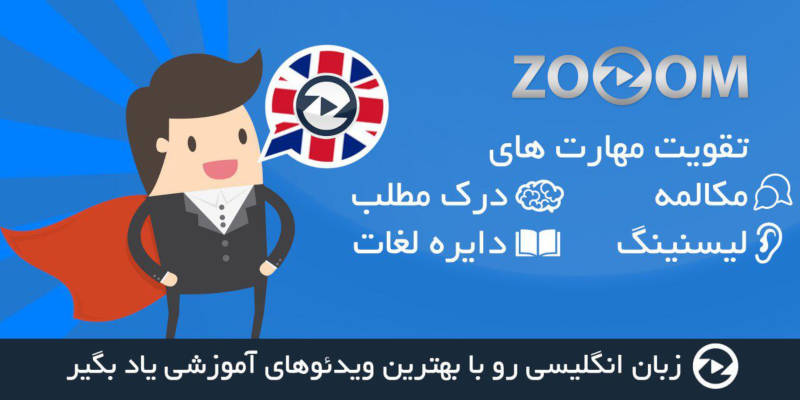 فایل ویدیویی
متن انگلیسی فصل
I say,
this laboratory of yours is a wonder of engineering.
Really?
Thank you, sir.
Initiating backup power.
FLINT IMITATES BEEPING
COMPUTER, Welcome, Flint.
FLINT, Whoa, my computer's dead.
The fate of the world is depending on us. Think, Lockwood.
Well, if I could pull
the hard drive, there's enough equipment in this
lab that I could build a tracking device.
Flint! Whoa!
I say, young Lockwood, what extraordinary
underpants.
Thank you, sir. They're my Wedgieproof underwear.
I invented them when I was 6.
I had no idea we were so alike.
Except I invented mine
when I was 3.
BOTH CHUCKLE
You guys have been wearing the same underwear since you were kids?
Yes! Yes!
Excuse me.
How do you expect us to get the hard drive
with all that electrified water?
CRACKLING
We dangle!
Come, Lockwood, give the monkey your underpants.
What?
CHESTER, Lay on,
young Lockwood.
Whoa!
Whoa!
Yes! Heh, heh.
SAM, Whoa!
You know, hanging from my underpants in this space
brings back so many memories.
I too built my lab up high
to keep the bullies out!
You were…
SCREAMING
You were bullied too?
CHESTER, Absolutely.
People like us
are always bullied.
Sometimes I wish I'd kept my bullies around.
Really?
So I could crush them with my success.
Just like you did with that manbaby.
You mean Brent?
Sure, he used to be a bully, but he's my friend now.
CHESTER, Friend?
A bully can never be your friend.
Never? Remember
the ancient Chinese proverb,
SPEAKING IN CHINESE
Huh?
Stew offered by a bully is poisoned broth.
Wow, stew.
I have so much to learn.
CHESTER, Whoa, whoa, whoa!
Mission accomplished!
Indeed, young Lockwood. Indeed.
UNDERPANTS SNAP AND BOTH YELP
BRENT, Help!
RATTLING
MANNY SPEAKS IN SPANISH
Help! Come on, guys. Get me ou…!
BRENT GRUNTS
You okay, Earl?
My chest hairs have been tingling all day.
Don't worry. Live Corp Sentinels
have dangersensing fibers built into their chest plates.
Bravo, Lockwood.
With luck, we'll survive the night.
BELLOWING
Hm. Sounds like midnight snacks.
Dr. Manny! This is delicious!
I call it Manny's Gorilla Stew.
So how do you make a gorilla stew?
You keep it waiting for two hours.
Hey, guys. Oh, that smells good.
Hey, Flint! Wanna try some of this special stew? I saved you a bowl.
It's killer.
Killer stew.
SPEAKING IN CHINESE
No!
Thank you,
Brent.
Ever since that ghost man showed up,
Flint Lockwood's been acting… Jerky.
He rejected my stew.
No one has ever rejected my stew.
I'm gonna go talk to him.
Flint, wait up. Yeah, Sam?
Is something wrong?
Yeah, we blew a fuse.
You blew a fuse.
Why are you being so weird to your friends?
What? I haven't been weird.
You karatechopped
Manny's stew out of Brent's hands.
You hurt their feelings.
Sam, you wouldn't understand.
SPEAKING IN CHINESE
I do understand, but you're forgetting that,
SPEAKING IN CHINESE
Huh?
A bully turned friend will be friend to the end.
Listen, Brent came here to help you.
We all did.
IMITATES WHIRRING
And you're acting like we're just in your way.
Remember, we work together.
That weather girl is ruining our plan.
I just need more time, sir.
We don't have more time.
If we don't get the FLDSMDFR in the next 48 hours,
we'll miss our deadline to release Food Bar 8.0.
I'll be a laughingstock!
Sir, let me handle this.
Never send a monkey to do Chester work.
I'll take care of it.
SQUAWKS
HORN BLOWS
Okay, guys, we're here.
Hey, hey, hey!
That is not for you.
All right, let's get to it.
CLAMORING
Okay.
You got this, right?
Okay. Then you wanna put one of these on there, like that.
No, no, no.
No, don't eat that. That's bad. You'll hurt yourself.
Hey, hey, easy! Stop picking on your brother, will you?
How would you like it if he was shoving you?
Okay, now watch.
Are you watching? One and two and three!
Catch the big one!
Yeah, good, huh?
It's called fishing.
GASP
HARMONICA PLAYING
Out on my boat
With a pickle that likes dill
The frowny one's sour
He's a real bitter pill
She's so sweet
With her onion pet Pearl
Teaching pickles to fish
That's my crazy world
PICKLES HUMMING AND GURGLING
WHISTLE BLOWING
I tell you, if only Flint liked fishing as much as you guys.
Why am I talking to a pickle?
SQUAWKS
Dangerous food creatures detected.
Stay put. We'll find and destroy them.
CHUCKLES
Barry!
You can't be here.
You better hide him.
FLINT, Okay, gang! Today's the day
We find the FLDSMDFR.
Sam, I was thinking about what you said last night…
BARRY, Nwoo?
What?
Me too.
Right. Listen, I have
been acting weird, but it's only because I'm under a lot of pressure.
Nwoo? What?
So true!
FLINT, But I'm also doing this for us. You see,
I still want Sparkswood to happen, but it can't.
Not until I become a great inventor like Chester V.
Flint, you don't have to prove anything…
Ha, ha. Lockwood! How goes the inventing?
Very good, sir. I was up all night making this.
I call it the Flint Lockwood Food Jungle
Topographical Pointing Machine.
Or… The FLFJTPM! Brilliant!
Oh, thank you, sir. Follow the beam, find the machine.
SQUAWKING
All I have to do now
is cut the leg holes.
Ooh.
Huh. Well,
maybe it's better
here.
FLINT, Great idea, Sam.
And, guys, you can help me by…
Excuse us. Your friends are distracting you from our mission.
Distracting?
CHUCKLES
My chest hairs just don't trust that Chester.
We should be hunting the FLDSMDFR, not chitchatting.
But, sir, I…
You're heading into the deepest, darkest part of the jungle.
You need to focus on saving the world.
Be a hero.
Okay. You're right, sir.
Excellent! Let's go!
Okay, Barry, time to go home now.
Okay. Okay. Okay, one more hug, Barry.
Barry?
Right! Barry.
You Barry.
Barry.
And I'm Sam Sparks.
STAMMERING
Saspa. Right! Sam…
FLINT, Come on, Sam! Coming!
Okay, Barry, time to go home now. Now go.
Now you go on home.
Buh.
Bye.
مشارکت کنندگان در این صفحه
تا کنون فردی در بازسازی این صفحه مشارکت نداشته است.
🖊 شما نیز می‌توانید برای مشارکت در ترجمه‌ی این صفحه یا اصلاح متن انگلیسی، به این لینک مراجعه بفرمایید.