سرفصل های مهم
بخش 07
توضیح مختصر
زمان مطالعه

8 دقیقه

سطح

ساده
دانلود اپلیکیشن «زوم»
این فصل را می‌توانید به بهترین شکل و با امکانات عالی در اپلیکیشن «زوم» بخوانید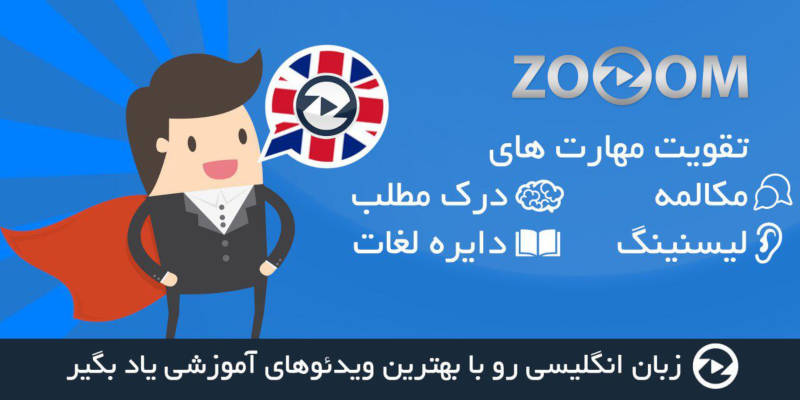 فایل ویدیویی
متن انگلیسی فصل
Huh?
Saspa?
Yummy, yummy, yummy I got love in my tummy
And as silly as it may seem
The lovin' that you're givin' Is what keeps me livin'
And your love is like Peaches and cream
Hot dog. Hot dog.
Kind of like sugar Kind of like spices
Kind of like, like what you do
Kind of sounds funny
But you love honey
And, honey, I love you
CHITTERING
CREATURE SHRIEKS
HEAVY FOOTSTEPS APPROACHING
LEAVES RUSTLING
GROWLING
Tacodile! Supreme!
ROARS
Holy guacamole!
I got this, bro!
I'm okay!
Up there! Hurry, Sam!
BARB SCREAMING
Barb!
FLINT, You okay?
Uhhuh.
Freeze!
Come on, let's go! Let's get out of here!
MANNY SPEAKS IN SPANISH
Bravo, young Lockwood, bravo!
MURMURING
SQUEALING
GROWLS
GASPS
A mother?
FLINT, Sam!
SaSpa!
Butter.
Parkay.
Almost there.
The FLDSMDFR should be just across
this syrup bog. BRENT, This is syrup?
Syrup is my favorite.
Darn mosquitoasts!
CHESTER, Don't worry, manbaby.
They, like all the other abominable food monsters
will soon be no more.
SAM, Wait, Flint!
What if we're making a big mistake?
Mistake?
About shutting off the FLDSMDFR.
Some of these creatures, they're incredible.
CHESTER, Incredibly
dangerous. We were just attacked by a giant tacodile.
He's right, Sam. I mean, we were almost eaten by a cheespider.
It doesn't mean we have to destroy all of them.
Some of the food's actually been friendly.
It is true. The dessert creatures are especially sweet.
Okay. Maybe we… Ah!
BARB, Mosquitoast!
Was gonna bite you.
See? Even the tiniest creatures are attacking us.
SAM, The only reason they're
biting is because of the drop in barometric pressure.
Bugs do that before a storm. And by the look of those nimbostratus clouds…
THUNDER RUMBLING
CHESTER, Miss Sparks, we are
not talking about the weather.
We are talking about food here.
Dangerous food that does not have human emotion.
Food that is not friendly.
Food that cannot love! SAM, Flint,
we should be studying the food animals, not killing them.
What if he's wrong?
The choice is yours, son.
Live up to your full potential,
or walk away and let the food monsters
destroy Lady Liberty.
Sam, finding that FLDSMDFR
and saving the world,
that's what matters.
Really? Our opinion doesn't matter?
Of course it does!
Yes! Yes, it matters.
But just not right now.
Uhoh.
Wrong answer. STEVE, Toast.
Yeah? Well, I guess this doesn't matter either,
young Lockwood.
I'll just
see you back on the boat.
Wait! Sam!
Wait, please!
No! No. Sam! Come back!
Come back, Sam, no!
No, Sam!
Sam! Sam!
Sand!
Hey, Earl, would you talk to her?
You bet I will.
Hey, Sam! Wait for me!
Adiós. Sayonara.
Goodbye, Señor Lockwood.
Bye, Flint.
Steve!
Et tu, Steve?
Oh. What just happened?
CHESTER, You've made
the right choice, son.
Sentinels! Keep them safe.
Butter.
CHESTER, Ah, Young Lockwood,
we're getting close. I feel it in my beard!
FLINT, Water goes in the top
and food comes out the bottom.
It's gotta be inside that big rock candy mountain!
This is exactly why I wanted you on this mission.
Sally forth, Lockwood.
THUNDER CRASHES
I can't believe Flint is still listening to that guy!
Flint is naive. It appears he is being manipulated
for some nefarious purpose.
Of course he is!
Sam! Freeze!
What?
EARL, Stay calm and walk toward me
slowly.
Very slowly.
Oh, come on. Now you're acting weird.
I'm in no mood for this.
GROWLS
SCREAMS
ROARING
Stop right there, cheese monster!
Nobody eats my friends
on my watch!
EARL GRUNTING
No, wait! Chester's been lying to us
about these creatures, and I am going to prove it.
EARL, Sam, don't do it!
It's foodicide!
Danger! Danger! Danger!
Nice cheespider.
Ohh. Ugh.
Yellow. Dude!
You got specialsauced!
CHUCKLING
It's okay, guys. See?
She's not mean. She's just
a little beefy.
Whoa. What's it doing?
I think she wants you to scratch her buns.
Aw. I like that too.
Who's a good cheespider?
She's cute!
But why did she attack us before?
Because we were dressed
like them.
BRENT, She doesn't like backpacks?
No. It appears she
doesn't like Live Corp.
The food creatures know something
we do not.
STEVE, Gasp!
Who's Evel?
Not Evel. Evil.
I knew it! Chester's up to something terrible.
We have to warn Flint!
Let's ride!
Run!
مشارکت کنندگان در این صفحه
تا کنون فردی در بازسازی این صفحه مشارکت نداشته است.
🖊 شما نیز می‌توانید برای مشارکت در ترجمه‌ی این صفحه یا اصلاح متن انگلیسی، به این لینک مراجعه بفرمایید.