سرفصل های مهم
بخش 05
توضیح مختصر
زمان مطالعه

8 دقیقه

سطح

سخت
دانلود اپلیکیشن «زوم»
این فصل را می‌توانید به بهترین شکل و با امکانات عالی در اپلیکیشن «زوم» بخوانید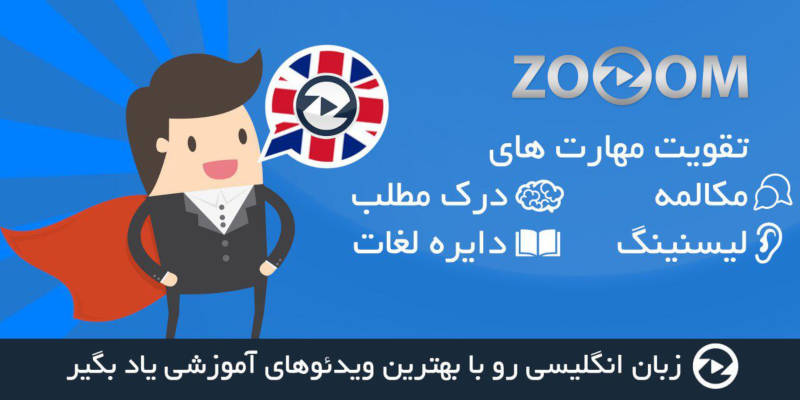 فایل ویدیویی
متن انگلیسی فصل
Barry, grab my hand!
Barry!
SIREN WAILING
Freeze, berry man.
Thanks, Earl. Ugh.
Okay, come here.
You have caused enough trouble for one day.
Susheep!
MANNY, Cantalopes.
SAM, I can't believe your machine
reprogrammed itself to create
this entire ecosystem of living food.
How is that even possible?
I have no idea.
Best we don't think about it.
The world should know about this.
Manny, is your camera still working?
MANNY, Of course. I've been rolling
since we landed. BARB, So much for
keeping this a secret.
We can't let these friends tell the world anything.
What we need to do is go there
and separate Flint from his friends so we can manage
the situation.
Champion! Brilliant idea.
Way to go, Chester. Thank you.
Barb, you take care of that weather girl. But, sir,
I'm a scientist.
That's why I need you.
I want the same brilliant mind that solved the unified field theory
to help me help Live Corp.
Consider it done, sir.
Good monkey.
To the Helpicopter.
FLINT, Oh, Earl.
Pull over there.
Duck! Duck? I love… Bagawk! Ah!
GROWLS
Whoohoohoo! Yeah!
You guys, that wasn't so bad.
Yeah, well, be thankful we didn't run into a…
Cheespider!
EARL, Run!
Cheesy. Cheesy. Cheesy.
Manny!
BRENT, Wait for me!
BRENT SCREAMING
Bagawkoh!
I'm glad you still wearing that diaper.
I wish I brought a fresh one!
Hey, guys! Down this alley!
Oh, no! Dead end.
CHEESPIDER ROARING
SCREAMING
ROARS
SHRIEKS
Ghost man?
Greetings, and namaste.
Chester V! You're here! That's right,
young Lockwood. And by the looks of things,
just in time.
One minute later, and we would have been food for that food.
Flint, I thought you said you were going to complete this mission alone.
Can I say something?
Apparently you can.
This is Barb, my number two.
Why are you carrying
a strawberry in your backpack, miss?
Stand back, everyone!
Hey, hey, hey, stop. You're scaring him.
Scaring him?
Oh, please, it's probably got a mouth full of fangs.
HISSES
Now you're scaring me.
I've been carrying him and he hasn't hurt anyone.
I'm sorry. Are you a scientist?
Matter of fact, I am. She's a meteorologist.
Meteorology. Oh, I love it.
The science of smiling and having pretty hair while you point at a map.
It's a very important job… Meteorology is
a comprehensive analysis… Ladies, ladies. Please.
I'm sure we can all agree that one of you is a scientist.
Young Lockwood,
why was your lady friend carrying this rabid little strawberry in her backpack?
Why is the strawberry guy in the backpack? Well, um, that's funny.
Um… It's… Uh… You know what he did? Um…
SIGHS
He, uh… He ate the BSUSB.
Not the BSUSB.
I'm on it.
She's got a knife!
If you touch a leaf on his head…
Step away from the berry, madam.
BARRY SQUEAKS
That orange hairy lady scared the jam out of him!
Nwoo?
Oh, no, it's jammed.
Lick. Lick. Lick. Oh, thanks, Steve.
Young Lockwood.
The world could've been destroyed
because of the actions of one sinister strawberry.
We cannot allow any more mistakes like this.
Oh… It won't
be long before those malicious melons,
pernicious pickles,
and belligerent burgers learn to swim
and make their way
to the mainland.
What is
your plan?
I need to get back to my lab so I can
make contact with the FLDSMDFR.
Brilliant! I'll lead the way.
No, we'll lead the way.
SENTINELS, Safe, safe, safe.
I believe my Sentinels of Safety
are better equipped to lead us in their robosuits.
EARL GROWLS
Nwoo?
TIM, I'll be back
before supper.
What a bunch of baloney.
Just leave me on the boat without any food.
I know a place where I can get something to eat.
There she is.
Home sweet home.
What?
There's no sardines?
Had to be looters.
Ah.
Vintage Baby Brent.
SNIFFS
Ah.
DOOR OPENS
MUTTERING INDISTINCTLY
Oh, chum.
No, no!
Uhhuh. Yeah. Heh.
I like them too. I do. I love them.
Mine. No, no. Mine.
Off. Off. Mine.
No, no, mine. Mine. Off.
Hey, hey, hey. Easy, you guys. Come on, you could lose an eye.
Look, I tell you what. You want more sardines? I can get you more sardines.
BRENT GRUNTING
Hey, thanks for loaning me these skinny jeans, Flint.
Those aren't skinny jeans. Nope.
My feet are turning purple. Is that bad?
RUMBLING IN DISTANCE
Uhoh.
CHITTERING
Bananostrich! Ah!
EARL, Go, go, go! Come on, Brent!
STEVE, Banana! Banana! Banana!
That bunch of bananostriches nearly split us.
Are you okay?
Oh, my gosh.
My house!
STEVE, Home, home, home!
Oh, my gosh.
Your lab!
Oh, crap balls.
We can't go up there, Flint Lockwood.
That dangly, upsydownsy lab's not to code.
I've got to, if I'm gonna find the FLDSMDFR.
We can do it. Those
loadbearing vines will be able to support a small team.
Onwards and upwards!
Right, sir. To the lab!
Sentinels, keep the locals safe.
I'll keep them safe.
Hey, guys! Where you going? Guys! Hey
wait for me!
Uhoh.
A little help?
STEVE Spooky.
Spooky is right, Steve.
مشارکت کنندگان در این صفحه
تا کنون فردی در بازسازی این صفحه مشارکت نداشته است.
🖊 شما نیز می‌توانید برای مشارکت در ترجمه‌ی این صفحه یا اصلاح متن انگلیسی، به این لینک مراجعه بفرمایید.