سرفصل های مهم
بخش 04
توضیح مختصر
زمان مطالعه

8 دقیقه

سطح

سخت
دانلود اپلیکیشن «زوم»
این فصل را می‌توانید به بهترین شکل و با امکانات عالی در اپلیکیشن «زوم» بخوانید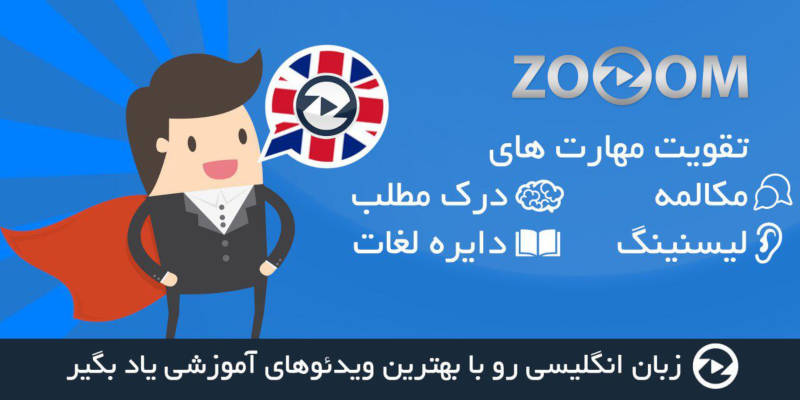 فایل ویدیویی
متن انگلیسی فصل
Ninetynine buckets
Of chum
Nineteen buckets of chum on a boat
Nineteen buckets of chum
You hold your nose
And out one goes There's 18 buckets of chum on a boat I
We'll be there in two flaps of a sardine's fluke!
Thanks, Dad!
Okay, when we land at Swallow Falls,
our first objective is to get to my lab.
I can use my old computer to pinpoint the FLDSMDFR's location.
Once we find it, we can shut it down
with the utterly irreplaceable BSUSB.
What if you don't find it?
I have to. It's my machine.
If the world gets destroyed by these, it's my fault.
I can't let that happen.
TIM, Land ho!
Land ho!
If we work together, this should be easy as…
Pie.
Oh, no! We're…
Toast!
EARL, French toast!
This is totally…
Bananas!
I was gonna say nuts, but now I'm afraid to.
STEVE SHRIEKS AND CHITTERS
Uhoh.
Whoa, whoa!
STEVE, Home! FLINT, No! Steve, wait!
The jungle's no place for a monkey.
Home, home, home!
Manny, are you getting this?
MANNY, I certainly am. SAM, Flint.
Look! The climate has shifted dramatically
to allow this much vegetation to grow!
GROWLING IN DISTANCE
STEVE CHITTERS
Aah! Sam! Ratbirds!
Okay, then. All ashore that's going ashore.
Dad, this place is really dangerous.
I'd feel better if you stayed here on the boat where it's safe.
Safe? I wanna help.
I'd never forgive myself if you got eaten by a cheespider.
He's right, Tim Lockwood.
Don't worry, we'll get your home back.
SIGHS
Well, fine.
Thanks, Dad. We'll try to be back before suppertime, okay?
Sure.
EARL GRUNTING
Whoa. Look what's happened to our town.
Look.
There's my angel son
Cal's old preschool.
MANNY GASPS
MANNY, My old van.
Look! An old thing that I've never seen before!
FLINT, That's where
the Thinkquanauts were attacked by a cheespider.
BRENT, It's like a cheesy spider web, made of
cheese. Let's get out of here!
No, wait. What if there's a survivor in there?
Stand back, everybody.
I'm gonna cut the cheese.
PARTS
Uh… That was the cheese.
Hello? Anybody in here?
Shh!
WHISPERS Sorry.
CLATTERING
Ha!
GRUNTS
Wow.
That is the biggest strawberry I've ever seen in my life.
Is it heavy? Yeah. But other than that
it looks like a perfectly normal, fresh, delicious strawberry.
ALL SCREAM
Nwoo?
SCREAMS
Nwoo?
It's moving!
Heh, heh. Oh, that was a close one.
You got a little someone stuck to your pants.
Ah! Get it off! Get it off me! Sam! Sam!
Hey, wait, wait. Stop!
Sam, don't touch it! Put it down! Put it down!
Look at him.
SCREAMS
Seriously?
Aww. I think I'll name him Barry!
Okay, Sam, could you please put Barry down?
Look, we have to get to the FLDSMDFR so we can shut it down
with this utterly irreplaceable BSUSB.
Hey! That's not for you!
I need that. Please?
That BSUSB is really important.
Nwoo?
Nwoo. Yes. Nwoo?
Hi, Nwoo. Hey, you wanna hand it to me, buddy?
I beg you. Huh?
Please? Oh, Oh.
Please?
Nwoo.
Nwoo, Nwoo. Yes. Yes. There you go.
No!
Don't let him get away!
Stop!
Stop!
Gotcha.
Nwoo? Aah! Here, you take it, you take it.
You're gonna have to carry him until he passes the BSUSB.
And by pass, you mean…
Yes. Look, we better get a move on
before we run into any more of these creatures.
ALL GASPING
Oh! It's so beautiful.
It's enough to make a grown man cry.
But not this man.
Get back in there, tear.
Wow, I can't believe the FLDSMDFR created
all of this.
Ah! Where's Barry?
Whee. Ha, ha, ha!
Uhoh. Ah! Ah!
Just a little bit closer. I can get him.
Come on, Earl, faster.
Look at the mangos. You mean flamingos.
Flamangos!
There's a bunch of shrimp!
They look like chimpanzees.
Shrimpanzees! Shrimpanzees!
Those are some tastylooking jellyfish!
Oh! What's that one over there?
SAM, That's just a tomato.
TOMATO WHIMPERS
Barry!
Come on!
Chester gave me that BSUSB.
It's really important.
Shrimpanzee. Steve.
Shrimpanzee. Steve.
Shrimpanzee. Shove.
Steve.
There's a leek in the boat!
YELLS
EARL, Hold on, everyone.
This ain't gonna be no picnic.
FLINT, Stop! Get back here!
Keep it steady, Earl.
SAM, Watermelophants!
مشارکت کنندگان در این صفحه
تا کنون فردی در بازسازی این صفحه مشارکت نداشته است.
🖊 شما نیز می‌توانید برای مشارکت در ترجمه‌ی این صفحه یا اصلاح متن انگلیسی، به این لینک مراجعه بفرمایید.