سرفصل های مهم
بخش 03
توضیح مختصر
زمان مطالعه

8 دقیقه

سطح

سخت
دانلود اپلیکیشن «زوم»
این فصل را می‌توانید به بهترین شکل و با امکانات عالی در اپلیکیشن «زوم» بخوانید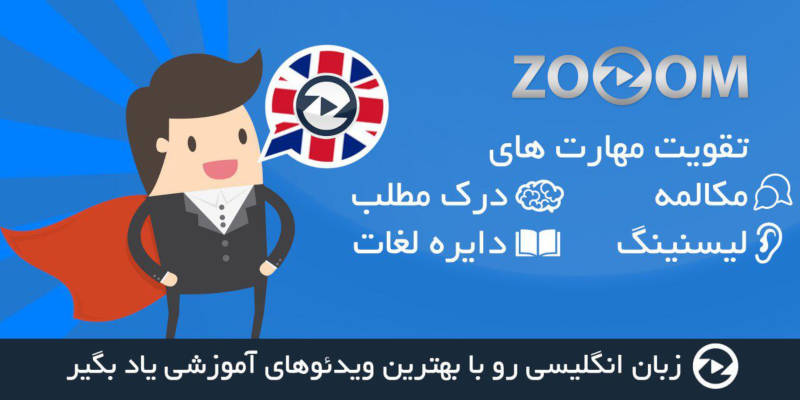 فایل ویدیویی
متن انگلیسی فصل
FLINT Ah!
Oh, my gosh. I am so sorry. Are you okay?
I didn't get a chance to… It's okay, it's just pain.
Sorry, I'm not myself today.
My whole career was ruined by some crazy jerk riding a homemade rocket.
Wait a minute.
What is going on with your feet?
SprayOn Shoes. They, uh, don't come off.
Cool. Ah!
This could solve the untied shoes epidemic.
What are they made of, some kind of elastic biopolymer adhesive?
Yeah.
Exactly.
I mean… Hehhehheh.
Wow, they're shiny. I'm Sam.
Flint. Steve.
Is that a Monkey Thought Translator?
Steve. SAM Hah!
Incredible. Did you make all of this stuff?
You hit me with a rocket. You kicked me in the face.
I said I was sorry. Oh!
Do you know how hard it is to break into the weather game?
I spent my entire life building up to that moment.
You get one shot at the show.
SAM And if you don't make it,
it's back to cleaning the barometers.
Cheese?
Oh!
But that could only mean…
STEVE Excited. Excited.
My machine works.
It really works! Hahaha.
Your machine?
Is that what that rocket was?
Uh… Do you like it?
I love it!
This is just amazing. Look at this.
This is the greatest weather phenomenon in history.
Hey, aren't you a weathergirl?
SAM Manny, get your camera.
KIDS Whoa.
THIS JUST IN Our humiliated weather intern is apparently back for more.
Thanks, Patrick. Okay, everybody, you are not gonna believe this one,
but I am standing in the middle of a burger rain.
You may have seen a meteor shower
but you've never seen a shower meatier than this.
For a town stuck eating sardines, this is totally manna from heaven.
JOE This tastes significantly better than sardines.
Mmmmmm.
This is going to be big.
SAM ON TV This food weather was created intentionally
by meekish backyard tinkerer Flint Lockwood.
ALL Huh? Flint Lockwood?
Hi. Ah!
You're under arrest for ruining Sardine Land.
SAM Flint, those burgers were awesome.
The producer called and he was like, Everybody loves that food weather.
Food weather. What?
This could be even bigger than Sardine Land.
Can you make it rain food again? EARL No…
I don't know if I… You're gonna do it again?
You gotta be kidding.
Please, please, please.
Yes. No.
Dad, just give me one more chance. We both know this was an accident.
I know. Cheeseburgers from the sky
that's not natural.
My invention could save the whole town.
You will be so proud of me, Dad.
Plus,
there's a girl here.
Can you look me in the eye and tell me you've got this under control
and it's not gonna end up in a disaster?
Yes.
Mm.
I've got this under control and it's not gonna end in disaster. Oh.
All right. Thanks, Dad.
Oh, sure. Okay. So, Sam,
this is where the magic happens.
Lick. Lick. Lick.
Lick. Lick. Lick.
COMPUTER Welcome, Flint.
Wow. You seriously spend a lot of time alone.
What? Hahaha.
So here's how it works.
Water goes in the top, and food comes out the bottom.
When you shot it into the stratosphere,
you figured it would induce a molecular phase change
of the vapor from the cumulonimbus layer?
That's actually a really smart observation.
I mean…
The clouds probably have water in them,
which, uh, I guess, is why you shot it up there in the first place.
Right, right. That's why I… I did that.
On purpose. Right. Yeah.
Right. Of course.
Okay.
The machine uses a principle of hydrogenetic mutation.
Water molecules are bombarded with microwave radiation,
which mutates their genetic recipe into any kind of food you want.
So…
Pizza? Yes.
Mashed potatoes? Yes.
Peas? Yes, that's also a food.
Steak? Apples? Yes. Mmhm.
Apple sauce? BLT? Yes.
I'm pretty sure I said any kind of food. Chicken wings?
Okay. But just think about what you're saying and if it's a food, then yes.
Baloney. Baloney. That is a food.
How about JellO? Do you like JellO?
I love JellO.
I love JellO too. Oh, and peanut butter, right?
Oh, no, no, no, I am severely allergic to peanuts.
Hey, me too.
So what's it called? Peanut allergy.
No, the machine. Of course.
It's called the Flint Lockwood Diatonic SuperMutating.
Dynamic Food Replicator.
Or, for short
The FLDSMDFR.
Fliminadifiser?
FLDSMDFR.
Fliminubahdibferer?
Fli.
Suh.
Fdiferf.
Oh. Manny, make sure you get this.
He's gonna make the food now. Uh…
Now?
Well, um, the thing is, I can't
wait to show you this hilarious Internet video.
SAM What?
CAT ON MONITOR Fight the power!
SAM What is this?
It's so cute.
FLINT Pushing. Folding. Connecting.
Taping. Turning. Painting. Switching.
Staring.
Motivating.
Placing button.
I can't believe I've been watching this
for three hours. I know. Haha.
مشارکت کنندگان در این صفحه
تا کنون فردی در بازسازی این صفحه مشارکت نداشته است.
🖊 شما نیز می‌توانید برای مشارکت در ترجمه‌ی این صفحه یا اصلاح متن انگلیسی، به این لینک مراجعه بفرمایید.