سرفصل های مهم
بخش 05
توضیح مختصر
زمان مطالعه

8 دقیقه

سطح

ساده
دانلود اپلیکیشن «زوم»
این فصل را می‌توانید به بهترین شکل و با امکانات عالی در اپلیکیشن «زوم» بخوانید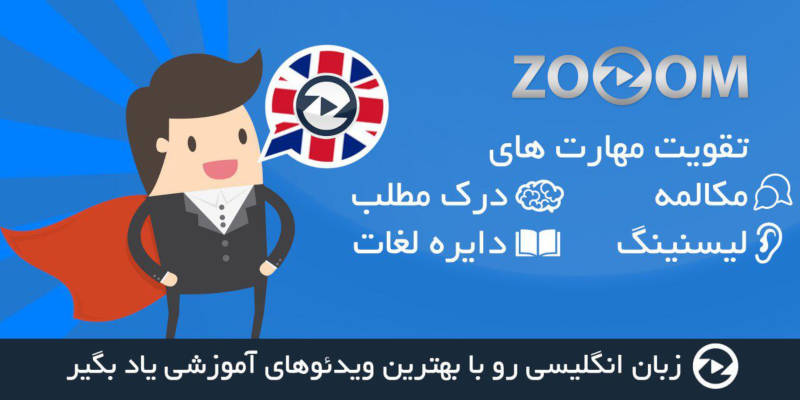 فایل ویدیویی
متن انگلیسی فصل
With today's scoop for the Weather News Network,
I'm Sam Sparks.
CAL Flint, this is the best breakfast ever!
That's it!
Researching. Roleplaying.
Dialing. Waiting.
Sam Sparks. Hanging up.
Regretting. Repsyching.
Saying what I'm doing.
Flint? Hi, Sam, how are you? That's nice.
I was wondering if you would like to go on a da…
Activity with me tomorrow.
Um… Okay.
Great, bye. Meet me in the forest.
Nailed it. Gotta go, Steve.
Keep an eye on the lab for me.
Steve.
ANNOUNCER OVER TV Foster still at the plate.
And nobody out.
SAM Where are we going?
FLINT Oh, nowhere. I just thought it'd be nice
for the two of us to go on a walk together.
Like you do as friends. Uh…
Oh, my, what's that?
Wow.
Oh. JellO's my favorite.
You never made a request, so
I made one for you.
Flint?
Flint?
FLINT Join me.
Whoa!
Oh! Oh! Oh!
But, uh… Uh, how did you…?
I made it rain JellO in the middle of the night,
then I gathered it up with the Outtasighter
before anyone woke up and then I brought it here and pressed it
into a gigantic customcarved plastic Tupperware mold I made. No big deal.
Everything's made of JellO.
This piano, those sconces,
that ghetto blaster, that JellO, that aquarium,
that Venus de Milo with your face on it
next to a Michelangelo's David that also has your face.
Come on, Sam, what are you waiting for?
Nothing!
Whoo! Yeah.
SAM Heehee. Boing, boing, boing, whoo!
Whoo!
Cannonball!
Belly flop.
Why did I do that?
So JellO. Right. Right, right.
It's a solid, it's a liquid,
it's a viscoelastic polymer made of polypeptide chains, but you eat it.
I mean,
it tastes good. Hehheh.
Why do you do that? Do what?
Say something super smart and then bail from it.
Can you keep a secret?
No.
But this time, sure, yeah.
Okay. Well, it was a really long time ago, but I, too, was…
a nerd.
Too?
When I was a little girl,
I wore a ponytail, I had glasses,
and I was totally obsessed with the science of weather.
SAM Other girls wanted a Barbie.
I wanted a Doppler Weather Radar 2000 Turbo.
But all the kids used to taunt me with this lame song.
It wasn't even clever.
KIDS SINGING Foureyes, foureyes.
You need glasses to see
Go on.
So I got a new look,
gave up the sciencey smart stuff,
and I was never made fun of again.
And I still need these glasses, but I never wear them.
I'll bet you look great with glasses on.
Oh, I'm really not… Oh. And on they go.
Whoa. What?
Nothing. Wait.
It's a JellO scrunchie.
And now, the reveal.
Wow.
I mean, you were okay before,
but now
you're beautiful.
No, I'm not. I can't go out in public like this.
Well, why not?
I mean, this is the real you, right?
Smart. Bespectacled.
Who wouldn't wanna see that?
You know, I've never met anyone like you, Flint Lockwood.
Me either.
But about you.
Is your phone ringing?
That's weird. Someone must've changed my ring.
Oh, it's the mayor. Do you mind if I take this?
No, no, no.
Go ahead, take it. That's fine. I'm sorry. It's important.
I should be going too. It's getting late.
I'm just gonna step outside.
Ah!
Ah!
FLINT Dad, you came. I have so much to tell you.
Do I look all right? You look great.
Come on, let's go. Ah!
FLINT Dad, I almost kissed a girl.
It's Baby Brent, you know? FLINT It was the coolest thing… Hi.
Uhoh. I should be on the list. Hey, Brian.
What? You're letting that guy in? That guy's a nerd.
FLINT Hey, how's it going?
Oh, thank you. Thank you so much. Thank you.
A toast. To Flint and his delicious steaks.
Ohho, thanks. Thank you. Very nice place.
Oh, wow. Thank you.
Flint Lockwood. Earl.
TIM So, uh, no roof.
Yep. You just hold out your plate.
And I even made it rain your favorite
Meat. Mm.
Okay.
So you know how the grand reopening of the town is tomorrow?
Well, the mayor has asked me to cut the ribbon.
He said my invention saved the town.
Aren't you proud of me?
Uh…
Well, 'em,
doesn't this steak look a little big to you?
Yeah, it's a big steak. I mean, every steak is not exactly the same size.
Did you even hear what I just said?
Son, look… Look around.
I'm not sure this is good for… For people.
Maybe you should think about turning this thing off.
It's making everybody happy.
Everybody except you.
When are you gonna accept that this is who I am
instead of trying to get me to work in some boring tackle shop?
Well,
you seem like you know what you're doing, then.
I guess I'll just get out of your way.
مشارکت کنندگان در این صفحه
تا کنون فردی در بازسازی این صفحه مشارکت نداشته است.
🖊 شما نیز می‌توانید برای مشارکت در ترجمه‌ی این صفحه یا اصلاح متن انگلیسی، به این لینک مراجعه بفرمایید.