سرفصل های مهم
بخش 08
توضیح مختصر
زمان مطالعه

10 دقیقه

سطح

ساده
دانلود اپلیکیشن «زوم»
این فصل را می‌توانید به بهترین شکل و با امکانات عالی در اپلیکیشن «زوم» بخوانید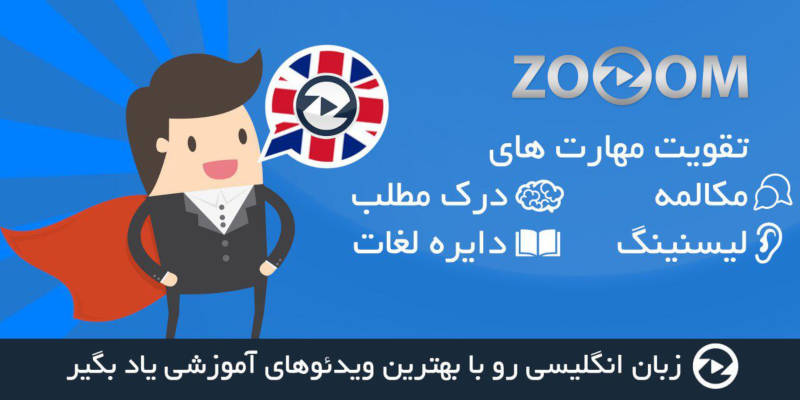 فایل ویدیویی
متن انگلیسی فصل
Good luck, son.
STEVE IN WAVERING VOICE Steve.
SAM Peasoup fog.
FLINT Manny, hit the wipers.
FLINT & SAM Oh!
There's massive gastroprecipitation accumulated around the machine.
It's almost as if it's…
Inside a giant meatball.
Water goes in the top,
a food hurricane comes out the bottom.
BRENT Glad I'm wearing a diaper.
Anybody order pizza? Oh!
FLINT Hold on.
The pizza's chasing us?
Sentient food? That's impossible.
Unless its molecular structure's mutated into super food!
BOTH That's been genetically engineered to protect the FLDSMDFR.
STEVE Pizza. ALL Ah!
STEVE Pizza. Pizza. Pizza.
That was close. I mean, can you imagine if we lost this kill code?
Uhoh.
Tim's Tackle Shop. FLINT Dad.
You're okay, great. Um…
I need a favor. The fate of the world depends on it!
Okay, then, skipper. What do you need?
Go into my lab, get on my computer and email a file to my cell phone.
Um…
Uh…
All right.
MANNY Want me to drive? FLINT Yeah, okay.
Wow. You're a lot better than me. Uhhuh.
FLINT Okay, here's the plan
Sam and I will enter the meateroid through the intake here,
which should lead us straight to the FLDSMDFR.
Manny, you and Steve stay on the plane. Don't spray that.
Once my dad emails me the kill code, we'll destroy the machine
and rendezvous here at the Western blowhole in…
How long until the world's destroyed? About twenty minutes.
Just before then.
What about me, Brent? What do I do?
Uh… You can be president of the back seat.
Oh. Deploy hatch.
Car upside down, go.
Ladies first?
No?
All right. Ah!
Wait for me. Oh!
Great. Okay, I'm good.
SAM As long as we stay on course, it should be a straight shot to the…
Yeah!
BRENT We're a team.
Whoa.
We've landed here in some kind of exhaust vent.
If we go this way, the Flamidabager should be right down this air shaft.
Brent, get out of that pie.
What's that?
Oh, boy.
Huh.
Huh. Oh.
COMPUTER Welcome, Flint.
FLINT That's fry oil.
FLINT'S VOICE ON PHONE Flint, you have a call.
Flint, you have a…
Ah! Dad. Oh, okay, great.
On the screen there's a file marked kill code.
TIM Wha…? Move that into
my email window,
type in my name, and press send. Oh!
Whoa! Whoa! Whoa! Whoa!
Window? Okay, Dad,
you see the thing that looks like a little piece of paper?
Use the mouse to drag it.
Drag it? Drag it. Drag it. Drag it.
Right? Okay. Great. Okay, great. Mmhm. Mmhm.
It's not dragging.
Drag it across the desktop.
That didn't do anything. Of course it didn't!
You know what? Ah!
EARL Go, go, go.
Hoist those sails. Toast that bread.
We are running out of time.
Let's move out. Go, go, go.
We can do it. Come on, move it, move it.
Good job. That's what I'm talking about. Everybody head to the docks.
MAYOR Wait, wait.
I have an important announcement.
See you, suckers.
Whoohoo. Bon voyage.
And bon appétit.
EARL Cal. REGINA Calvin.
EARL Cal, get back here.
CAL Foodalanche. EARL Cal.
I'm not gonna lose you again.
Baby.
Hold on tight, Calvin.
Mm.
Everybody head South. We gotta stay ahead of that storm.
Now what? Just click send.
Flint, the Fliminadifiserser's right down there!
Dad, hurry. TIM Send. Send.
Oh, wait.
Dad? Dad? Can you hear me?
Dad?
Hey, guys?
Holy crap balls.
Go, go, go.
Aw. I don't know. I think they're kind of cute.
I mean, this one just walked right up to me and…
He's got me!
They ate Brent.
Dad, I'm surrounded by maneating chickens right now.
FLINT So if this is goodbye,
thanks for trying to set me straight.
Figured it out a little late, I guess.
Okay, bye.
Dad.
Hey, give me that phone back.
BRENT Uhoh!
Ah! Hahaha!
FLINT Baby Brent?
I'm not Baby Brent anymore.
I'm Chicken Brent.
And I'm finally contributing to society.
Crotch kick.
Now go, you crazy kids, and save the world.
You did it, Chicken Brent. You really did it.
Go, go, go.
It should be right down this hole.
That's peanut brittle.
If either one of us touches it, we'll go into anaphylactic shock.
Actually, I'm not entirely allergic to peanuts.
I might have just said that to get you to like me.
So you really thought having allergies
would make you more attractive?
Eh…
Mustache.
Mus… Mmp!
مشارکت کنندگان در این صفحه
تا کنون فردی در بازسازی این صفحه مشارکت نداشته است.
🖊 شما نیز می‌توانید برای مشارکت در ترجمه‌ی این صفحه یا اصلاح متن انگلیسی، به این لینک مراجعه بفرمایید.