سرفصل های مهم
درس 01
توضیح مختصر
زمان مطالعه

6 دقیقه

سطح

متوسط
دانلود اپلیکیشن «زوم»
این درس را می‌توانید به بهترین شکل و با امکانات عالی در اپلیکیشن «زوم» بخوانید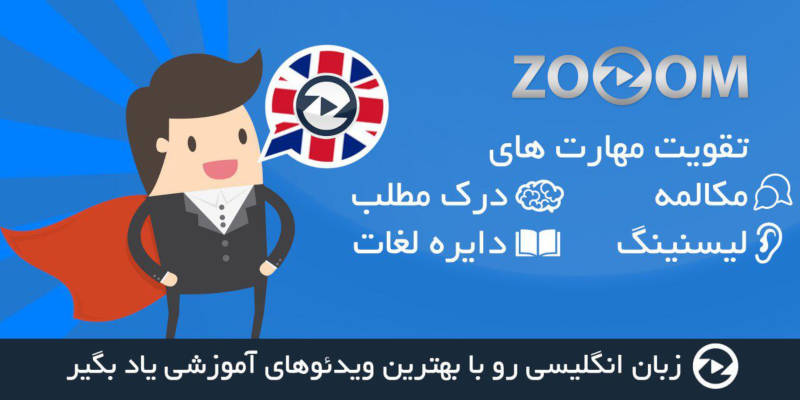 فایل ویدیویی
متن انگلیسی درس
Brad.
Bye, Daddy. Bye, sweetie.
Bye-bye, guys.
I'll pick you up on Monday.
CHILDREN: Brad. What's up?
Hey, Brad.
Hey, Brad.
Looking good, buddy.
Dylan, where's your retainer? I left it at Dad's.
Hey, where's your math workbook?
At Mom's house.
Where are all your undies? DYLAN: I don't know.
How do we got so many undies?
(ALL CHEERING)
DUSTY: Happy birthday, buddy!
Brad already got me one.
(CHILDREN CHEERING) - It was my idea! It was my idea!
Hey, look at that.
Guys.
Daddy.
Oh!
Megan, hold up!
Whoa!
Ah!
Are you all right? I'm okay. (GROANS) (ALL EXCLAIM)
Right here!
Don't leave without it.
(SCHOOL BELL RINGING) Come on!
Keep it moving!
Inside the cones!
Inside the cones like an ice cream.
Let's go!
Braddie!
Here you go, buddy.
Oh. Thanks, Braddie.
Hot cocoa? Yeah.
Nice. Little marshmallows floating around there all in formation.
You are the greatest.
I put a little licorice root in there, too.
Oh! Tell me what you think. DUSTY: Hey, guys. Daddy! Hey. Hi, how was your day? Good.
BRAD: All right,
guys, hop in.
I'll get them ready and I'll meet you at Tae Kwon Do.
See you in 30. Great. Looking forward to it. Bye. CHILDREN: Bye, Dad. BRAD: Oh! (BRAKES SCREECH) - Dusty. Yeah?
Sorry. You made treats for tonight, right?
No, I got the gift card. I thought you were on treats tonight.
No. I did gift card and the treats for the Halloween Spooktacular.
Okay. Well,
I guess I'll hit the bakery - on the way to the pageant.
Bakery?
Unless you don't want me to go to the bakery.
No… Usually, when you repeat what I said and you shake your head up and down,
it really means
you don't want me to do it.
I'm just thinking… DUSTY: What? Maybe homemade? (HORN HONKING)
Yeah. Hey! Honk at him again, you better count your teeth!
No problem, Braddie.
Homemade snickerdoodles coming right up.
One for you, too.
Should we fist bump again or would it be awkward?
I don't mind a second bump.
All right.
Thanks, buddy.
See you tonight.
Bye, mate. Thanks so much for the cocoa.
CHILDREN: Bye, Daddy.
(CRASHES) Sorry. Bye. Bye.
BRAD: These look great.
Thank you.
Look at that. Oh… Daddy! Karen! Hey! Hey, guys.
Wow, look how s@xy Karen looks.
Leather pants and side boob.
That's perfect
for a school function.
Honey, let's expect good things, okay? I know, you're right. Right. SARA: Hey. How's it going? Hey. BRAD: Hi. SARA: Hi.
Wow, look at you guys.
You and Mommy are so sassy all the time.
KAREN: Hi. SARA: Hi.
Oh, hey. I got your novel.
It's amazing. Oh, I'm glad you like it.
SARA: I don't know how you write such powerful dialogue.
I mean, it must just come naturally, right? Aw. Like everything else. You're so sweet. Are you guys ready? Let's go.
I want my shirt
like Adrianna's.
Uh, no. No, no, no, honey.
We're not doing that, okay?
Put that back in.
Look like a nice kid.
(AUDIENCE CHEERING) PRINCIPAL HAYES: Welcome to the One Horse Open Sing!
Before we get started, notice we have
several professional video and still photographers to cover all your kids for free.
So you can all put your phones in your pockets,
relax, and just
be in the moment.
(DEVICES BEEPING) You don't care.
Dashing through the snow In a one-horse open sleigh O'er the fields we go Laughing all the way, hahaha Bells on bobtail ring Making spirits bright What fun it is
to laugh and sing A sleighing song tonight …eat candy Santas and smashed potatoes and dressing up my dog like a reindeer.
That's what
Christmas means to me.
Thank you. (ALL CHEERING)
PRINCIPAL HAYES:
And now we have Megan Mayron.
(BEEPING)
My name is Megan Mayron, and I like Christmas presents a lot.
(ALL LAUGHING)
But I don't really like Christmas.
My daddy was at my first Christmases,
but I don't remember those ones.
Then we had some
with no daddy at all.
Then Brad came,
but he was always trying way too hard and making everyone feel uncomfortable.
Then Daddy came back, and Brad did a pretend Christmas to show Daddy that Brad was better than him.
So now we have to go to different houses to have different Christmases.
Me and my brother wish we were like other families and we had normal Christmases.
But we still like our Christmas presents.
I want to be very clear about that.
Thank you very much.
(AUDIENCE APPLAUDING) (JERRY LAUGHING)
Enjoy paying for therapy, boys!
You better shut your mouth, Jerry!
Absolutely, Dusty.
(SIGHING)
We're messing up our kids, Brad, and it's on you.
On me? Why is it on me?
Because before you came around we only had one Christmas.
So it's on you.
Hold on, hold on. We don't have to circle the wagons every time one of the kids expresses a negative emotion.
They're fine.
Kids that get up in front of whole schools
and say they don't like Christmas aren't fine, Sara.
Well, she said she didn't like having two Christmases.
Which is on you.
So what if we all spend a Christmas together?
A Together Christmas.
That's good.
Now you fixed it. See, that…
Now it's off of you. (BRAD GASPS)
Let's invite Adrianna's dad, too.
What? Yes. Are you being serious right now? No. Yeah.
Put that hand down.
I've been nothing but nice to that guy, and he treats me like I abducted his kid.
I'm not doing that.
Why are you messing up the mood now, all right?
We wanna go tell the kids my great idea about the Together Christmas.
Wait, how did it become your idea?
It was your idea, but I named it Together Christmas.
People of Bikini Bottom…
Hey, guys?
Guys. Listen up,
I got a surprise.
Hello?
Guys. We got a big surprise! A surprise? Another pony? A trampoline?
You leaving?
Not quite, okay?
But, no, we got something better than that, okay?
So much better.
It's gonna be great.
Guys, this year, no more back and forth at Christmas.
We're not doing the back and forth. Nope. I just said that. No more back and forth at Christmas. No back and forth.
This year, we're gonna spend one Christmas all together, all of us!
BOTH: Yay! All of us. A Together Christmas! A Together Christmas! Can you be quiet?
A Together Christmas like a normal family!
Yay! (CELL PHONE RINGING) I'll get it.
Hello?
Grandpa Kurt?
Daddy, Grandpa Kurt wants to talk to you.
SARA: No, no, no. Dusty, I'll just tell him…
No. It's okay, Sara.
Thank you.
Thanks, buddy.
What, Dad?
Yeah, long time.
No, I'm fine. Tomorrow?
Tomorrow. No.
I could probably pick you up, I guess, but…
Hey! Psst! Guess what? My folks are coming tomorrow. I don't care. We can go together. You shut up.
Dad, do you want to just text…
Hello?
مشارکت کنندگان در این صفحه
تا کنون فردی در بازسازی این صفحه مشارکت نداشته است.
🖊 شما نیز می‌توانید برای مشارکت در ترجمه‌ی این صفحه یا اصلاح متن انگلیسی، به این لینک مراجعه بفرمایید.