سرفصل های مهم
درس 03
توضیح مختصر
زمان مطالعه

9 دقیقه

سطح

خیلی سخت
دانلود اپلیکیشن «زوم»
این درس را می‌توانید به بهترین شکل و با امکانات عالی در اپلیکیشن «زوم» بخوانید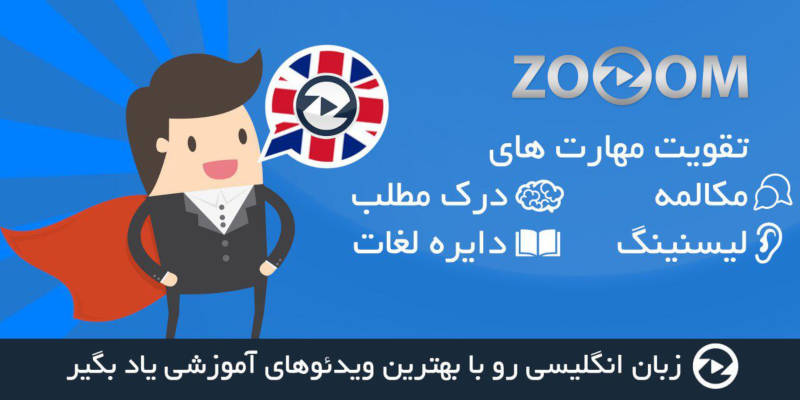 فایل ویدیویی
متن انگلیسی درس
BRAD: Off to the mountains.
Here we go, Griffy.
Here we go. Big fun trip!
Let me get
that for you, Sara.
SARA: Thank you. You're welcome.
You know, Dusty,
I think you and Kurt spending some time
around me and my dad might do you both some good.
Hey, don't you see
what he's up to here?
He thinks you and me are harboring bad feelings for one another and sticking us together in some cabin is gonna bring out whatever we're harboring.
But you're not,
are you, Brad?
I'm not what? Harboring!
No, I'm not harboring anything.
Good, 'cause I'm not harboring anything either.
BRAD: Okay, well, let's use this as an opportunity to show him
that we're not harboring.
'Cause we're not harboring.
You're looking at
one safe harbor right here.
All right, good.
You sure you want to pack it like that?
Is that how you're gonna do it?
Look, me and Brad got everything under control as a team, okay?
Right, Brad? That's right.
Yeah, what would I know about travel?
I've only been
to frickin' space.
What, did you pack
the space shuttle yourself?
You pop the trunk, arrange all the bags for you and your little space friends?
I did, as a matter of fact.
Yes, I packed the shuttle.
That's so cool!
I love how you're always jotting down ideas
for your book
in your little notepad.
People ever get crazy and think you might be writing something bad about them?
Say, Brad, would you mind doing some "Yes, And" drills with me on the way?
"Yes, And" thank you for asking me.
I recently joined
an improv comedy workshop.
Brad's been pushing me to do it for years. (CHUCKLES) Because you're so funny.
Yeah, I really enjoy it.
You should look into it, too, Kurt.
I'd rather look into a loaded gun.
Did you hear that? Did you just make that up? Zinger! That's provocative, too.
You ready to let me do that, Mr. Stubborn?
I got it. KURT: It's never gonna fit.
Hey, kids, no, no, no, no, why don't you jump into my car with Adrianna, all right?
So Grandpa Kurt here can enjoy Pop-Pop's company on the way up. (CHUCKLES) Already warmed up a spot in the capsule for you, Captain!
Still never gonna fit. Ever.
No, I got it. It's fitting fine.
I just had to put it wheels-in.
Perfect fit!
All right, let's go.
Hey, Adrianna, you know, when we're up there, I can teach you
how to snowboard.
You're not my dad.
All right.
It's gonna be a fun trip.
BRAD: It's time for One-Word Story.
Anyone can join in, doesn't have to be just Dad and I.
You always give us
the best start.
Uncle… …Thomas… …went… …tiptoeing…
…into the…
…Empire State Building.
(BOTH LAUGHING)
Where were you going with that one?
This all took place at the pancake breakfast!
Fifty-six bottles of beer on the wall
Fifty-six bottles of beer "G". Georgia,
Georgia license plate!
Ready, and… Quiet Game.
I'm terrible at this game! I can't do it! I just can't do it. I hate the Quiet Game!
(DON AND BRAD
CHATTERING EXCITEDLY) DON: We always
liked the Shimpahs.
BRAD: The movers thought the Shimpahs' house was our house and almost moved us in there!
DON: The wrong family! We would've been living with the Shimpahs!
BRAD: Which I wouldn't have minded,
'cause I had a huge crush on Vicky Shimpah.
(BRAD AND DON LAUGHING) Dad, thank you.
You make a five-hour trip go by like that!
DON: I just wanted everybody to have a good time.
Nothing like a nice, relaxing road trip, huh, Dad?
KURT: It was nothing.
I've been in a confined space with a chimp.
(ROMANTIC MUSIC PLAYING) (LAUGHS MOCKINGLY)
Dylan's got a girlfriend!
No, I don't! Be quiet!
MEGAN: Yeah, you love her.
You want to buy her flowers and kiss her on the lips.
Stop it! It's not funny!
Megan! What did I say about teasing your brother about girls?
She's still doing it.
And she drilled him in the head with a snowball too.
(SOFTLY)
Well, I'm not her mother.
Now, go take your brother inside, please. Go on, sweetie.
MEGAN: Come on, Griffy.
So Dylan's started
noticing the girls?
You know, I think it's gonna be time to give him the talk.
The talk? You mean the talk about the nitty-gritty?
The "nitty-gritty"? I'm on it, Sar-Bear.
I've been looking forward to this for a long time.
I got a whole speech prepared, all right?
It's all heartwarming stuff.
I'm sure you and Brad will do a bang-up job with that.
Unless this isn't
a co-dadding moment?
No. No. I mean, no, of course it is. It is. Yeah, it is. It's gonna be. Okay, yeah.
Yeah, we're gonna
talk to him together.
Oh, Dusty! I read about some gender-neutral flashcards.
Flashcards.
He's got flashcards to teach your son how to score.
BRAD: No, of course not.
They cover human reproduction, puberty, and hygiene.
Okay, great. You tee it up with the flashcards, and I'll knock it home with the heartwarming speech.
All right? We got this. You're all set.
I'll never forget when Brad first started asking questions about girls.
I took him out for "the talk".
He was so inquisitive and attentive.
Then I dropped him back off at his dorm.
Yeah…
Well, come on in.
(ALL EXCLAIM)
Hey, look, there's a game room!
KAREN: Wow. Adrianna, look. DYLAN: And a pool table!
This is what I'm talking about.
Look at that view!
Look at all the mortise and tenon joinery!
Sittin' fat.
Your old man sure pulled the right rein getting this place.
Oh, wow. I know. Better throw you a parade, huh?
(LAUGHING) Oh, I am really looking forward to that.
Well, you want the thank yous printed on the bass drums or the sousaphone covers?
Hey, did anyone bring my bag in?
My supervisor Clyde Unix…
He took over after
Kirby Keller retired in '86.
Horse farm,
upper peninsula of Michigan.
Gorgeous country,
if you ever get the chance.
Wow.
Nice shower. (CHUCKLES) That's weird.
No controls.
Hey, honey,
how do you turn the shower on?
AUTOMATED VOICE: Shower on.
Off! Shower off!
AUTOMATED VOICE: Shower off.
Gosh! Ooh!
Voice-activated water. Cool.
AUTOMATED VOICE: Water cool. (YELLS) Off! Shower off! AUTOMATED VOICE: Shower off. Water… Cool… Water. Shower cool. Cool the water. Water cool.
Water off! Turn off!
Off.
Oh, my God.
(INDISTINCT CHATTER) SARA: Oh, my God!
You scored on yourself.
Friendly fire.
KAREN: Eight ball,
corner pocket.
KURT: Ooh! No slashing. Yeah. Good job, babe. Thank you, babe.
SARA: (GROANS) Come on, Sara!
No, that is holding.
(CHRISTMAS SONG PLAYS LOUDLY) It's too loud, Dylan!
Turn it down!
I don't know how!
Hey, hey, hey, turn that down!
Griffy's asleep.
(LOWERS VOLUME)
Why are you dressed like a woman, Brad?
I can't find my stuff.
Are you sure you got my bag to fit in the car?
Yeah, of course. It fit perfect.
Look, can we skip this one?
I can't stand this song.
Skip it. Skip it, guys. Oh, no, no, no! No, Sara.
This is a great song.
This is my real dad's favorite Christmas song.
Yeah, well, I'm glad it makes him happy.
You think I don't want to like this song?
Of course I want to, it's a super uplifting song.
Yeah. But he ruined it for me.
What are you talking about?
All right, so I'm 12 years old, and I join the Glee Club.
(CHUCKLES) Glee Club.
All my buddies in the neighborhood, they gave me crap over it, but I don't care,
because for the holiday pageant we're doing
Do They Know It's Christmas?, and I was determined to land that Bono part.
There's a world outside your window
And it's a world of dread and fear
Where the only water flowing is…
DUSTY: So my buddy Derrick Lindmeyer is laying into the Sting part, when out in the audience, what do I see?
My dad giving Scotty Kimball's mom a foot rub, not even paying attention!
I totally missed the Bono part, and everybody made fun of me.
(GIGGLING)
And there won't be
snow in Africa
this Christmastime…
I got no recollection of that.
Yeah, well, I do, all right?
And I got a lot of other stories just like it.
Science Fair, you left with Brian Higby's mom. (SCOFFS)
Little League regionals, you left with Mark Fitzgerald's mom and his aunt!
(STAMMERS) Oh, yeah, now that I remember.
Yeah, yeah.
That went into extra innings.
Know what I mean, kid?
(CHUCKLES)
No. Ah.
Nice.
Dusty! Dusty! Come on.
He's gonna ruin Christmas, Brad, I'm telling you.
(SIGHS) Look, I hate to hit you with the tough love, but the only person who can ruin your Christmas is looking back at you from that mirror.
All I see is you, Brad. Oh.
Okay. Well, sorry. Here. Here.
There. There we go.
Still you, Brad. Is it?
Yeah, it's still you.
Okay, well, look, I'm looking at you, so I meant you.
Well, I'm looking at you, so I see you.
Forget the mirror.
You're the only one who can ruin your Christmas.
Don't look at the mirror!
I'm still looking at you if I look in the mirror.
Don't worry about the mirror.
That was bad.
Forget the mirror exists. Okay.
Let's just focus on those kids and giving them
a better childhood than you had.
You're right. Yeah?
It's about them.
It's about giving them a better Christmas.
There you go.
Yeah, and then we jam that amazing Christmas right in his butthole!
Yes, we do.
Wait! Whoa, whoa! No.
DUSTY: Yes!
You know, Dusty, I'm just gonna take the mirror down.
Then we don't have to worry about it.
مشارکت کنندگان در این صفحه
تا کنون فردی در بازسازی این صفحه مشارکت نداشته است.
🖊 شما نیز می‌توانید برای مشارکت در ترجمه‌ی این صفحه یا اصلاح متن انگلیسی، به این لینک مراجعه بفرمایید.