سرفصل های مهم
درس 11
توضیح مختصر
زمان مطالعه

8 دقیقه

سطح

ساده
دانلود اپلیکیشن «زوم»
این درس را می‌توانید به بهترین شکل و با امکانات عالی در اپلیکیشن «زوم» بخوانید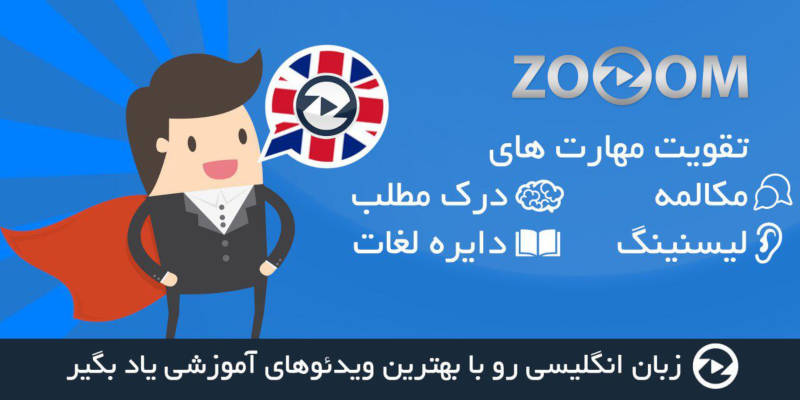 فایل ویدیویی
متن انگلیسی درس
You're not leaving us, Roger.
'Cause I love you, too.
You take that back! Nope. I can't.
Can't take it back now.
Everybody heard it.
It's out there.
Everybody hear it? CROWD: Yeah.
You're her dad,
you made her who she is, and despite her currently harboring a fair amount of resentment towards me, I love her, so that means I love you, too.
And I've never been too good about saying it,
but I'm gonna follow Brad's example,
who I also love.
Now you're just saying things to choke me up.
Brad! Cut it out.
I'm trying. I'm a hot mess here. Don, please! You've got to understand, when it comes out of nowhere like that,
what do you expect?
Stop! I'm stopping. I'm currently stopping. We're…
Yeah, guys. Cut it out, you're embarrassing me.
I love you, Brad.
And I love Karen, I love Sara, and I love my kids.
I…
I might need a little more time with that one.
Sure, understood.
But we're making progress.
Maybe for your birthday.
Yeah.
You know. Unless you want to say anything?
Anything at all? DON: Say it, Kurt. Now's the time. Just say it, Kurt.
DUSTY:
You want to say anything?
BRAD: It's not that bad.
Just say it.
You can do it. Do it.
Nah, the birthday's a good target. Good target.
All right, Roger, what do you say?
It's not too late to spend Christmas with your family.
(CROWD GROANING)
(MUSIC PLAYING)
It's Christmastime There's no need to be afraid, Roger
At Christmastime
We let in light and we banish shade
Damn, that's my favorite song of all time.
And in our world of plenty We can spread a smile of joy Throw your arms around the world
At Christmastime
But say a prayer
Pray for the other ones!
I'll play this in August, I don't even care.
At Christmastime
It's hard, but when you're having fun
There's a world outside your window
It's a world of dread and fear
Where the only water flowing is
The bitter sting of tears And the Christmas bells that ring there
Are the clanging chimes of doom
Well, tonight thank God it's them
Instead of you
Yes! Fantastic!
He heard it!
Come on, Roger.
Look. Yes, we're all stuck here, but we're with our loved ones.
I'm not. I came alone.
Okay, well,
he came to the movies alone on Christmas, and that's a little sad.
That's a little sad!
But you're not alone, sir.
I mean, think about it. We come to the movies all the time.
We sit with hundreds of people.
And we laugh together, we cry together,
but we never look at each other, do we?
Brad, it's not a microphone, it's a mallet. See?
They can hear you. You can still hear me, right? Yeah. Yeah.
Take a look at each other.
That's right. Hi.
BRAD: Give a hug.
Give an embrace.
What we have here are the makings of a really great Christmas party.
We have a Christmas tree.
We have music and snacks.
We have Christmas spirit.
We have mirth.
We have snow!
DUSTY: You know who doesn't have snow?
I'll bet he knows who doesn't have snow, don't you?
Yeah. Yeah, I know.
I know where there isn't snow.
And there won't be snow in Africa
This Christmastime!
Do they know it's Christmastime at all?
Merry Christmas!
Merry Christmas, folks!
Feed the world
Let them know it's Christmastime
Feed the world
What?
Let them know it's Christmastime
"Sara.
"Beautiful and smart.
"The mom that everyone loves"?
Oh, my God.
She's basing a character on me!
(GIGGLING)
(ALL CONTINUE SINGING) (INDISTINCT CHATTER) DUSTY: All right, guys.
We're not gonna see them again till Easter,
so everybody say good-bye to El Padre and Pop-Pop.
Bye, Dylan. Good-bye, El Padre!
Hey, next time you want to shoot a guy,
don't just wing him, go for center mass, okay?
Good-bye, Adrianna.
I don't want you to go, Pop-Pop!
Really? Yeah, really?
Sure. Of course, he gets a hug.
Maybe you can call me and tell me more Pop-Pop stories.
I would love to!
Oh. And I also signed you up for SeniorMatch.com.
It's a dating website for old people like you.
Thank you, sweetie.
Honey, it's your mom texting.
They're just getting off the plane.
I'd better go
before they get here.
I don't want to make anything awkward.
Bye, Dad. Bye, big man. Love you. I love you, too, Brad.
Hey, well, yeah,
you have a good flight.
Yeah, let's not get that going.
I agree. You've got to start that younger.
We missed that window.
I really appreciate the gesture.
You do? Then okay.
Hey. I'll see you, kid. See you soon, yeah.
Yeah, bye, kid.
Are you coming, Pop-Pop? Come on, Captain!
Bye, Dad.
You know, Don,
I've been thinking.
You don't need a dating app.
What you need is a wingman.
I switched our flights to Vegas.
New Year's at Caesar's, fix you right up.
That sounds wonderful!
Where are we connecting through?
Don't start with me, Pop-Pop.
Hey, Braddie.
Don't be nervous now.
You are the kindest, most gentle and honest guy I know.
And whoever your mother brings down that escalator, he's gonna love you, you hear me?
Grandma!
Is that Sully?
Wait, wait, who?
DUSTY: Sully Sullenberger.
The guy who saved 155 passengers on the miracle on the Hudson!
Clint Eastwood made a frickin' movie about it.
Wait. We watched it at your house, it was awesome!
Right. Tom Hanks
and Aaron Eckhart.
I really enjoyed it.
That guy is a national hero, and he's gonna be your stepdad.
Wow. Amazing.
I bet you he gets free flight vouchers.
And maybe get us some vouchers!
Maybe.
Well, don't make him wait.
Go say hi. Go! Go!
MEGAN: Grandma!
You must be Brad.
Nope.
No, Brad. You're not my dad!
Brad, no, that's a mistake!
I don't care how
many lives you saved!
You'll never replace him, do you hear me?
Brad, he's so nice! Come back!
You only have one good story, my father has a million!
مشارکت کنندگان در این صفحه
تا کنون فردی در بازسازی این صفحه مشارکت نداشته است.
🖊 شما نیز می‌توانید برای مشارکت در ترجمه‌ی این صفحه یا اصلاح متن انگلیسی، به این لینک مراجعه بفرمایید.