سرفصل های مهم
درس 08
توضیح مختصر
زمان مطالعه

8 دقیقه

سطح

متوسط
دانلود اپلیکیشن «زوم»
این درس را می‌توانید به بهترین شکل و با امکانات عالی در اپلیکیشن «زوم» بخوانید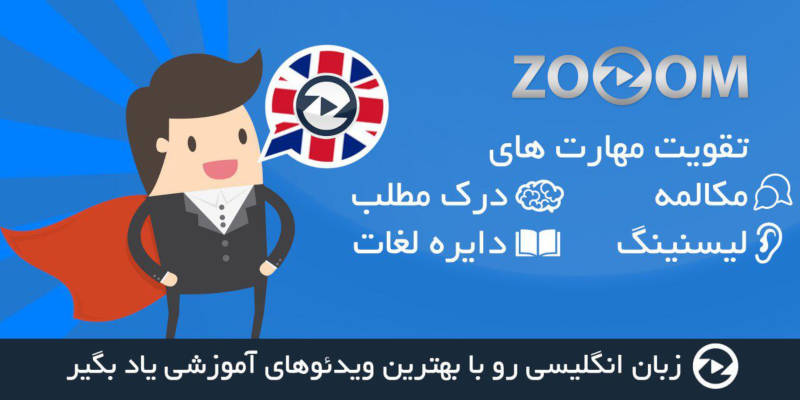 فایل ویدیویی
متن انگلیسی درس
Look, it's a cute tiny monkey on your back.
(ALL LAUGHING)
Give us all the money in the drawers and all the lollipops.
(LAUGHING MOCKINGLY) Guys, I can't keep up.
I'm gonna hit the head.
I'll get us a couple more drinks. KURT: Sure.
Hey, am I crazy or are you guys having a good time?
I don't know.
I think we kind of are.
That's wonderful, Dusty! Thanks, Don.
I told you we'd rub off on you two.
In this room right now, there's a man who, despite his advancing years, is apparently an improv ninja.
Brad, you didn't.
I did. I so did!
Don Whitaker, ladies and gentlemen!
All right. All right.
(PLAYING UPBEAT MUSIC) You are the greatest.
ACTRESS: Don!
Let's hear it for Don!
We're gonna play
a little "Arms Akimbo".
Do you know that one?
Of course I do! Awesome.
They're gonna love this.
Can somebody do my Velcro? Yes.
He's got tiny little girl arms!
(CROWD LAUGHING)
DON: Okay. We're gonna do a scene, and we need some suggestions.
Can you suggest an animal?
MAN: Raccoon! BRAD: A panda!
DON: Raccoon, good! All right.
And, sir, what is your profession?
MAN: I'm a dermatologist.
DON: And finally we need a human relationship.
Oh! Father and son!
A healthy father and son relationship.
Or how about a divorce?
Now you're getting in the spirit, Dusty.
Yes. Okay. We're taking "divorce".
That's all we need. Give it up!
That's really dark.
KYLE: Oh, come on, babe.
Just a little fun before he gets here.
No. Stop it. I told you, okay?
No canoodling until the divorce is finalized.
It's not right. Come on.
Knock, knock.
He has no idea what he's walking into!
You're home!
Yes.
Where were you?
I took our raccoon to the dermatologist.
He got two
of the suggestions already.
He's on fire!
Aren't you even gonna address the strange man in your home?
Yeah, bro, don't you even want to know who I am?
I know who you are.
KYLE: Don, if you'll excuse me, I think I'm gonna start giving it to your wife.
Shut up!
Just shut up with
that kind of talk!
When we met on that flight, I was really nice to you.
I listened to you tell your stupid story over and over again, and I complimented your hat!
(ALL LAUGHING)
Brad, we have to stop this. He's killing!
Don't you see what's happening?
I do. I see a room of people laughing at my father.
It's amazing. Okay. Have some water. No, I don't want water.
Oh!
DON: I don't want water!
I want my wife back.
And I want our Sunday brunches at the Cracker Barrel.
Braddie, we've got to get him off the stage.
All you needed was somebody to listen to you, and all I do is talk.
On and on and on.
When am I ever gonna learn to shut my big fat mouth?
Ooh.
Ginny.
Ginny.
My sweet Ginny.
Why is he using
my mom's real name?
Hey, Dad?
Is this true?
Are you and Mom divorced?
I wanted to tell you, Brad.
Son, you're home
from summer camp!
I don't go to summer camp, I'm a grown man. Okay?
(PLAYING UPBEAT MUSIC) Why are you laughing?
I'm not part of this! Okay?
You are a part of this family, and you will respect your parents.
Yeah. Shut up! Brad. Just shut up.
Let me out of this bit!
What about him?
Is he still around?
Do I have a stepdad?
(CROWD LAUGHING LOUDLY) Stop doing that to me!
I'm a paying customer!
Brad, let's go.
Come on.
Will you please just go out there and talk to him?
He won't talk to me, and I don't blame him.
You know, it's not really all your fault.
You can't blame Dusty.
He couldn't have known about Ginny and me when he made that improv suggestion.
You did know! It was pretty obvious, Don.
A guy your age either joins an improv group
because his wife left him, or his wife left him because he joined an improv group.
So you did it on purpose? No! Well…
Well, yeah. All right? I did.
You and Brad are all lovey-dovey and smug about your relationship.
I mean, you make out every chance you get.
Meanwhile, my dad's ditching out on me.
Maybe I got a little jealous, all right?
Look, I didn't think you were gonna freak out and spill your guts to a room full of drunken skiers!
Hey. What is wrong with you? What? I didn't…
Go out there
and fix this right now.
Go! All right.
Are you serious?
I'm keeping this.
(GRUNTING)
Are you okay?
Uh…
My parents are divorced.
Oh. Mine, too.
Sucks.
Yeah. I think it was my fault. Was yours your fault, too? I don't know. I hope not.
I just found out last night.
When did you find out?
I was a baby. When you were a baby?
Maybe it was your fault.
Were you a difficult baby?
I don't know.
You know what? Your lack of specifics leads me to believe it was your fault.
No, no, no! You were not a difficult baby, sweetheart.
Brad, dude, what are you telling the kid?
Come on, man. I know you're upset about last night.
All right? I'm sorry about what happened, okay?
I didn't mean to give that improv suggestion.
It just… It just kind of slipped out.
(SIGHS)
Know what, Dusty? It's okay. Really? Yeah. Thanks, Brad.
Look, why don't you come in and talk to Don? He's feeling a little…
BRAD: Oh, my gosh.
I wonder who that could be?
What a nice truck!
ADRIANNA: Daddy!
What are you doing here? Come on. What am I doing?
I want to celebrate Christmas with my perfect little girl.
Don't you want to spend the holidays with your one true real dad?
ADRIANNA: Yeah, come on!
Let's come see the cabin. Hey, Roger.
It's so cool!
Come on, hurry.
You're going too slow.
ROGER: I'm coming, sweetheart.
You invite him all the way up here just to get back at me?
Yeah, I did.
WOMAN: Bye, Kurt! Call me! Yeah, next time I'm in.
(LAUGHING)
That's her dad, yeah?
Uh-huh. (CHUCKLES) And you invited him, too, didn't you?
I sure did, yep.
I don't know what I missed, but this is getting good, boys.
I like your style, Brad. Hey, hey, hey.
(LAUGHING)
You're opening up the harbor, Brad.
The harbor is wide open, and it's Fleet Week!
All right, good. 'Cause I got a few boats that want to set sail.
Yeah, good. So do I.
You favor little Griffy over my kids.
What? I do not!
He gets to sleep in your bed all the time.
Megan and Dylan never get to.
You want them to sleep in my bed with me?
God, no! Don't you ever think about it!
I'm not thinking about it!
You brought it up. Good! You better not. BOTH: Shut up! Hey, you shut up. You shut up! No, you shut up!
Okay. Well, he's not gonna be part of that special thing we got planned tonight, if that's what you're thinking.
Oh, yeah?
So you're gonna tell Adrianna that everyone's invited to that "special thing"
we have planned for tonight, except her dad.
مشارکت کنندگان در این صفحه
تا کنون فردی در بازسازی این صفحه مشارکت نداشته است.
🖊 شما نیز می‌توانید برای مشارکت در ترجمه‌ی این صفحه یا اصلاح متن انگلیسی، به این لینک مراجعه بفرمایید.