سرفصل های مهم
درس 06
توضیح مختصر
زمان مطالعه

9 دقیقه

سطح

متوسط
دانلود اپلیکیشن «زوم»
این درس را می‌توانید به بهترین شکل و با امکانات عالی در اپلیکیشن «زوم» بخوانید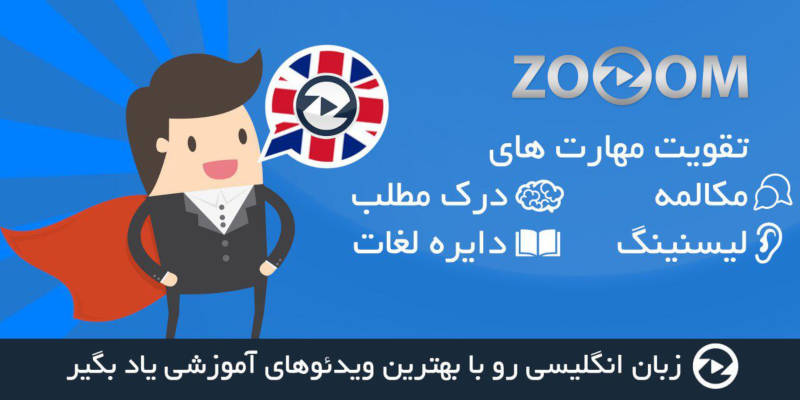 فایل ویدیویی
متن انگلیسی درس
BRAD: Dad!
Dad?
Dad?
DON: Brad!
Dad! Where are you?
I found him! Where are you? DON: I don't know. Are you hurt? DON: Oh, no, no!
No, I just can't quite get up.
(PANTING) Oh!
Dad, don't move.
There's a pack of wolves on you.
DON: Is that what it is? Yeah.
I can feel something tugging at my trousers.
What color are they, Brad? They're gray wolves.
DON: That'll be Canis lupus.
They're dangerous.
BRAD: Really? They look like you could just reach out and pet them.
I kind of want to pet them, Dad.
Now, Brad. Don't make eye contact with the alpha wolf.
I already did!
Right in the eyes.
DON: Don't show any fear.
I don't want to watch the wolves eat you!
DON: Breathe deep
and pull yourself together.
I'm sorry, I'm sorry.
Hut!
Hut! Hurt!
Are you saying "hut" or "hurt"?
Dad, what happened?
You know, I saw the nicest tree a ways off,
and I got a little off course.
I tried to call you, but all of a sudden my signal dropped!
Really?
I tried to find my way back, but at some point I lost consciousness.
That's about when the wolves must have come across me.
It's all right, fellas.
You didn't have to go to any trouble. It's all good.
I'm sorry for all the hugs.
I kind of don't want to let go.
I almost thought I'd lost you out there to those nasty wolves.
Do you have any idea how much I love you?
Well, of course I do.
You tweet about it every day.
You know how much I love you, too, don't you?
Your answer is right in here. (GASPS)
I can see it!
(SCOFFS)
Okay, now that everyone is accounted for,
can we please talk about who is paying for that monstrosity?
Well, you know, it was Dusty's idea to cut down the tree.
Yeah, and it was your idea to cut down the cell phone tower, Brad.
Great, so as per usual we get stuck paying.
Wait, what does that mean? I think it's a nice tree.
I don't know. Dylan's retainer?
Megan's flute?
What about Tae Kwon Do that you signed them up for and didn't even ask us about?
Yes, and who paid for the trip to the aquarium last week?
It's a really nice tree.
So now we're keeping score, huh?
Well, who paid for the parking and bought each one of them a blowup orca?
After we told them they couldn't have a blowup orca!
Yeah, because you were too cheap to buy them a blowup orca!
Who crushed my car with a snow blower? You did, Brad.
Who crushed my car
with a motorcycle?
Hello! You again!
DON: Hey!
It's a beautiful tree!
It's beautiful, all right?
BRAD: Okay, yeah. Dad's right.
It's a beautiful tree.
KURT: Whoa!
Don, I'm sorry, I don't think I'm gonna be able to save the foot.
Yeah, that baby's coming off.
I'll need some morphine and a bread knife.
Brad, hold him down.
(LAUGHS) Oh, no.
That's just my feet.
It's the mail carrier's curse.
Back when I used to sleep with your mom, I once scratched her leg so bad with a piece of rogue heel skin, it actually drew blood.
What do you mean,
used to sleep with Ginny?
What?
Oh. We sleep
in separate bedrooms.
You know how badly I snore, Brad.
Boy, that is inspiring!
You know? The way you're always so considerate to the other person.
KURT: Ugh.
I really want to take this foot off.
(SNORING)
DUSTY: Hey, sweetie.
You know, you might want to close your window.
You know, since it's winter?
You're not my dad.
You know, I appreciate you reminding me of that every few hours.
But, you know,
we're not the only people here, so maybe we set the thermostat to like 75?
I mean, that's still really toasty, right?
Okay, well, what if I counter you at like 78?
And then you negotiate with me, you come back at like 83, and then maybe we settle at like 80.
What do you say to that? 81.
Deal!
Look at that. The two of us are starting to see eye to eye.
Thank you, sweetie.
Thank God.
There's Brad with some makeup cocoa for being such a jerk.
Thank you.
Brad! What are you doing? (GROANS) Oh, God.
(SCREAMS)
Why would you do that? Look what you made me do! I didn't do anything. I didn't make you do it!
I thought you were bringing me hot makeup cocoa
and you just, like, threw it all over yourself.
You almost burned me, Brad!
I wasn't bringing you makeup cocoa. Why not?
I would've said, "Here, bud, here's some makeup cocoa".
I've been waiting for my makeup cocoa. I didn't know that!
If I knew you wanted makeup cocoa, I would've…
81!
No, no, don't touch that!
I talked her down
from the high 80s.
I'm making progress with her.
This is good.
I thought you had
your house in order.
Look, don't you see?
We're doing exactly what he wants.
We're letting things out of the harbor!
So you are harboring. Of course I'm harboring!
And so are you.
Harboring was working just fine before he showed up.
Let's get everything back in the harbor
and let's harbor it all back in and close up the harbor.
I don't know if I can!
Remember you said let's put the focus back on the kids?
That was a great idea!
Fine. Harbor's closed. Good.
But we're going halfsies on the cell tower.
Fine, halfsies
on the cell tower.
Brad, are you okay?
Yeah.
Did you make tee-tee in bed? No, it's cocoa.
Did your cocoa make you tee-tee in bed?
You're sleepwalking.
Go back to sleep.
The big boy doesn't have to be embarrassed.
How would I pee upwards?
(ROCKABILLY MUSIC PLAYING) 7 and a half. 13.
(EXCLAIMS)
Pretty good. Yeah.
Better than before.
Yeah, the skip was really cool.
Hey. Do you mind?
Bowler's etiquette.
What do you mean? It means you're crowding me.
What? You can't bowl with me here?
That sounded like a strike.
How's your hearing?
Dylan, come on, buddy, you're up! All right.
Let's go. Hey, come on.
You can do this, okay?
Whoa, whoa, whoa!
What's with the kiddie stuff?
What? The rails? Yeah.
It's how the kids
learn how to bowl, Dad.
You learn by fearing the gutter.
Like in life, Dusty.
Now, Kurt. The rails help a young bowler build a positive self-image.
Dylan, come here.
Do you want to bowl with those sissy rails up, or do you want to stand and bowl like a man?
I don't need the rails, I guess.
Attaboy! I'm proud of you, kid.
Hey, I'm proud of you too, big guy, all right?
BRAD: Dylan's going without the rails.
(GASPS) No rails?
Whoo! All right, Dylan!
BRAD: Don't be afraid to release it high.
Here we go.
BRAD: Good try.
When he's up there with the tears and "I suck at everything" business, that's on you, Mr. School of Hard Knocks.
Hey, better than him living in your basement in 20 years, Mr. Sissy Rails.
Come on, buddy.
Give it another shot.
Okay. New start, new beginning.
Here we go.
(GRUNTS)
(UPBEAT MUSIC PLAYING) Yay!
Oh, yeah. (WHOOPS)
(GRUNTS)
Are we certain he understands the game?
He seems to almost be trying to put it in the gutter.
I know. He needs to get more height on the ball.
(GRUNTS)
I hate this frickin' game!
It's so frickin' stupid!
Hey, everybody, check it out!
This kid's about to bowl a perfect zero.
Hey, mind your business!
Hey, how do you think this is gonna make him feel about himself?
Well, this is character building.
Even the ridicule.
Come on, bud. Come on, Dylan! (CROWD GASPS) It's okay.
I suck at everything!
I quit, I quit!
Hey. Hey, kid, listen.
We Mayron men might not always show up.
I mean, we want to show up, we intend to,
but sometimes,
we get trashed the night before, or we wreck a speedboat, or hook up with
some Emirates flight attendants and somehow end up on a redeye to Dubai.
You know what I mean.
The point is, we may not always show up,
but when we do, we finish what we start.
Now you get up there and grab those balls.
DUSTY: Come on, you got this.
(CROWD CHEERING)
Go, bro!
I'll take that.
I'll cover that.
Come on, honey!
Come on, buddy. You can do it, kid.
Please. Please.
(ALL CHEERING)
Whoo! I did it!
Thanks for believing in me, El Padre!
You bet, buddy! I knew you had it in you!
You're a winner!
You're a winner!
I did it!
مشارکت کنندگان در این صفحه
تا کنون فردی در بازسازی این صفحه مشارکت نداشته است.
🖊 شما نیز می‌توانید برای مشارکت در ترجمه‌ی این صفحه یا اصلاح متن انگلیسی، به این لینک مراجعه بفرمایید.