سرفصل های مهم
درس 05
توضیح مختصر
زمان مطالعه

9 دقیقه

سطح

متوسط
دانلود اپلیکیشن «زوم»
این درس را می‌توانید به بهترین شکل و با امکانات عالی در اپلیکیشن «زوم» بخوانید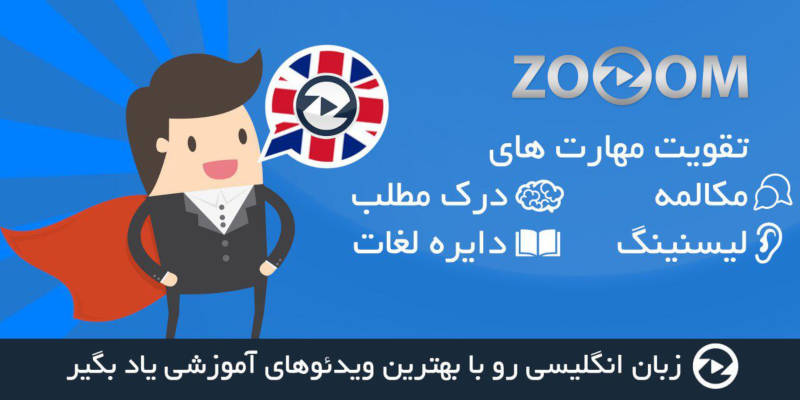 فایل ویدیویی
متن انگلیسی درس
Jump! Jump! DON: Come on, Griff.
Jumpy, jumpy, jumpy!
Casey's here!
Hey, guys.
Hey.
ADRIANNA: Hey, Dylan, look.
Casey's here.
You want to come French her?
Yeah, you want to go do French on your girlfriend, Dylan?
SARA: Megan! Leave him alone.
And where did you learn "do French"?
I'll go talk to him.
Dylan? You okay, buddy?
(SIGHS)
I just… I don't get the whole girls thing.
Oh.
Girls, yeah.
Yeah, that can be tricky.
But you know who'd be really good in explaining that department?
Your dad. Let me go grab him.
No, Brad! I just want to talk to you about this.
Just you, Brad, please?
Me? You sure you don't want to talk to your dad?
Oh, well, girls. Okay.
Huh. Um…
All right, the girl talk.
You know, boys have a…
A dingle, right? And girls have a hoo-hoo or a whim-wham.
Brad, I already know about that stuff. You do? Yes. From school, and it's gross. Perfect!
I just want to know what to do if I, you know,
I like somebody.
Right, well…
You want to become
her friend first.
You want to be that one that she confides in, that she tells you
about all of her problems with the guys
she's actually dating.
Got it.
It's called the Friend Zone.
And it's where
we Whitaker men thrive.
We're the best in the biz.
(CHUCKLES) Yeah.
Here we are in a wild frontier, full of majestic pines, and you two numb nuts are sorting through
a bunch of dried twigs on a Rite Aid parking lot.
You just can't go out on public land and cut down a tree, Dad.
Dusty, we are the public.
We own those trees.
(SCOFFS)
Oh, I get it. You need to ask co-dad for permission.
Oh, shut up. I know what you're trying to do.
What am I doing?
Make it look like I can't make a move without checking in with Brad first.
Yeah, that's what I'm doing.
Am I right about that?
(CHUCKLING) Oh, God.
(SCOFFS)
BRAD: And we own the paint in the Friend Zone.
And sure we're gonna lose some.
Doesn't matter.
We're gonna lose a lot, I'll be frank with you.
Well, what do you know?
Brad's having that
nitty-gritty talk for you.
Must be nice to have someone to handle the tough stuff, huh?
(SIGHS) And eventually you'll keep in touch.
You might even be invited to their wedding!
And their dad's like, "Brad, what are you doing here?
"Teresa never talks about you!"
And you're like, "I'm invited".
And he's, "I wonder about that".
And you show them the proof!
Always bring the wedding invite with you.
Then they can't kick you out. Okay.
But you'll be sad ultimately knowing that she's not with you, and you want to prepare yourself with, like, a mixtape of sad songs.
Anything from Chicago is usually pretty good.
If you leave me now You take away the biggest part of me
I don't really know that song.
Ooh-wee, no, baby, please don't go
Wait! No, no, no! Dylan, that is the worst advice anyone could give you.
Listen to your dad, please.
It's okay, Dad.
We don't have to talk about it.
No, no, buddy, buddy, wait, wait, look!
Hey, this stuff is all about confidence.
You just got to believe you're the best she's ever gonna find.
You believe that to your core, and she will, too, I promise you.
But what if she doesn't?
Buddy, you can't be afraid of rejection.
You'll never find love if you're too scared to put yourself out there.
KURT: Hey, Goggles?
Mistletoe is your ticket.
You walk right up to her, you dangle this over her head, and then you slap your spaghetti suckers right on her.
I don't know if that's appropriate.
It's a time-honored holiday tradition, Mr. War-On-Christmas.
Then you give her a nice smack on the caboose
and tell her what a lucky girl she is.
Don't listen to that part, all right? Yeah, don't listen to that part.
Look at me. Look at me.
You want to be like Brad and be in the Friend Zone, or you wanna be Dad and get in the end zone?
This worked for me when I was your age.
You want to go for it, buddy?
Come on, you can do this.
A love like ours
is love that's hard to find How could we let it slip away?
No! I like Brad's way more.
I just want to be her friend and listen to her problems!
MEGAN: My tree, my tree, my tree, my tree.
My tree, my tree.
Can I yell "Timber"?
Sure can, sweetheart. Yay!
DON: Is this okay?
Are any of these trees even gonna fit in the cabin?
We're gonna cut off the top 25 feet
and chop the rest up for firewood, Don.
Oh.
Now, this is the Duster Buster I remember.
A certified badass
that makes his own rules!
Go find a good tree, would you?
Boy, I don't know about this, Kurt.
Isn't it illegal to harvest a tree from public lands?
Oh, hell, yeah.
It's a federal crime.
I tried to talk him out of it, but you know how stubborn that kid can be.
Okay.
Dusty, look, I know you're upset about Dylan, but I just…
I told you, Brad, I'm not upset, all right? We're co-dads!
If he prefers your terrible advice, fine, I'm cool with that.
I just want to find the perfect Together Christmas tree.
Well, I just don't know if it's the best choice, you know?
Well, maybe we're not always gonna do everything your way every time.
Trouble in paradise, fellas?
No, we're picking a tree. Just having a conversation.
MEGAN AND DYLAN: El Padre!
Lookit!
Hey, what, kids?
What, you find a dead squirrel?
We don't have to
do things my way.
Really? Yeah.
What about baseball snack?
I just wanted to give out Fruit Roll-Ups, and what's the big deal?
No, I just feel like organic fruit is much more nutritious than its rolled-up counterpart.
Yeah? Yeah.
And what about Megan's diorama? You didn't want to use any of my ideas.
Your only idea was
the Bay of Pigs!
But it's an important event in our nation's history!
It was bloody.
You wanted her to do green energy so you could look Mr. Perfect Dad.
I'm not Mr. Perfect Dad. You act like Mr. Perfect Dad.
I'm not Mr. Perfect Dad.
And we don't have to do things my way.
Oh, yeah? Yeah.
Okay. You don't think I can operate a chainsaw, do you?
Guess who got his woodlands management badge in Webelos.
I did! Brad Whitaker.
(CLEARS THROAT)
Ah!
Dusty, look at this one.
Perfectly symmetrical.
Okay.
Oh, yeah.
Keep an eye out for rangers!
I've got to pinpoint a 60 degree angle top cut.
That's what I'm gonna do first.
Oh, yeah!
She's cutting like butter!
Hey, Brad, isn't that a…
(TREE CRACKING) (CHAINSAW WHIRRING) Hold it, hold it!
MEGAN: Timber!
(LAUGHS) Wow!
Brad, you cut down
a cell phone tower.
Why'd you cut down
a cell phone tower?
(PHONE BEEPS) No bars? No bars?
(SCREAMS)
KURT: That was excellent! Get up. You really stuck that landing, man. Would you get up?
I'd give you a 9.2 on my card.
Brad, get up. I think Brad's dead again.
Man, you killed
the poor bastard!
Brad, don't go into the light!
It's okay, sweetheart.
El Padre will bring him back.
Stand clear. I got it, all right?
It's your fault
we're even out here.
You're getting in our heads and starting static between me and Brad.
(SCOFFS) There's plenty of static between you and Brad already.
And you know what? Deep down, you want him dead, don't you?
You can say it.
We all want him dead. I want him dead.
Everybody does.
What? Come on, admit it.
Why don't you admit why you invited yourself to Christmas?
Well, why don't you tell me, smart guy?
'Cause you knew I was back here trying to be a good dad, be around for my kids the way you never were for me.
That's why you want to crap all over it.
Get up, Brad! (GASPS)
Oh, my God, what happened?
You cut down
a cell phone tower, Brad.
You know, you're right.
I did invite myself to Christmas.
But that's because you never do.
(BRAD GROANS)
I feel like I died again.
Did I die again?
A little bit. Come on.
Okay. Our report's
all squared away.
Yimmy, Bill,
thank you guys so much for the understanding.
We really appreciate it.
BRAD: I'm so sorry.
I'm truly embarrassed.
BILL: No, hey.
It was an honest mistake.
YIMMY: Okay, you're all set.
BILL: Okay, We'd better get back to the site and lock it down.
Hold on one second.
Is there any way
we could do better than $20,000?
Can't you reuse some of the antenna equipment?
Sorry, no. These old 4G units are obsolete already.
That's why you're getting this one so cheap!
It looks really nice, though. It sure does.
Hey, guys, keep it up, it looks great. Happy Holidays.
Happy Christmas, guys. Thanks.
Please tell me you did not just spend $20,000 on a Christmas tree?
Twenty thousand dollars.
"Can you hear me now?"
You want some eggnog?
Mmm. Yummy. Hey! I want some! Me, too!
Now, girls,
that's a grown-up drink.
Yes. Thank you, Karen.
So we're only gonna have one.
SARA: What? No, no, no!
There's rum in there, so not any.
BOTH: Aw!
Are you writing about me?
All right. Somebody want to plug her in?
Yeah, I got it.
DYLAN: Cool!
That's weird.
DYLAN: Wow!
What do you think?
It's so pretty.
Well, it ought to be at 1,200 bucks a foot.
Dad, we're lighting the tree!
Where's my dad?
Yeah, I thought it was a little quiet around here.
Pop-Pop? Don?
Pop-Pop?
Is he still outside?
مشارکت کنندگان در این صفحه
تا کنون فردی در بازسازی این صفحه مشارکت نداشته است.
🖊 شما نیز می‌توانید برای مشارکت در ترجمه‌ی این صفحه یا اصلاح متن انگلیسی، به این لینک مراجعه بفرمایید.