سرفصل های مهم
درس 02
توضیح مختصر
زمان مطالعه

8 دقیقه

سطح

متوسط
دانلود اپلیکیشن «زوم»
این درس را می‌توانید به بهترین شکل و با امکانات عالی در اپلیکیشن «زوم» بخوانید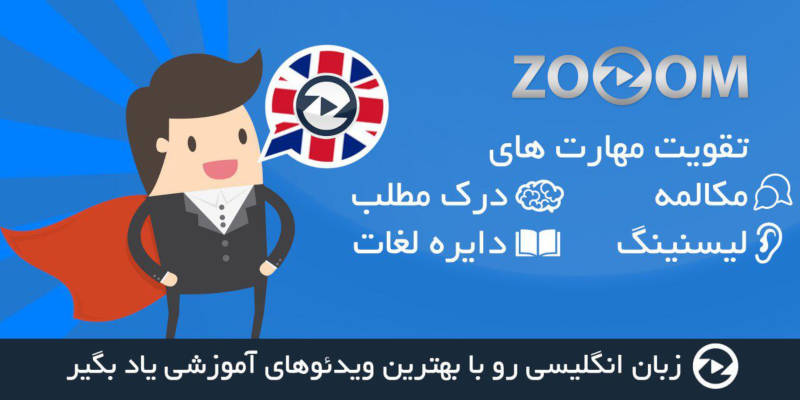 فایل ویدیویی
متن انگلیسی درس
(SIGHS)
Dusty, listen to me, I think you're approaching this with way too much negative energy.
Brad, you don't know what you're talking about, so shut your fat hole!
Dusty. (SIGHS)
I'm sorry, Braddie.
I'm sorry.
You see what he does to me?
I mean, he's not even here yet, and he's already ruining Christmas.
Okay, okay, relax. Relax. I can't!
Look, your father hasn't met the new evolved Dusty.
You're a progressive, sensitive, child-first parent.
That's exactly the stuff he's gonna make fun of us for. You'll see.
He's gonna scoff at everything we do. He's a scoffer, Brad.
Pepe, you have a grown son, right?
Si.
Why don't you tell Dusty here how much your son means to you in this season of good cheer?
(SPEAKING SPANISH)
You see? He didn't say nice things like you think he did, Brad.
Dusty, you're being silly.
I mean, who wouldn't be impressed with you?
Come on. (GASPS)
Dear God!
(ROCK MUSIC PLAYING) He looks as if he's been chiseled from Gibraltar itself.
This is gonna come off weird, Dusty, but he's beautiful.
I want to be his friend so bad.
Dusty. (CHUCKLES) - Hey, Pop. How was your flight? Not bad.
Took 20 minutes to get to the gate though.
What's with that bottleneck you got out there?
I'm sorry our local airport tarmac's not up to your standards, huh?
I'm sorry. I didn't realize you designed this airport, or I'd have been
more sensitive.
Oh, I guess I'll move to a new town with a better airport that way you won't be inconvenienced when you show up every five years or so.
(CHUCKLES) Same old Mr. Touchy. I love it.
Here you go, Pancho.
Why don't you bring the car around, we'll meet you at the curb.
Right away, sir.
I mean, no, I'm sorry, I'm not the driver.
No, I'm Brad.
The stepdad.
This is Sara's husband. Why is he with you?
(GASPS) Dad!
(DISCO MUSIC PLAYING) That sweater. He wears a red sweater, so I can see him in a crowd.
Dad!
That's him, that's Dad.
(GRUNTS)
Dad. Dad.
(LAUGHING)
I made a sign. There's my big man.
(BOTH LAUGHING)
And this guy's raising your kids half the time?
He hasn't seen his dad in a really long time.
It's only been since Thanksgiving, but it feels like forever.
It does! BOTH: Oh!
Four weeks? It's been a few years for us.
What should we do? You want me to take my pants off?
BRAD: Hey, where's Mom?
You didn't get her text?
Uncle Arny came down with a bad case of the shingles.
No. So Mom's staying back - to take care of him. Okay.
But, hey, you still got me.
I sure do. I sure do!
BOTH: Oh!
BRAD: We're gonna
have the best time.
(GASPS) Oh! Dusty!
Hey, Don. Hey, Muscles, come here.
(STAMMERS) I've got a cold.
Stay away. Don, Don!
Say, Dusty,
Brad told me about this Together Christmas we're doing.
You two are such wonderful, progressive co-dads.
Co-dads?
I'm so sorry. Mr. Mayron, this is my father, Don Whitaker.
The pleasure is all mine, Captain!
You piloted the Space Shuttle Atlantis in 1992
and commanded the Endeavour on three missions in 1994!
All right, come on, we're out this way.
Thanks, Dusty.
Say, Kurt, did you meet any interesting folks on your flight?
I met a Scotch and a pillow. (LAUGHS)
You know, actually, I always pick the flights that have the most connections so that
I get to chat with as many new people as possible.
Oh, so you're a lunatic. Good to know. That's me!
(CHRISTMAS MUSIC PLAYING) (GRUNTS) Looks like one of your neighbors is getting an oversized parcel.
Hello!
Don Whitaker,
United States Postal Service!
Retired, but never too old to lend a hand to a fellow carrier.
Brad, I gotta tell you, this baby sure gives you a smooth ride.
Oh, thank you, Kurt.
Yeah, it is surprisingly responsive.
Brad, he's not…
So do they take your balls right there at the dealership, or do you send them in with the registration?
How does it work exactly?
No, no, they didn't take my balls.
Just $2,000 down.
This your place, Dusty?
I pictured it nicer. BRAD: Yeah, Dusty's house is nicer.
This is my house.
Just thought you'd like to step in and see the kids.
Only if it's okay. Look, we don't want to infringe on your days.
(SCOFFS) Of course, don't be silly.
Come on, guys.
You got to ask another man's permission to see your own kids?
(SCOFFS) Unbelievable.
We're back! With more daddies!
Hey! Look how big you two got!
Come on. Don't I get a hug?
Come on!
(KURT CHUCKLES)
And who's this barroom brawler?
MEGAN: He's our brother, Griffy, silly.
Hey, come here, pardner.
Dusty, you never told me.
Why, he looks just like you. Yeah, not my kid.
Oh, no, no, no.
I fathered that one.
Oh. Ah, then how does he relate to me then?
Well, he is the brother of your grandkids, Kurt.
Oh. Here, here. Oh. Okay.
Hey, looking good, Buttercup.
Good to see you.
Look who's here! BOTH: Pop-Pop!
(LAUGHS)
Tell us a Pop-Pop joke! DON: Ooh, ooh.
What's a good one?
Why does a duck have feathers?
Why?
To cover up his butt quack. (ALL LAUGHING)
Hey, kids,
I got a good one for you.
Two dead hookers wash up on the shore… Hey, hey! Whoa, whoa, shut up. No way. No way. Sara. How's my girl? Hi!
What, Ginny couldn't make it?
Oh, she feels terrible.
But she sent a batch of her special cookies!
Is there milk in that kitchen? MEGAN: Yay!
DON: I want the first one.
I get the first one!
So he gets to be Pop-Pop and I'm just Grandpa Kurt?
What? I'm in charge of the cutesy grandpa names now?
Look, if you want a better name, maybe try showing up a little more often.
Tell the kids, from now on, it's El Padre.
No more hooker jokes.
These don't taste like La-La's cookies.
They taste like Chips Ahoys.
DON: No, no. I sat right there in the kitchen
and watched Grandma bake them just yesterday.
DYLAN: I like them.
So, this co-dads thing, is that what you call it?
Yeah, that's what we call it.
So, on his watch,
he disciplines your kids, gives them advice, tucks them in, so forth
and that bothers
you not a bit?
Doesn't bother me at all.
And his total lack of masculinity…
I mean, his weak chin and soft underbelly influencing your son, you're good there,
too? Yeah?
You know what? I'm just feeling like maybe you guys want a little privacy.
Stay right there,
Brad, all right?
He's just trying
to stir the turd.
(SCOFFS) You can scoff all you want.
Everything is rock solid between me and Brad here.
In fact, best friends. Really? (SNIFFLES) - Thank you. Brad. Stop it. Now. I'm good. He gets really emotional. Brad. Hey. Brother. Did you call me "brother"?
B-Dawg.
Chill out, man. Relax.
All right? Cut it out.
Brad, don't. I know.
Stop. All right, look. Hey.
Brad, stop!
Looks like you two guys have a real solid arrangement.
You're spending Christmas together and everything.
Speaking of which, whose place are we doing that at?
We're totally happy to host if it makes it easier.
Yeah, we could do it at my place.
I got more room.
We can do presents at our place, dinner at yours.
Nah, all that back and forth, who needs that?
This place, that place.
Why don't I book us a great vacation spot for all of us,
and we can all spend the holiday week together?
Yay! Cool! Thanks, El Padre. (SPEAKS SPANISH) DON: I love this idea!
It's something extra Christmasy, with lots of snow and family activities for all of us.
Dad, I'm just worried about finding a place,
you know, this close to the holiday.
(BEEPS) Booked it! Airbnb. All done. Yay, El Padre! (KURT LAUGHS)
It's gonna be so fun, since we're all such great friends, huh?
مشارکت کنندگان در این صفحه
تا کنون فردی در بازسازی این صفحه مشارکت نداشته است.
🖊 شما نیز می‌توانید برای مشارکت در ترجمه‌ی این صفحه یا اصلاح متن انگلیسی، به این لینک مراجعه بفرمایید.