سرفصل های مهم
18-Damage
توضیح مختصر
زمان مطالعه

22 دقیقه

سطح

ساده
دانلود اپلیکیشن «زوم»
این اپیزود را می‌توانید به بهترین شکل و با امکانات عالی در اپلیکیشن «زوم» بخوانید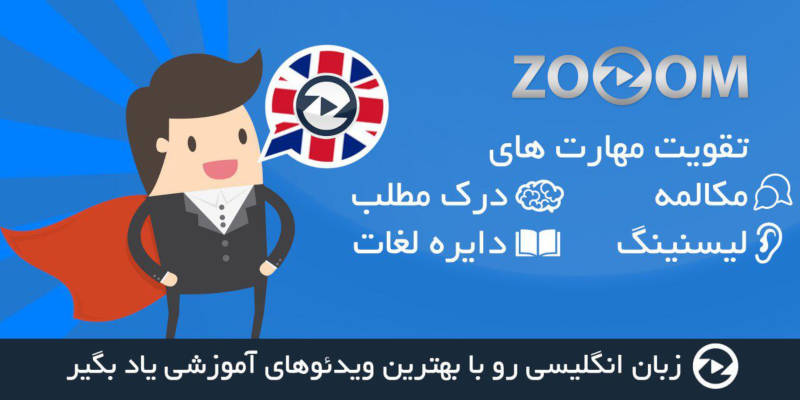 فایل ویدیویی
متن انگلیسی اپیزود
Welcome to New York city,
where your garden-variety super-villain team likes to show up
and cause trouble. Case in point.
Someone call for a Wrecking Crew?
Did someone call for a…
some people to stop a Wrecking Crew?
Nice one, laser brain. I've got my own guys.
Hey, what about me? Don't I get a cool title card?
All right, dumb and dumbers, guess who's going right back to jail?
We kinda had something else in mind. Right, guys?
Yeah, right.

Yeah, right.

Talk about a smash and grab.
Come on!
It's okay, kid, I got it.
Iron fist, grab a kid.
Where's the Wrecker? He's their leader.
Hey, bug-man.
Catch!
No problem. Here's an old favorite
courtesy of your friendly neighborhood…
…screw-up.
Hey guys, clear the space!
I got this.
Aw, man. You really think that was the best solution?
What?
All right, all right.
Sometimes you gotta take a shot, you know?
Thanks for the backup, anyway.
See you later, rookies.
Looks like you win.
Where'd they go?
What's that all about?
All they did was tear up the place and run.
At least that building's okay.
Okay, that one over there looks…
Hmm.
It's not as bad as it looks?
This is exactly the kind of thing we're training you
To either avoid or prevent.
What do we say about damage?
The best damage is…

Unavoidable?

A by-product of violence?
Not our fault?
But, Nick, you don't understand.
The Wrecking Crew, they just started smashing things and…
What? The Wrecking Crew?
Smashing things? You're kidding.
I thought I did the sarcasm around here.
Seriously though, Nick. Isn't it weird that they just trashed
three city blocks and ignored that shiny, new bank over there?
So, you cadet crime-fighters think there's more going on here
than five inexperienced heroes making a bad situation worse?
I wouldn't say it that way, but…
So, if you think there's something here
worth investigating…
Definitely.
The Wrecking Crew was trashing the city on purpose.
They didn't even steal anything.
It must have been for a specific reason.
Okay, if that's your theory, then prove it.
Go undercover and suss things out.
Undercover? Right on.
I second that right on.
Sounds like a mission worthy of our coolness.
So glad you feel that way. Considering the nature of the incident
and the fact that undercover work involves keeping an ear close to the ground,
I've got the perfect cover for the team.
As of right now, you're no longer SHIELD-sanctioned superheroes.
Welcome to damage control.
Damage what?
Has your city experienced a kree invasion?
Did a random super-villain leave a super mess?
Did Dr. Doom destroy your living room?
Then it's time to call damage control.
We have ten years in the business and a spotless track record.
How do I know? 'Cause I'm Mac Porter, the founder and CEO.
But don't listen to me. Here's some satisfied customers.
My donut shop was completely obliterated by Dragon Man.
But thanks to damage control, I'm back in business.
Damage control is the only company officially sanctioned by SHIELD.
So you know we can be trusted.
Captain Ultra here.
And sometimes, when I'm saving the world, things happen.
That's when I call Damage Control.
What's your damage?
What's your damage?
So, finally the Spider-Maniac is being forced to clean up his mess.
And to make sure he does just that,
we here at the Bugle will be keeping an eye on his progress.
This is totally unfair. We stopped them from robbing the bank.
What are you complaining about? Fury made you foreman.
Oh, that's true. So get to work.
You know, when they said we were going undercover,
this isn't exactly what I had in mind.
She speaks the truth, my hapless friends.
No doubt. We're better than this.
Everyone just man up and do your job.
We gotta prove to fury that we're right.
Hey, I'm the foreman, remember? So get to work.
Looks like those guys got everything covered.
Whoa.
Watch your step there, huh?
Hey, I'm walking here.
Me? Sure. I…
This job needs your full attention.
What are those lights for?
We work all night until the job's done.
I gotta work all night?
You dropped this. Get to work, screw-up.
Oh, man.
Don't sweat it, kid. A little manual labor never hurt anyone.
You can see what it's done for me and my physique.
Hey, aren't you the janitor from Midtown High?
It's extra money. You think I'm a millionaire school janitor?
Nice to know someone's getting paid.
Get back to work! Remember, Spider-Man,
I'm watching you. You can't hide from the truth.
And Daily Bugle communications knows all about you.
Yo, Spidey.
Can't believe I'm stuck here looking like a goofball and it's being televised.
Welcome to another episode of…
Huh? Cool.
Whoa. It really works.
Ah!
Okay, okay, that was an accident.
Are you crazy, messing around with this gear?
I mean, look at me! I'm two inches tall here,
and I'm supposed to be the foreman. I think you did this on purpose.
Whoa whoa whoa. Slow down, little man.
Only dogs can hear you now.

What happened?

Nothing.
Nothing?
Look at me. I am like tinkerbell here.
More like Nova, the human sparkler.
Hopefully, this is a temporary state.
You better hope so. Now, this is your foreman speaking.
Get back to work.
Okay, people, this building is unstable. No one goes in until I say so.
Hmm.
Hm. Gotta be something here worth investigating.
Wait a minute. This right here is the real crime scene.
And Mac was just in here. And he told everyone to stay out.
And he has all the right tech to pull off a bank heist.
Ah!
What are you doing in here?
Avoiding work, of course.
It just so happens I've been doing exactly what we're supposed to do.
Undercover work. And voila. Look what I just uncovered.
An empty bank vault.
That's right.
Empty. And we know the Wrecking Crew didn't get away with any loot.
We do?
All they did was smash up stuff and split.
I'm telling you, there's something going on here.
Guys, don't you get it? This is the lead we've been looking for.
We just follow this,
and we'll be back on full superhero duty in no time
and we can tear this puppy down.
Maybe I should rephrase that.
Hey! This ain't exactly comfortable.
Do you mind moving it?
Okay, that little hiccup aside, we need to…
What part of undercover did you not understand?
You're supposed to be cleaning up the mess, not making it worse.
These people bust their butts cleaning up after superheroes.
I actually thought maybe this would give
you a new appreciation for what they do.
Nick, you don't understand…
Oh, I understand.
I understand you all might end up on damage control duty for a long time.
He wasn't kidding.
Look, you put us on this low-rent mission and we tried to make the best of it.
Now we've got a lead and you're not even listening.
I know you think you deserve better.
But clearly you've still got a lot to learn on this job.
Hopefully, you actually have the capacity to do so.
Awkward.
Come on, guys. Let's get back to it.
Hiya, hero. Hey, if you got time to lean, you got time to clean.
Come on. It builds character.
Listen, everybody. Something about that guy Mac…
I don't know…
Okay, people. This building is unstable.
No one goes in until I say so.
Why didn't Mac want us to go into that building next to the bank?
You know, total inside job.
And then tried to get us out of the way when we found out.
Why don't you just get back to work, Sherlock?
Okay. I'll give you this.
Maybe somebody doesn't want us poking around.
But that's exactly why we should just keep doing what we're doing
and see if we can draw them out.

Agreed.

But…

What is your problem?

Can't you just get with the program?
None of you are with me?
Go team? Fine. Play it that way.
I'll figure this one out myself.
The ultimate insider.
Do you know what I need at times like this?
A super-catchy theme song.
That would make me cooler than I already am.
Phase 1 complete.
My SHIELD stealth suit is working perfectly.
Now I just gotta find Mac's office.
Phase 2 complete.
Uh-oh, Spidey sense.
Phase 2, not easy. But completed.
Phase 3…
…learn to keep my mouth shut.
Whoa, hey! Ow! Whoa! Yikes!
Hey, I was up all night sewing this costume!
Phase 4, maybe he won't notice.
Okay. Maybe he really won't notice.
Come on, Mac. Let's see the proof. And…
Nothing. Nothing at all.
Mac's as clean as his office.
Told you.
Did you stow away in my stealth suit?
Where were you when everything was shooting and exploding
and trying to destroy me?

Laughing.

You thought I was right, didn't you?
Yeah, sure. Look, as foreman,
I had to make sure you didn't blow anything else up.
Now, can we just get out of here?
Fine.
Think we should take a different way out.
Okay, so it's not Mac. I took a shot, okay?
You bricked that shot… big time.
Yeah, we must be missing something. Yeah, something right in front of our…
Ow! So much for my Spidey sense.
Where'd this come from?
It wasn't here a second ago.
Whoa. It's the money from the bank. I knew it.
It was Mac.
Not quite, kid.
You just couldn't leave it alone, could you?
We ain't got time for this.
We got a helicopter coming to pick us and our money up.
Look, I'm sure you're just muscle for the big boss.
I don't want to have to hurt anyone, so…
No, kid. You're the one that's gonna get hurt.
Of course. It all makes sense.
You Wrecking Crew guys destroyed the city knowing
that damage control would be called in to clean up.
But you'd already infiltrated the company
and posed as workers to shrink the loot and sneak it out.
Actually, a pretty good plan.
Hey, that means the shrink ray wears off.
So why am I still tiny?
All right, geniuses. Try to think your way out of us
beating the living snot out of you.
You do remember you're wearing a stealth suit, right?
Oh, right.
Huh?
Oh, look out.
Wasn't expecting that, were you?
Oh, yeah.
That's right.
What are you gonna do? Nothing.
Because you can't see me. Hah.
That's right. Uh-huh. Can't touch me.
They can see you.
I knew that.
Would you guys consider surrendering?
I'll take that as a no.
Whoa!
Hey, rocket-bug, where'd you go?
Kinda need some teamwork here.
Whoa!
Where are you going?
We're just getting started.
Whoa. I've heard you should get to know your enemy, but come on.
These guys smell like Nova's feet.
Ah.

Ah, man! Gross. That is…

Nice catch.
Hey, it's what I do.
How'd you guys know that I…
What do you think, genius? I went and got them.
Yeah. You may be a goofball, but you're our goofball.
Perhaps there are apologies to be tendered.
Look who came out to play. The more the merrier.
Time to bust them up.
All right, guys, let's do this.
Remember, keep it clean, guys.
No. Missed me. Not quite.
You're mine, kitty cat.

Gotta catch me first, ugly.

You can't run forever.

I don't need to.

Yo. Sorry.

Well, well, well.

Take a nap.
That's teamwork. Ow.
Stand still, bug, so I can squash you.
No, thanks.
I think you've been scheduled for demo.
How about that, huh? Beating them at their own game.
Literally.
Hey, spider-punk.
Eat this.
Hey, captain crowbar!
Catch this.
Didn't anyone ever tell you?
The best damage is…
…no damage at all.
I wouldn't celebrate just yet.
Time to really give you something to clean up.
Bring her down, boys.
Now, this is a mess that needs cleaning up.
Thanks for the help. You showed up just in time.
Yeah, well, an alarm went off in my office.
Really? You don't say.
Too bad Fury wasn't here to see this.
Oh, I'm pretty sure he caught it all.
This doesn't prove anything. I bet the whole thing was a set-up.
A sham orchestrated and perpetrated by that annoying wall-crawler.
I'm proud of you.
You guys took responsibility for your actions
and followed through on your instincts.
And although you did break into my office…
Who, me?
Security camera. Okay, you got me.
I cop to it. Look, Mac, I'm sorry. I…
No hard feelings. You were just trying to do your job.
Don't give it a second thought.
Okay, okay, turns out he's pretty cool.
Live and learn, huh?
Wait a minute, wait a minute.
What about me? I won't stay small forever, will I?
Size does matter.
Hmm. I'd say the shrink ray effect
should be wearing off right about…
Hey!
Woo! I'm back, baby.
Great.
There you go. I think you've all learned your lesson.
Right?

Absolutely.

Indeed.
Yes, sir.
You know, I gotta say, this damage control gig?
It's not as easy as it looks. These guys do good work.
Yes, they do. Okay, let's wrap this one up, shall we?
You're officially back to being SHIELD-sanctioned superheroes.
Look out!

Watch it!

Oh no!
Oh, man.
Special delivery for Director Fury.
Remember, the best damage is no damage at all.
مشارکت کنندگان در این صفحه
تا کنون فردی در بازسازی این صفحه مشارکت نداشته است.
🖊 شما نیز می‌توانید برای مشارکت در ترجمه‌ی این صفحه یا اصلاح متن انگلیسی، به این لینک مراجعه بفرمایید.