سرفصل های مهم
15-For Your Eye Only
توضیح مختصر
زمان مطالعه

22 دقیقه

سطح

ساده
دانلود اپلیکیشن «زوم»
این اپیزود را می‌توانید به بهترین شکل و با امکانات عالی در اپلیکیشن «زوم» بخوانید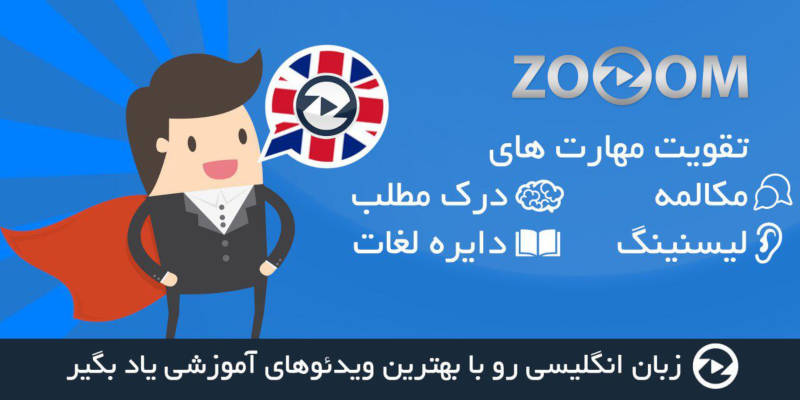 فایل ویدیویی
متن انگلیسی اپیزود
The name is man.
Spider-man.
I used to be an ordinary web-slinging superhero.
Making short of the criminal kind in New York city.
But now I'm
international man of mystery.
An agent of S.H.I.E.L.D.
The next Nick Fury.
Subtitles downloaded from Podnapisi.NET Check-it..
What do you think you're doing?
Trying to become
the ultimate Spider-man.
All right, enough of that.
If you'd listen to me, - you'd already be…
A full training cycle vs. S.H.I.E.L.D. lame-bots.
One step closer to being the ultimate Spider-man.
Now hold on.
You don't think before you act, you dive in head first, - you don't…
You and your rules and lessons.
You're like a fortune cookie…
without the delicious cookie part.
No one said it would happen over night. You still need…
More training? Discipline?
That special S.H.I.E.L.D. shine?
To start, and a little respect wouldn't hurt.
Be on time tomorrow.

Fine, I will. And maybe you'll try teaching me something I don't already know.
Ugh, teenagers.
I'm sure you'll be taking this out of my allowance.
Don't be late.
Don't be late.
Don't be late.
Don't be late.
Oh, I'm late!
I'm late, I'm late, oh I'm late!
Oh I'm so dead.
Oh! Birds!
Oh! Pigeons!
Gosh I'm late.
Aah, I'm late!
Yo, yo, yo.
What's up magnificent agents of S.H.I.E.L.D.?
How are you this fine whatever it is?
How's the world protecting business?
Tell Fury I'm here for my extra bonus superhero lessons.
Hey, I like the new…
u… uniforms?
Wait a second. Um…
Did I hop on the wrong floating headquarters of a secret world peace keeping task force again?
Gee, thanks Spidey sense.
Like I wouldn't have figured out I'm in trouble.
So I'm guessing that you guys, whoever you are, have taken a hold of the helicarrier and now I have to find out who and what you…
We are Zodiac.
And I am Scorpio.
The tyrannical rule of Nick Fury has come to an end.
Nuh uh.
We are the new
masters of the Universe.
Wow…
Well, I gotta tell you, buddy.
Nick Fury is gonna put you in some serious time out for this.
Nick Fury is dead?
The corrupt evil that is S.H.I.E.L.D. has fallen.
This is the first day of a new world order.
Zodiac! Zodiac! Zodiac!
Only believe something when you see it with your own eye.
And even then, don't believe it.
I understand this
is a shock to the system.
But you will see how the world is better off, without Nick Fury's secrets and lies.
Nick Fury was a liar?

The worst kind.
Did he lie to you and tell you that outfit didn't make you look fat?
Destroy him.
Ow, rug burn.
Ow, seriously.
So you guys work out or…?
You wouldn't hit a guy with masked lenses would you?
I'll take these, thank you.
Missed me.
Take that.
Gotta find a place to hide, and figure out
what's going on here…
It's important that he does not get off this ship. Find him.
Diving in head first, is diving in brains last.
Come on.
Did you see me back there?
I was totally awesome.
What a wonderful smell I've discovered.
So this is like the armpit of the S.H.I.E.L.D. helicarrier.
I can't believe Nick Fury is gone.
It doesn't seem possible.
Aw, get it together, web-head.
Just because some creep in a mask says Fury is gone, doesn't make it true.
Think.
I have to listen to what Fury said.
I have to see for myself.
I have to make sure that Scorpio isn't just one of those big talking …
hey…
my Label maker.
Merry christmas.
A Label maker.
You shouldn't have had.
A Label maker.
You shouldn't have had.
For helping with the PTA bake sale.
I know.
I shouldn't have.
Okay, break's over.
Hot, hot, hot, hot!
You can't stand the heat, get out…
Did they find Spider-man?

I don't know.

I thought that guy'd be taller.

I know, right?
Crazy Zodiac, stupid animal-head goons, rassum-frassum incinerator…
Sorry, just had to vent.
Heh, vent.
Even in trouble I still got it.
Every adversary has a weak spot.
You find it and you exploit it.
What a day to find out Nick Fury is always right.
Power man, Iron Fist.
White Tiger, Nova.
Ugh! They must be jamming all the signals off the ship.
One time I need the team.
Where is everybody?
They must all be on a really important mission.
Not for nothing, but this is the cleanest vent I've ever crawled through…
Ares, update.
You're asking for all the files?
That will take some time.
All the files.
I want the world's secrets in the hands of Zodiac.
I want everything Nick Fury has!
Everything.
And the minute you're done, I want this ship to crash to the ground as a burning husk.
The self destruct sequence will begin as soon as the files are downloaded.
I want to blow this ship from the sky.
Oh, what do I do?
What do I do?
Get your butt
in gear and stop them.
Wow, I really should have listened to Nick Fury when I had the chance.
Parker!
It's really like he's right here.
Look at your wrist.
Oh, man!
You're alive!
Do you think they heard me?
Yep, they heard me.
Spiderman. Do I really have to count to three?
Could you count to a million and give me a head start?
Okay, okay, you found me.
Your turn to hide.
One, two…
Data downloading.
You are a strange little bug.
For your information, spiders aren't bugs.
They're arachnids.
Piuu piuu guns.
Oh, I love piuu piuu guns.
Spider-man, get to the data station on the right side of the room.
I'm trying.
Okay, I made it.
Hit the red key and Shift-Enter, Nine.
Hello. I know a thing or two about computers.
Shift-Enter, Nine.
Then blue key, then Shift-Enter.
Oh, why is this so hard?
This ain't your mp3 player. This is the code to the secrets of the world.
If you miss, you'll corrupt the download. Get him!
Download aborted.
Yeah!
Hi Rammy, Cow-lad, Leo…
Hey, don't touch that.
I haven't seen my game yet.
I have obviously underestimated you.
You're not the twit the media portrays you to be.
Twit?

The Scorpio key. Get out of there!
Wait, who called me a twit?
Okay, a menace maybe. But a…
Missed. Find him.
Come to the helicarrier, become an agent, have a few laughs…
The Scorpio key.
Yeah, what's up with that?
That's on our top 10 most dangerous weapons known to man.
If Scorpio wanted to, he could rip the helicarrier in two.
There's actually a list?
Am on it?

No.

Why not?

Come get me, kid.

Where are you?

Medical bay, 7th level.
Here, kitty, kitty.
Hate to tell you but, you look better with the mask on.
This will not work.
Hey. Guys.
Hey. Z-zodies.
Zodiacs.
What's the order?
Uh, you've been relieved.
Says who?
Scorpio needs all hands on deck.
Why didn't he call us on our com?
We've been compromised.
Spider-man who is not a twit by the way, is here.
You better gup there now.
What's your name, agent?
Oh, well, it's Stan Ditkoberg.
What is this?
Well that was a freebie.
Hey dude, you got
something on your face.
Come out and fight like a man.
Oh, come on.
What is it with you guys?
I have the proportionate strength of an entire spider.
Piuu.
Shoot the lock.
Oh, I really don't like guns.
Shoot the lock!
Piuu.
Why wouldn't you even have something like this onboard?
Push the red button.
Red button.
Eeny meeny miny-m-mm…
Today!
Oops.

The other red button!

Thanks, kid.

You're alive!
Yay!
Hey, how did you call me on your watch if you were strapped to the table?
The eye patch is a communication device.
The eye patch? Really?

I'm Nick Fury.

And you're alive!

Boundaries.
Sorry. What do we do now?
You ready to listen to me for a change?
Yes, yes, I am.

Then load up.
It's a brand new Spider Cycle.
And that's not all.
A battlebot spidey suit made from Vibranium adamantium, and wait!
There's more!
Something that looks like a web cannon made from…
Hey…
When we get into it, you need to follow orders like a soldier, you get me?
What's the plan?
Spider-man, agent of awesome.
What do we do now?
Get in.
So glad I'm wearing this mask so you can't see me drooling.
You follow my orders, - You do what I do.
Yes, sir.

I mean it. Uh-oh.

Uh-oh?
The ship will
self destruct in 3 minutes.
This ship will
self destruct in 2 minutes.
Back to back.
3:00.

3:00?

What's going to happen at 3:00?

Zodiac battalion at 3:00.
One, two, oh.
Let's go.
Is it me or are there too many of them and only two of us?
I'm sure that's what they think.
But I have a plan.
Oh, boys.
It's him! Get him!
Now now, one lame
costumed doofus at a time.
Strike!
Time to go to work.
Get him!
I'm liking my new toys.
The Web Cannon 3000.
Don't be on this end.
What else to I have in my S.H.I.E.L.D. bag of tricks?
Spinning arachni-disks.
Made in Madripoor.
Not sold in stores.
Okay, let's see what these can do.
Impact force bubbles.
Made in Wakanda.
Do not swallow.
Ha-ha. Who's the twit now?
Man, am I sensitive.
Please work…
whatever this is.
Personal invisi-shield.
Pretty cool.
Very cool.
Hold up.
We got new intel from Scorpio.
Attention.
Spider-man sighting.
All men topside.
Go, go, go!
Spider-man is topside.
Go, go!
I want all Zodiac off this ship.
Leave Spider-man and Fury here to die.
Self destruct sequence in 1 minute.
Access granted.
Accepted.
What's happening?
Fury!
Watch this.
Warning.
Dive mode, dive mode, dive mode.
All vent hatches closed.
Bulkheads on all decks sealing.
All agents strap in and prepare for submersion.
This is Fury's plan?
I sure hope Fury knows what he's doing.
I'll give you this.
You got a lot of guts coming in here, trying to take me and my ship down.
Payback is a great motivator.
Payback? I've never seen you before in my life.
Then I'll be your last memory.
The key! No, you fool!
You lookin' to make a name for yourself?
What a wonderful smell I've rediscovered.
Hey, my Label maker.
S.H.I.E.L.D. likes to set itself up as a force of good.
But you're just a bully I'm going to obliterate from the face of the Earth.
Who are you?

You'll never know my secrets.
Nah-ah-ah.
I'll take that.
You think you're so clever.
You just saved me a whole lot of trouble bringing me one of the top ten most dangerous weapons.
Uh, who is that?

It's my brother, Max.
And this is far, far from over, Nicholas.
Nicholas, really?
Self destruct in 20 seconds.
Far from over.
18 seconds.
17 seconds.
16 seconds.
15 seconds.
14 seconds.
13 seconds.
12 seconds.
11 seconds.
9 seconds.
8 seconds.
7 seconds.
Self destruct aborted.
My lucky number.
That was your brother?
I get it.
He doesn't want to talk.
Part of the whole super spy thing.
And I got to tell you, after today, I totally buy it.
Fury really is the ultimate.
So where are all the other S.H.I.E.L.D. guys at?
They're fine. They were being held in the brig.
I've already let them out.
You're like the big superhero spy of the universe and your brother is, like, a crazy…
Drop it.

Sorry to hear that.

That totally sucks.

Yep.
You're a really good teacher by the way.
I would not have made it through this without you taking the time to…
All right.

Here, I got you something.
It's a Label maker.
You shouldn't have.
Of course, I also
wouldn't have been in this situation - if it wasn't for you.
Hush!

Come on, you're the one that was…

You know what, go home!

This is your fault the reason we were…

Parker!
مشارکت کنندگان در این صفحه
تا کنون فردی در بازسازی این صفحه مشارکت نداشته است.
🖊 شما نیز می‌توانید برای مشارکت در ترجمه‌ی این صفحه یا اصلاح متن انگلیسی، به این لینک مراجعه بفرمایید.