سرفصل های مهم
1-Great Power
توضیح مختصر
زمان مطالعه

22 دقیقه

سطح

سخت
دانلود اپلیکیشن «زوم»
این اپیزود را می‌توانید به بهترین شکل و با امکانات عالی در اپلیکیشن «زوم» بخوانید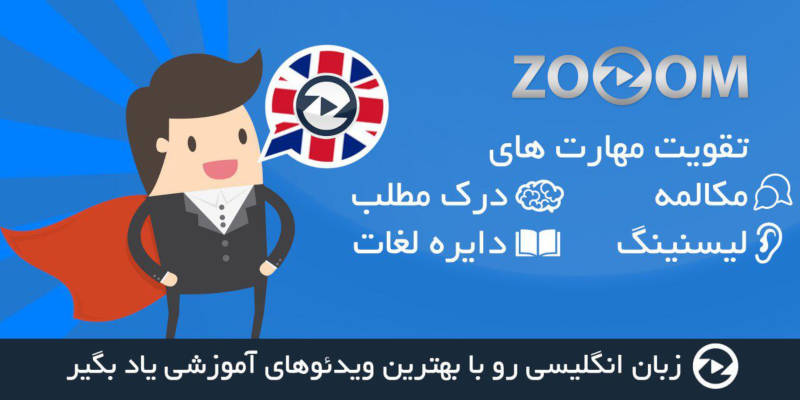 فایل ویدیویی
متن انگلیسی اپیزود
I know you're out there you wall crawling menace.
It is the duty of every New Yorker to report the actions of these masked miscreants, so listen up!
As long as J. Jonah Jameson is CEO of daily Bugle Communications I won't rest until New York has seen the last of Spider-Man.
And a good morning to you, J. Jonah Loudmouth.
Other kids I know, start their day with orange juice.
Me? I get yelled at by 100- foot tall cranky pants.
So, what gives him the right?
That wall crawling menace, Spider-Man!
Where's a little
love for the Spidey- guy?
I'm out here alone every day, trying the best I can at this hero routine.
It's not easy learning the ropes by yourself.
Let's face it…
"Introduction to Super Heroing"
isn't exactly a high school elective.
Speaking of school,
I still have to pick up a cake for Aunt May before first period.
Then it's some
hang time with my best pals MJ and Harry, and
maybe a nap between classes.
But first I'd better save that cop in the skidding car.
I'm starting to think Jameson's wrong about you, Spidey.
Spread the word, Chief.
Hi ya, bug-brain.
I knew that would draw you out.
Oh, great. The Trapster.
I've been Spider-Man for about a year, and I've already fought this glue stick three times.
Do they even give F minus minus?
Let's see if I've learned anything from my mistakes.
Fourth time's gotta be the charm.
This is when I leave the friendly neighborhood Spider-Man note.
Can I borrow a pen?
Interesting.
Villain's eyes widening in terror, but Spidey-sense not tingling.
For those of you new to the Spider- Man experience, let me explain the whole Spidey-sense thing.
It's like an early warning system that kicks in whenever there's danger.
And maybe it's on the blink.
Hello?
This thing on?
Whoa. The S.H.I.E.L.D. Helicarrier is coming in low.
Nick Fury, director of S.H.I.E.L.D.
That's the strategic homeland intervention enforcement and logistics division.
The super spies.
You super spies make it a point to sneak up
on hard-working heroes?

Kid.
We got to talk.
No one's saying you didn't stop the bad guy, but look around you, Is this the way Captain America would have done it?
Cap would have stopped Trapster in five seconds.
You took three minutes.

Uh!
With lots of collateral damage.
I do a good job.

For a clueless rookie.
Yeah… Ooh, huh?
Look, everyone starts out clueless.
Even Iron Man
back when he was a novice.
…but he learned, eventually.
What would you say if I could help turn eventually into right now for Spider-Man?
I knew it.
You want me to buy a line of self-help books.
Not interested. Besides, I'm tapped out until payday, so if we're all done here I'm going to…
I'm serious Peter Parker.
Super spy, remember?
And bam!
One serious part of my life…
growing up with Uncle Ben and Aunt May, a pretty typical childhood, until the radioactive spider- bite.
Then came the powers, and that terrible night I lost Uncle Ben.
That was when I made a promise to do something good with the hand that fate dealt me.
Things I wouldn't joke about even if I knew how.
With great power comes great responsibility.
Good words from a good man.
Uncle Ben was the best.
It's been, what, a year now?
Today would have been his birthday.
You've honored him
doing what you do.
Now I'm offering you the chance to do better.
To really learn about responsibility.

Translation?
I want to S.H.I.E.L.D. train you to be a better Spider-Man.
The Ultimate Spider-Man.
And how ultimate is ultimate?
That ultimate.
Sweet.
I should probably
set my ultimate cell phone to ultimate vibrate.
Your tech needs an upgrade.
Try ours.
S.H.I.E.L.D. tech guys developed this next gen web shooter.
Too big, too clunky.
I didn't say no.
With your talent and my training, you could learn to be a better hero.
The next Cap, the next Iron Man.
One of the greats.
Thanks for the offer but, I'm not allowed to talk to strangers.
Have a nice life, okay?
Cool.
Teenagers.
Impressed, Mr. Osborn?
Very, Octavius.
More than ever
I'm convinced Spider- Man is the key to military superiority.
Once I replicate his abilities, I'll market an army of Spider-enhanced super-soldiers to the highest bidder.
Nick Fury is a fool to think he can get Spider- Man to work for S.H.I.E.L.D.
I prefer Spider-Man the way he is, headstrong, undisciplined, easy to anger.
And easier to turn.
I'll inform our remaining allies to begin phase two.
Peter, I've been calling you all morning. Where have you been?
I want you, Parker,
to be the Ultimate Spider-Man.
I hate to lie to MJ.
Ever since we were kids no one's been a better friend than Mary Jane Watson.
Like the time we were five and ran away forever.
Yeah, we weren't allowed to cross the street, so we just walked up and down the driveway.
When we were twelve, we decided to finally "get serious".
Mistake!

I wanted to show you this.
It is the duty of every New Yorker to report the actions of these masked miscreants.
Especially that ticking time bomb called Spider-Man.
Doesn't that jerk ever shut up?
Someday that jerk will give this journalism student - her first job.
You want to work for Jameson?

Total nightmare.

If that's what it takes.
Jameson's the biggest game in town.
Kids like us have to be realistic, Petey. We can't all be like Harry.
Meet Harry Osborn.
I love Harry.
Everyone loves Harry.
Why not?
He's rich, he's handsome.
And most important, he's been a friend to me when I needed one most.
Hey, Peter Parker.

Uh, yeah?
It's me, Harry Osborn.
You know, from school. Get in.
Thanks, Harry.
You didn't have to.
No problem. Dad, this is the kid I told you about.
The one who's always getting beaten up.
It seems you could use some friends, Peter.

That'd be cool.
And perhaps you'll be a friend to my Harry.
Help keep his mind on his studies.
I wish you would stop micromanaging my life.
Give me reasons not to.
Uh, I just met you both, but I think it's great that you have a dad who cares so much.
It sounds like you speak from experience.
I never knew my dad, sir.
But my Uncle Ben busts my butt when I get out of line.
And Peter's none the worse for that, is he Harry?
He's smiling.
My dad is actually smiling.
How'd you do that?
It's a gift.
And since that day
we've been best friends forever.
Well, that's life at Midtown.
It's okay.
Hey, Puny Parker!
With one drawback.

It's locker knocker time.
That sasquatch loping toward me is our reigning football star, Flash Thompson.
There's always been this rigid consistency to our relationship.
Happy first day of school, dorkus!
Feliz Navidad!
Catch you next fall.
Just once I'd like to turn it around.
Sleep tight.
If I did that I'd be everything Jameson ever accused me of.
And everything I promised Uncle Ben I would never become.
What again?
You should punch out that big goon.
Stand up for yourself, boy.
Why when I was your age, do you think I let some slab of beef push me around?
No siree, Bob.
It was just like what I was telling Irving Florbush the other day.
"Irving," I said. "You are nobody's doormat".
Dude, locker knocker time again?
Thompson's such a tool.
If that's the worst thing that happens to me today, I'm coming out ahead.
Remember when I
told you about Spidey-sense?
This time it's kicking up a storm.
Attention students,
your Principal has
something to tell you.
Students, your attention, please.
The school is now under the control of the…
…the Frightful Four.
Uh, there's only three of you.
Quiet!
These guys are bad news.
Wizard. Master
of high- tech gadgets.
Klaw.
The villain made of living sound.
Thundra.
Ruthless warrior woman from an alternate future time line.
Don't ask. And Trapster.
No, wait.
I already caught him.
Before the Trapster was captured, he learned Spider-Man attends this school.
And unless he gives himself up, we'll tear this place down, brick by brick.
Klaw…
…so, who is our
mysterious wall crawler?
A teacher?
A student?
A cafeteria lady?
They seem reluctant to talk.
Klaw, make them listen to reason.
I'll crush the runt.
Don't crush him,
make an example of him.
Shut it down!
I'll talk! I'll talk!
Well, you have something to say, boy?
Listen up.
Everyone needs to hear this.
This is nuts.
How do they know?
How did they find me?
Fury was right.
I have a lot to learn about responsibility.
Dude! Don't point
that thing. It might go off!
It really stinks to be you today.
Actually, it probably stinks to be you every day.
Then again it could be me.
I haven't washed this suit in a week.
Hey Little Miss Muffet.

Huh?
The spider just kicked your tuffet.
Spider-Man. Finally.
Dr. Octavius, we found him.
Transmitting now.
Excellent.
The Wizard has Spider-Man engaged in combat.
The team will gain a detailed profile of his powers.
Good.

There is the small matter of witnesses.
Shall I have the Frightful Four destroy Midtown High?
Midtown? No you fool, my son is there.
Ha!
Looks like I'm off to see the Wizard.
Oh, yeah.
You know, green corn is really a good color on you.
Here's my first front page story.
Hey! Leave her alone!
Oh, no. Harry!
This school is filled with would be heroes.
Let's dance.
Floating hostages.
Spider-Man won't dare attack.
Real smart, Wiz.
You left the back door open.
Spider-Man!
Flash Thompson.
I'm your biggest fan.
Let me help, bro.
Definitely, bro.
Step in.
Now what?

Wait for my signal.
Jump out and we'll surround them.
Remember, wait for my signal.
Immature, I know.
But it felt so good.
Where is he?
We're not being paid to fight cops. Let's go.
Harry, it's MJ.
Can you hear me?
Oh, this is all my fault.
Mr. Osborn.
I'm sorry.

Why apologize, Peter.
What could you have possibly done?
Worst day ever.
Spider-Man? Hello?
I'm ready.
That helps a little.
In a shoking betrayal of the justice system it claims to uphold Spider-Man today led known super criminals in an attack on innocent school children.
Believe me, ladies and gentlemen, it gives this humble commentator less pleasure…
I imagine to say I told you so.
It is the opinion of Daily Bugle Communications, that the police should issue a warrant for Spider-Man's arrest.
And that nothing less than deadly force
should be employed in the pursuit of Spider-Man.
Are you okay? I heard there was trouble at your school.
I know what you're thinking.
Spider-Man lives at home with his doting old aunt.
Loser.
Think again.
My aunt is pretty cool.
She works all day.
And Monday nights she's at yoga.
Tuesday it's French cooking.
Thursday it's bowling.
Woo, oh yeah!
Her full schedule lets me come and go as I please.
Of course I have to keep the Spidey stuff on the down low.
There's no way she would approve of her little Petey mixing it up with super villains.
Those psychos never
touched me, Aunt May.
I wish I could
say the same for Harry.
There's still some ringing in my ears.
But the doc says I'll be fine tomorrow.
Awesome.
Strangest thing, Peter.
Those villains seemed to believe Spider- Man goes to your school.
Do you know anything about that?
Huh, I think he sits next to me in Spanish.
Hola!
Donde esta la biblioteca?
No, sir.
I've never heard that.
You know what? If we had Norman Osborn's money, I'd put you in private school immediately.
Yeah, that'd be sweet.
Hey, when's dinner?
It's almost ready.
Put the candles on the cake.
Cake?
Yes, the cake you promised to get in the city today. Ben's favorite.
You didn't get distracted again, did you Peter?
Um, I'm sorry Aunt May, I guess I…
That's all right. With all that happened today at school, I couldn't expect you to remember.
Uncle Ben. So sorry.
I'm just happy
you made it home safely.
I can't believe I let her down.
You're always hurting the people closest to you.
Uncle Ben, Harry.
And if you can't
even get a cake home, how are you going to be one of the greats?
The way I see it, you can either accept Fury's offer and take advantage of his training and tech, or keep fumbling along like a clueless rookie.
What's it going to be, Spider-Man?
Are you okay with
just being amazing?
Or do you want to be ultimate?
Okay, let's do this.
Put out the welcome mat, S.H.I.E.L.D.
Spidey's come a calling.
Fury is right.
With his help, I can do better.
I'm done with this
lonely loser routine.
It's time for me to step up and show the big boys what the ultimate Spider-Man can do.
Great!
Fury's tech boys better be on their game or I'm street pizza.
Whoa! Yeah!
Okay, not too clunky.
Intruder alert! Intruder alert!
Whoa!
What is this?
Blast Spider-Man and win a panda?
Whoa!
Whoa!
Intruder alert! Intruder alert!
Your friendly neighborhood Ultimate Spider-Man
reporting for duty, sir.
Welcome to S.H.I.E.L.D, Spider-Man.
Hope you survive the experience.
Uh…
…to be continued.
مشارکت کنندگان در این صفحه
تا کنون فردی در بازسازی این صفحه مشارکت نداشته است.
🖊 شما نیز می‌توانید برای مشارکت در ترجمه‌ی این صفحه یا اصلاح متن انگلیسی، به این لینک مراجعه بفرمایید.