سرفصل های مهم
big_bro_po
توضیح مختصر
زمان مطالعه

23 دقیقه

سطح

ساده
دانلود اپلیکیشن «زوم»
این اپیزود را می‌توانید به بهترین شکل و با امکانات عالی در اپلیکیشن «زوم» بخوانید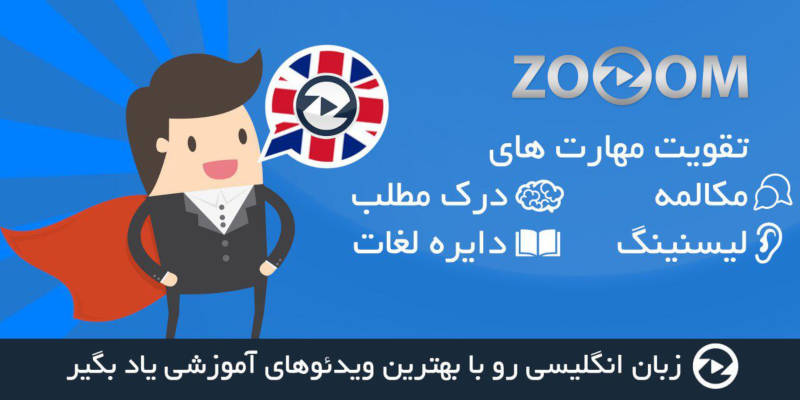 فایل ویدیویی
متن انگلیسی اپیزود
Dad, are we almost there?
Yes, no thanks to you.
You could give me a hand with this you know, Bian Zao.
Do i have to?
The oracle said
I shouldn't tell you what you have to do,
because self-esteem can't be optimized
without sufficient personal-decision latitude.
However, it would be very nice of you
to offer your father some help.
Unbelievable!
Dad, some guys are here to see you.
Hey there.
Let's do this.
Behold! You are no match
for my iron claws of doom!
And now, panda–
What?
Bian Zao, i told you to lubricate the claws!
No, you asked me if i would do you a favor
and lubricate the claws.
I hate this part.
It's Chor Ghom prison for you, Taotie.
That's just great!
Now I gotta go down all these stairs?
Awesome job, guys.
Looks like I'm going to be early for my nap.
Uh, what about him?
He didn't really do anything.
You can skedaddle, junior.
You're free… to go.
Where?

Away.

Fine.

Fine.

Great.

Great.

Perfect!

That's what I said!

I'm going.

Go.

Gone!

Anywhere you want.

I'll be gone.

Just go.

Here i go.
Good.
Oh, whatever, dumpling boy!
You're the dumpling boy!
Hmm? What?
The storm keeping you up too?
Huh? No.
I mean, yes. I mean, ugh!
He's still out there, Taotie's kid.
I see. We're going down there.
Sweet! Farewell, squatter.
Free ride's over, Bian Zao. Shifu, let him have it.
As the master of the Jade palace…
Ha-Ha.
I invite you to come inside.
Bow! You hear that, pal?
You gotta– wha– come inside?
I'm sorry, we're doing what now?
We're bound by tradition, Po.
His father studied with me here.
And while we may not accept Taotie's actions,
we accept his legacy– Bian Zao.
But he's a bad guy.
Well, bad-ish.
We can't just have him walk around the Jade palace
without supervision.
Indeed.
That's why you are in charge of him.
See what you can do. Maybe you can reform him.
I'll try, but he's pretty hopeless.
So at first, i was like,
"Me, a babysitter? I'm the Dragon warrior,
not the baby warrior sitter guy".
Then i thought, "Bian Zao and I
are probably about the same age".
Okay, so we're a lot… not the same.
Anyway… I say
Let's make a clean start and have some fun.
How about you just put me in jail?
First off, I'm gonna call you B.Z.,
'Cause it's cool, and you're cool.
What do you think, B.Z.?
Lame.
All righty, so there's the hall
with the training equipment your dad built.
Lame.
And this is where we put all your dad's machines
every time we defeat him.
Getting pretty full in here.
Lame.
Showers, latrine, kitchen.
Lame, lame, lame.
Is there anything you don't think is lame?
I don't know.
You know what? We're gonna find something.
And if anyone knows what's un-lame,
it's the Po-man.
Yeah, B.Z. and the Po-man, having fun, right?
Right, B.Z.? The Beezmaster?
Beezy-weezy Po-por-eezi? Ha-Ha.
I hate you so much right now.
Behold!
Dolls?
They're action figures! Don't ever call them… dolls!
Let me show you.
You're not playing.
More fun when you play.
I'm telling you, dad, he doesn't like anything.
Oh, Po.
You used to hate everything but kung fu.
However, there was one thing you showed interest in.
And… voila!
Baking?
Like making cookies and cakes and junk?
L-A-M …
This is pretty good.
Darn tooting.
Po and i loved to bake together
when he was a boy.
We still do, don't we? Who's a good boy?
Who's a good boy?
Okay, son. Teach him well.
But don't give him the mooncake recipe.
Family secret.
So you, like, do stuff with your dad on purpose?
Sure. All the time.
I mean, you only get one dad.
Does he make you… go with him
when he tries to conquer the world?
Uh, my dad doesn't really conquer stuff.
My dad spends all his time building machines
to destroy the Jade palace and, you know… you.
I just wish me and dad could hang out without,
you know, trying to blow something up.
Hey. Your dad's got nothing but time to hang out,
now that he's in jail. You should go visit him.
And you could bake him a cake to break the ice!
Yes! Score one for the Po-Man. Up high.
Whatever.
And he baked you a cake.
Okay, i baked it, but i'm gonna teach him how.
I'm so glad to see you, son. Uh…
You probably want some private time together.
You don't want some guy standing here
While you're trying to–
Do you mind?
I'll just go now.
So… those buffoons are treating you okay
at the Jade palace?
I guess. That lame panda wants to teach me how to bake.
Huh? Baking? You know, i once made
a 30-foot tall mechanical cream puff
that shot flaming custard out of its– Son?
All you ever do is work, talk about work,
work some more, and then figure out
why your work never works.
You're right, son.
Being a half-crazed megalomaniac takes up a lot of my time.
But if you help me break out of here,
I promise we'll have some decidedly
non-diabolical "us" time.
Now you bake those cakes with the panda,
then sneak me the pieces of my iron claws of doom,
and i'll bust out of here.
This isn't just some way you can go wreak vengeance
and stuff, is it?
Nope, just you and me, doing regular dad-son stuff.
Laugh with me, son.
Hey, there…you. Um, settling in okay?
Yes, sir.
So… are you ready to embark
on the awesome adventure that is baking?
Whatev– I mean,
yes, let us embark, for I am excited.
♪ We're baking, we're baking ♪
♪ don't know what we're making ♪
♪ look, my butt is shaking ♪
♪ while we're baking, baking, baking ♪
Bian Zao, check this out.
♪ stoking the fire ♪
♪ stoking the fire ♪
♪ stoking the fire ♪
♪ stoking the fire ♪
♪ stoking the fire ♪
And… voila!
Look at that beauty.
Now don't feel bad if yours doesn't–
Wow, B.Z.! Nice!
I'm proud of you.
Never heard that from my dad.
I'm sorry, what?
I'm sorry, wha– I said, "lame".
♪ Stoking the fire ♪
You the panda, Po!

No, sir. You the duck!

Hi, Po.
Hey, um, Po,
when you walk around town,
people don't throw stuff at you.
Well, why would they?
They throw stuff at my dad.
Well, he does, you know, attack people
with giant, evil contraptiony machines
that destroy things, which is something i try to avoid.
Yeah. You know, you're not completely lame.
♪ stoking the fire ♪
♪ stoking the fire, stoking the fire ♪
♪ stoking the fire ♪
♪ stoking the fire ♪
♪ stoking the fire ♪
♪ stoking the fire ♪
Son, thanks to you,
one more piece, and the iron claws of doom
will be more powerful than ever.
I– I'm proud of you.
You're like the little warthog brother I never had.
'Cause of you, things are better with me and my dad.
I mean, when he gets out of jail–
Yah! Yah! Yah!
You carve, son!
After all, this meal is all
because of you.
I can't do it. I can't bring this to my dad.
What got up his exhaust vent?
What? I wasn't gonna eat… much.
Bian Zao made that for his father.
What if you baked a cake for me?
Would you want someone else to eat it?
Lame.
Son. You're finally–
Hey, there.

You?

Bian Zao couldn't make it.

You… brought me a cake?

Is this awkward?
Not at all!
I have loads of archenemies who bring me baked goods.
At last! Freedom!
Is what eating this cake will be like a little taste of.
Yeah, well, enjoy your freedom. Bye.
Thanks for the cake, Dragon warrior.
What a shame i'll be using it
to obliterate you!
Um, Po? I got to tell you something.
Hang on. I just walked all the way
to Chor Ghom prison and back.
You what?
Your dad really appreciated that cake.
He said, uh–
You took the cake to my dad?
Oh, no! Game over, man.
What's the big deal?
That's what i got to tell you.
There was something in the cake.
Ain't no laws when you got the claws!
And they are lubricated this time, baby!
Lubricated!
We put him in jail.
I know, but i just brought him
the last piece he needed
to rebuild the iron claws of doom!
You brought him the last– Wait.
Where did he get the other ones?
I… tricked Po, and smuggled the pieces to my dad.
Yeah, you did. And that was–
Lame.
Big deal. Taotie's never been able to beat us before.
He says his iron claws are more powerful than ever.
It's possible he'll never make it here.
He's here.
Hello, son.
Glad you could be here to witness the debut
of my new, improved, super-lubricated
iron claws of doom.
You see? Continually self-lubricating.
Isn't it awesome?
Dad, you said–
I know… but when we're done here,
we'll go skip some rocks
and play a sporting activity.
Now duck!
By the way,
thanks to you all for caring for my son.
Now eat chain!
This is fairly undignified.
No pa-panda. I'll handle this.
Or you can handle it.
Stay here and keep down.
'Cause with any luck there's going to be
machine parts flying everywhere in a second.
But i want to help.
Help who?
Son!
Damn! Out of chains!
Looks like we'll have to fight, mano a… claw-o.
Ah! Man!
What are those iron claws of doom made of?
Iron?
Oh, thought it was just a name.
I mean, I'm the Dragon warrior,
but I'm not made of dragon.
Come on! Is that all you got?
Not quite.
Po!
Dad!
Po!
It would seem we're evenly matched.
Need something to shift the balance.
Yeah.
Help me. I'm your father!
Help me. I'm your buddy!
I gave you life!
I gave you a cool nickname!
I'll raise your allowance!
I'll give you the mooncake recipe!
Oh, man! Moral dilemma.
Lame!
Way to go! You scared him off!
Me? You're the one
who was all, "I gave you life!"
That's just creepy.
Yes! Air attack!
You are the greatest son in the world!
And you are the greatest dad in… the family.
Okay. Now swoop down by his melon head, so i can–
Oops!
I accidentally knocked something loose, on accident.
What the– Not the lubrication hose!
Oh, and i was winning too!
Sorry.
Thanks, buddy.
They're getting away.
They'll be back.
But we did some good here today.
We brought a family closer together.
You're too high!
Whatever, dad.
Lower! Lower!
Uh, sort of.
مشارکت کنندگان در این صفحه
تا کنون فردی در بازسازی این صفحه مشارکت نداشته است.
🖊 شما نیز می‌توانید برای مشارکت در ترجمه‌ی این صفحه یا اصلاح متن انگلیسی، به این لینک مراجعه بفرمایید.